Blog
Reimagining Patient Care
March 3, 2022
6 Minute Read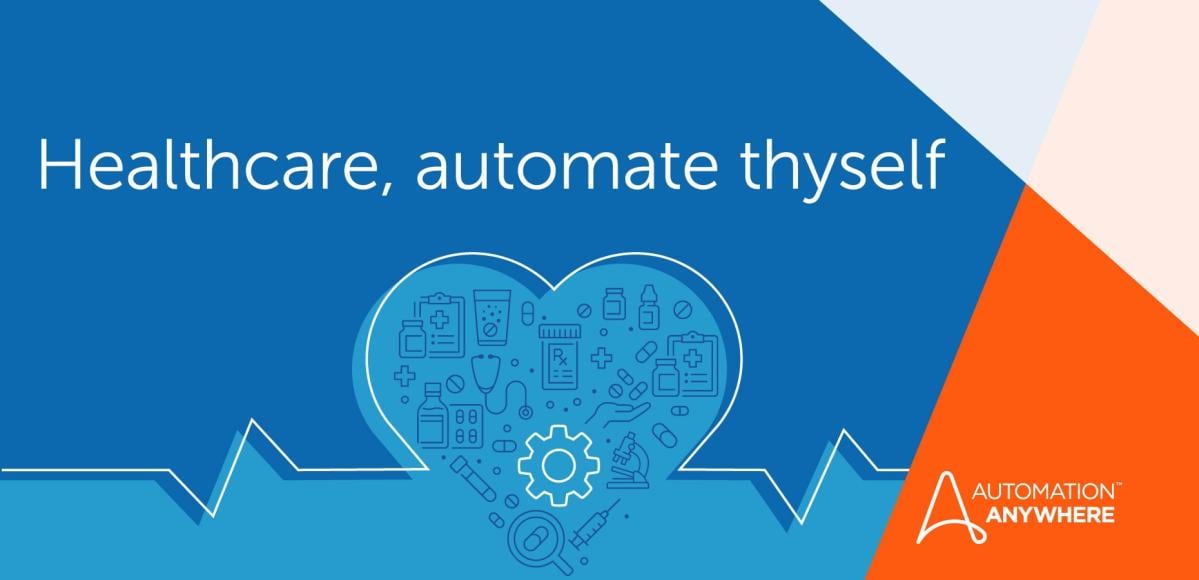 In mid-March, Dr. Yan Chow, MD and healthcare strategist at Automation Anywhere, will be speaking at the Healthcare Information & Management Systems Society (HIMSS) Annual Conference in Orlando, Florida. The topic of his talk? Reimagining patient care.
Here is a preview of that talk as it relates to healthcare automation trends.
 
What do you see as a top priority for healthcare organizations going forward? And how does intelligent automation, combining Robotic Process Automation and artificial intelligence, fit in?
Dr. Chow: Currently, one of the biggest concerns is a shortage of staff, not just administrative but also physicians and nurses and the healthcare professionals who support them. One of the areas of care most affected is the emergency department (ED), especially during the pandemic with its increased demand.
Physicians must care for patients in a unique resource-constrained situation, which alone can slow down response and impact normal safeguards. But the response can also be compromised by the necessary burden of gathering patient information. In many cases, because of limited support resources, physicians and nurses must do more legwork to obtain information while caring for the increased number of patients.
Let's say there's a hospital ED physician on duty. He must continually determine, "What's happening with my patient?" "Which of my patients are most urgent?" "How long has the patient been waiting?" "Which tests and consultations are completed or still pending?" Tracking the answers to those questions so that patients don't get forgotten takes time and attention, which may result in delays inpatient care.
 
So, how can intelligent automation help that situation?
Dr. Chow: Patient information can come to the clinician instead of the clinician having to look for the information. Intelligent automation can accelerate response and free up clinician time to focus more on patients. Take AARI, for example, the Automation Anywhere Robotic Interface. Installed on the physicians' tablets or laptops that they carry around, AARI can connect the physicians to a real-time dashboard of patient care data consisting of information from the electronic health record (EHR) and other legacy systems. The dashboards are dynamically populated with information using Automation Anywhere bot technology.
AARI launches bots behind the scenes that retrieve patient data quickly and accurately and as frequently as desired from systems of record. Physicians see a screen that aggregates and visualizes the data from all the work done by the bots. In the ED, that information could include the patient's name, the room number, the diagnosis from the EHR, the wait times from when the patient registered upon arrival, tests completed and pending, with alerts to indicate red flags.
Physicians don't have to remember urgent cases. They don't have to seek out nurses and ask, "So, how is Mrs. Smith doing?" or "How long has she been waiting?" They can look at their screen and determine the status of tests and the patient's condition, prioritize patients, and send text alerts to support staff, if necessary, to move things along.
Employing automation in the ED is still in the early stages, but an increasing number of organizations recognize its potential. In the case of AARI, it's a great workflow tool that can help physicians prioritize who's sick, who's less sick, what's brewing, what's needed now—for better care. Or, put another way, it's a first step in leveraging technology to make the clinician's life easier and more productive. This may help in reducing burnout, one of the chief factors being the sheer administrative burden of delivering healthcare.
 
What are some other areas where intelligent automation can help improve healthcare?
Dr. Chow: With the COVID picture still evolving, virtual care and remote patient monitoring will be key pieces of care delivery in the future. There's no consensus on best practices regarding telemedicine—what conditions should be addressed with telemedicine and what shouldn't be. Besides the obvious telemedicine benefit of convenience, people are still afraid to go into an office or hospital due to exposure, and many hospitals are at nearly full capacity. Physicians don't want to hospitalize unless it's totally necessary. They'd rather keep patients at home.
Of course, with virtual care and monitoring, there are challenges such as the lack of hands-on physical exams and putting some technology burden on patients who may or may not be tech-savvy. There are also telemedicine issues on the care delivery side.
The first is the virtual care setup. How do you set up your equipment correctly and securely for the physician and patient? Every patient will have a unique collection of devices and software that may pose challenges, including interoperability and network connectivity and speed.
The second issue is security. Every patient connection is a potential source of malware for the organization. And third, how do you get data back from the increasing number of remote sensors being used in telemedicine, curate the data, and put it into the medical record so that a more comprehensive picture of a patient's history can be developed?
 
Enter intelligent automation
Dr. Chow: Telemedicine and remote patient monitoring (RPM) have been around for some time and have significantly improved in the last five years. There have been many startups funded in the digital health and RPM areas, with more medical-grade solutions to come.
Intelligent cloud-based automation can be part of the solution to ensure that virtual connections are made seamlessly, accurately, and reliably with minimal patient and provider burden. For security and HIPAA compliance, automation can help reduce exposure of protected health information (PHI) to employees, enforce security protocols, and flag suspicious exceptions. AARI can be employed to gather data from monitoring devices or vendor portals, analyze the data, and convert it into a format compatible with the medical record for the physician. Intelligent automation can simplify and make telemedicine and home monitoring better experiences for all.
 
What about intelligent automation helping with administrative tasks?
Dr. Chow: Certainly, administrative processes have been a sweet spot for automation for more than two decades, and this will continue to be true. Intelligent automation has helped countless healthcare organizations to dramatically improve speed, accuracy, productivity, and cost savings of back-office workflows. An exciting recent development has been the use of the technology to achieve interoperability between systems, including the EHR. Many healthcare organizations have siloed systems. Historically, it has been extremely challenging to get the right data to the right place in the right format. But with intelligent automation, patient information can be extracted, moved, integrated, and accessed seamlessly, streamlining the patient journey.
The technology can help with tasks such as coverage verification, medical billing claims, appointment scheduling, patient cost estimation, prior authorizations, and payment posting. Consider the processing time saved with the Automation Anywhere Document Automation and AARI. With IQ Bot, an intelligent document processing technology, a standard health insurance form can be processed in under three minutes with minimal human intervention. The same is true for medical insurance verification. Scheduling a patient appointment through a contact center using AARI can be completed in three minutes or less. Seconds and minutes saved quickly add up to hours and days saved with all the tasks required in the typical healthcare environment. And that's good news, especially for a resource-constrained organization.
 
Take the next step
Join Dr. Chow at HIMSS, March 14-18, and learn more about how intelligent automation and Automation Anywhere solutions are helping healthcare organizations reimagine care.
Experience Automation Anywhere Firsthand.
About Automation Anywhere Staff