Blog
"Now & Next: State of RPA"—Your Essential Guide to RPA
January 20, 2021
3 Minute Read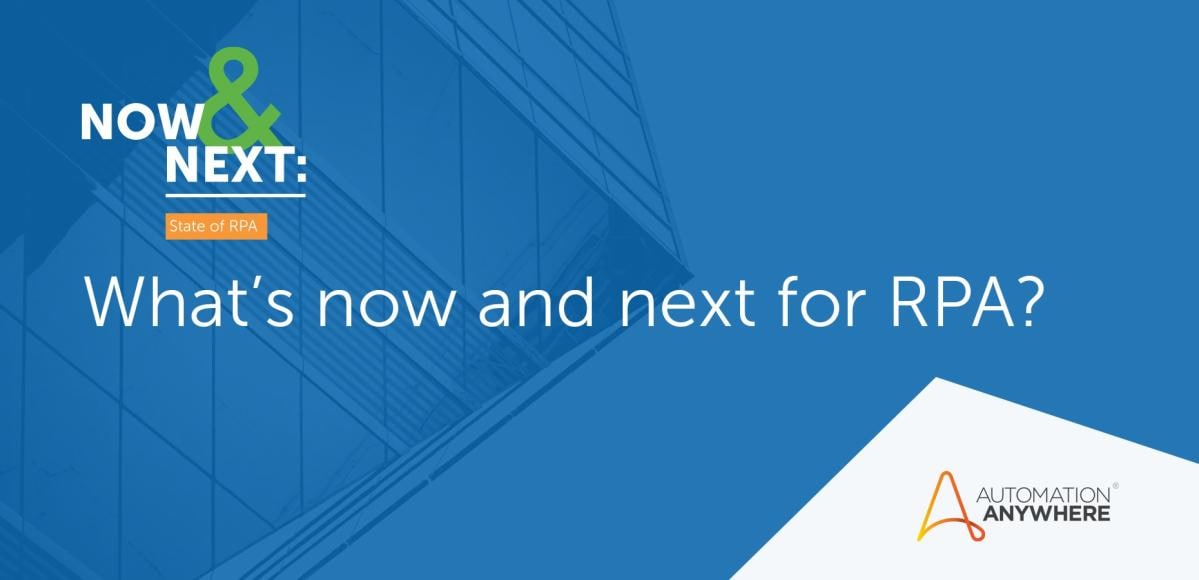 Digital transformation is a top industry trend that will continue for years to come. According to Shawn Fitzgerald of IDC, "Digital transformation (DX) investment is growing at a compound annual growth rate (CAGR) of 17.5% from 2020 to 2023 and is expected to approach $7.1 trillion as companies build on existing strategies and investments, becoming digital-at-scale future enterprises." Robotic Process Automation (RPA) leads as a core pillar to digital transformation and enables rapid returns.
As a leader, you've started or you're planning your journey into automating business processes with RPA to streamline and accelerate your work and free your people from manual processing. It's a strategic imperative for building business resiliency and capacity to grow revenue and reduce costs.

Your new RPA data source
To support your strategic automation decisions, Automation Anywhere has just introduced the "Now & Next: State of RPA" report, with insights from a global survey conducted by an independent research firm. Hundreds of executive enterprise technology decision-makers—CIOs, VPs, and other leaders—from Global 2000 and Fortune 500 firms, representing 11 industries and all digital transformation stages were surveyed for this report
Also presented for the first time are insights based on Anywhere Automation customers who have deployed 2.6M software bots.
Here are a few of the many interesting data points from the report.

The current state of automation
Of those who participated in the survey, 90% are actively involved in RPA adoption, from evaluating to deploying and scaling. Those who are actively deploying shared their drivers behind RPA implementation, current deployment status initiatives, and vendor-selection criteria, and more.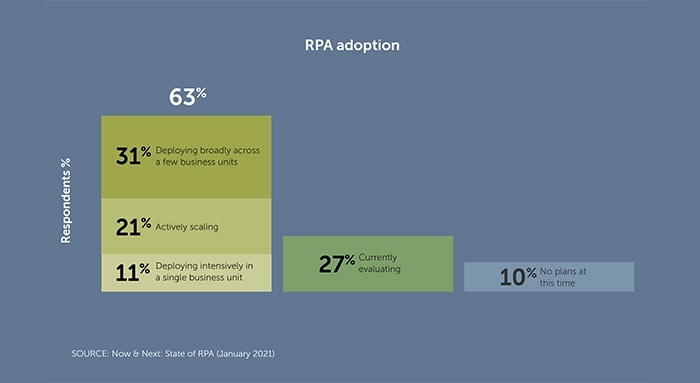 Noteworthy: Considering a move to the cloud? You're not alone. Cloud is becoming the platform of choice for RPA deployment, based on new RPA adopter data from Q3 2020.

Outstanding returns
Imagine achieving 250% ROI on your RPA investment. That was the average for the survey participants. Yet some achieved over 375% ROI. Those top performers shared their distinct tactics in Now & Next: State of RPA. One of the many tactics presented focuses on supporting citizen development by allowing non-technical users to develop their own intelligent automation solutions.

What's next?
Participants provided their perspective on artificial intelligence (AI), ideas on change management, and bot expansion plans. More than half of those surveyed stated that their organization plans to increase RPA spending within the next 12 months. What will they spend their money on? Security, cloud migration, and RPA ranked highest on their technology priority list.

Learn. Benchmark. Grow.
Whether you are evaluating or actively deploying RPA, the data and insights from this report will provide you with vital information to make your automation strategy more successful. And a strong automation strategy is an essential step for your digital transformation.
The Data You Need to Succeed.
About Catherine Calarco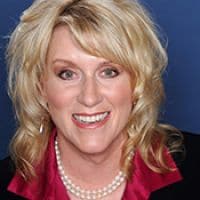 Catherine Calarco, vice president of innovation evangelism at Automation Anywhere, has more than 20 years of global leadership in life sciences, digital medicine, and technology. She's known for driving significant B2C/B2B revenue growth and developing innovative, award-winning digital health
Subscribe via Email
View All Posts
LinkedIn