Blog
Increasing the Efficiency and Speed of Mortgage Processing
January 26, 2021
3 Minute Read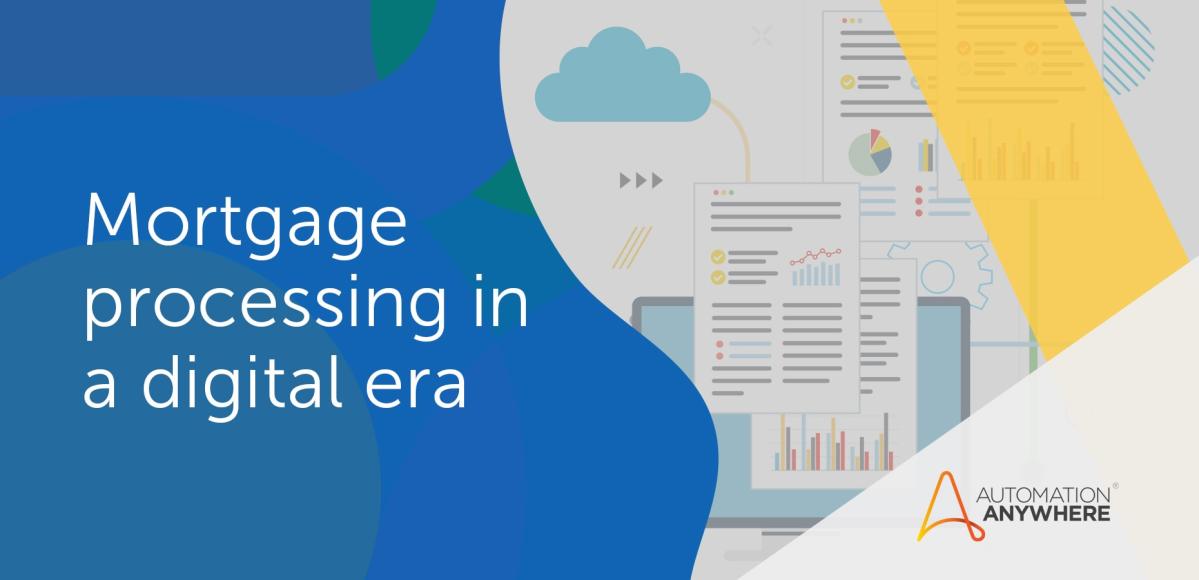 Consumer mortgage lending has a reputation for being paper-intensive. Hundreds of documents are generated for each application—and that doesn't even count loan servicing documents. Processing these loan packets in high volumes can become exceedingly resource-intensive without an intelligent automation solution in place that combines.
Due to the complexity of mortgage lending processes, organizations typically rely on multiple systems, databases, workflow tools, and reports throughout their operations. As a result, processors are often required to access numerous resources to complete specific processes. 
Modern borrowers (and brokers) don't want to deal with mounds of paper. Considering the risks of lost documentation, costly data entry errors, and compliance violations, neither should you, the originator or servicer.
 
Keep it simple and predictable
Automating the mortgage process can help businesses of any size expedite tasks. Intelligent automation software bots—a combination of Robotic Process Automation (RPA) and artificial intelligence (AI)—can:
Process documents and data, read and compile data pulled from multiple sources and in various formats, including commonly used core platforms, third-party websites, PDFs, Microsoft applications, and email into a single view.
Perform data verification of documents or source files, including reconciliations and quality assurance and quality control (QA/QC).
Order services or case numbers, or verify statuses from third parties.
Process transactions that follow structured rules but are not automated in the core system.
Perform workflow management, allowing organizations to sequence the order of operations.
Process audit trails that demonstrate adherence to rules and regulations.
The automation of manual processes commonly associated with mortgage processing can reduce operational risks through higher quality and consistency in processing transactions. Performing the process correctly the first time can reduce or eliminate the need to perform extensive secondary reviews and the remediation that is often necessary. Additionally, building full auditability and control checkpoints into the bots will make the secondary review and testing much quicker and more streamlined.

The crucial role of AI
To close a loan can typically take almost two months because of the many tasks and players involved. According to a Canon study, document management is the biggest bottleneck in loan processing.
Mortgage data and document processing that uses OCR technology alone is limited and often requires a great deal of human intervention. Automating document processing using AI, aka intelligent document processing (IDP), is the key to enhancing the whole process.
AI-based document processing can handle more document types, both structured and unstructured, and document variations, delivering greater accuracy for mortgage document processing and reducing errors. It can classify, extract, and validate critical data from the loan packets so that users can approve or deny loan applications with as little time and effort as possible.
All those actions help move loans faster through the approval cycle, delivering a reduction in cycle times. Even a 20% increase in throughput due to modern automation can mean tens of millions of dollars in more loans.

Moving to advanced processing
While AI plays a crucial role in document processing, there are other tasks where it can be used. In mortgage lending, natural language processing-enabled search and discovery applications help expedite the processing and underwriting stages. Lenders could decrease costs in the long run by using AI to create efficiencies in mortgage processing, underwriting, and compliance workflows.
Automation should be at the top of every mortgage business leader's mind as a potential solution to the operational, regulatory, and financial challenges that they face. Plus, it's a great way to differentiate their products and services from competitors.

Streamline Your Loan Processing.