Blog
4 Ways to Collaborate with Intelligent Automation Bots at Work
December 3, 2020
4 Minute Read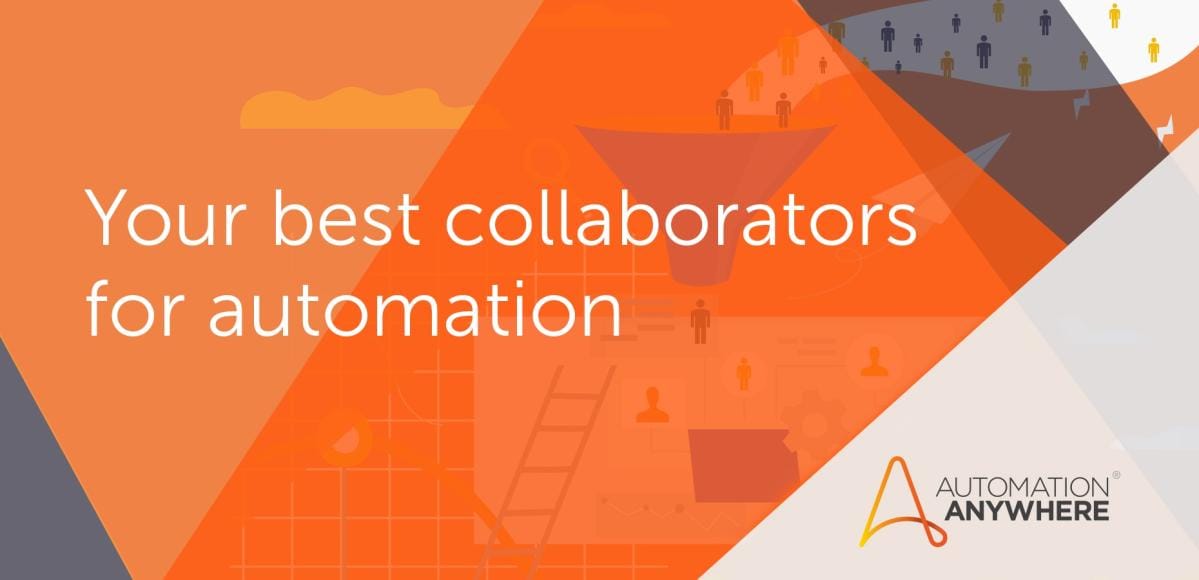 Until recently, Robotic Process Automation (RPA) software bots have been employed in businesses primarily to streamline and accelerate tasks for back-office functions such as finance and accounting and human resources. If you work in the front office in customer service, sales, or marketing, you've probably been jealous of your back-office colleagues. After all, they've been able to automate many of their manual, repetitive tasks, helping them become more productive and freeing them for higher-value work.
Now, there's good news. Software bots have evolved with advanced features such as artificial intelligence (AI) and analytics to enhance every process across the enterprise—for front and back offices. And there are a variety of ways of working with those bots to get the maximum benefit from leveraging intelligent automation.
How you collaborate with your bots will probably depend on your overall automation goal and the process(es) to be automated. But here are four examples for "human-in-the-loop" (humans and bots working together) automation.

One user —> one bot
A single user interacts with a single bot. The collaboration is well suited for simple service requests involving only a few applications where exceptions are not common. For instance, a user could trigger a bot to generate a report with data from two different sources. The collaboration is good low-hanging fruit for automation but has limitations as the use case becomes more complex.

One bot —> many users
This collaboration often takes the form as informational chatbots for group chats. For example, a Zendesk bot updates the customer service team in Slack with new and pending requests for the day. This works well when there's a need to disseminate the same information across a group of people. For the reverse to occur, where the bot takes inputs from multiple users simultaneously, a more complex workflow must be identified to classify and process the diverse requests.

One user —> many bots
Sometimes, processes are automated in pieces rather than an end-to-end workflow. For example, an employee wants to use finance bots to book travel. The employee triggers Bot 1 to book a flight. When done, the employee re-enters information to trigger Bot 2 to book the hotel. After that, the employee re-enters information again to trigger Bot 3 to book the car rental.
The benefit is that these tasks can be performed individually and have faster time-to-value and the collaborations provide a manageable solution if end-to-end process automation is not possible. Yet, this is often a side effect of having a bottom-up view of automation, where the low-hanging fruit gets automated first but fails to address the larger workflow at hand.

Many users <—> one bot <—> many bots
Human-in-the-loop automation achieves its ultimate efficiency when one bot orchestrates the interactions between multiple users and multiple bots. Think of it as a digital assistant at work, similar to what is available in the home in the form of Amazon Alexa.
Depending on the use case, an employee can collaborate back and forth with multiple bots from a single screen or contribute to an automation across multiple teams and bots. For instance, a front-office insurance agent starts a new request to process a loan. From a single screen, the agent can trigger bots to pull customer data and run the credit check. Once the agent approves, a bot routes the request to an underwriter in the back office. The underwriter collaborates with more bots to approve or reject the claim, update the systems, and follow up with stakeholders. Not only does this collaboration with a digital assistant improve employee productivity, but it also scales automation to include complex workflows with teams across the enterprise.

<—> your digital assistant <—>
See how collaborating with a digital assistant can help you make the most of intelligent automation for the back office, front office—for every office across your enterprise.
Learn About Automation Anywhere AARI.
About Sharon Liu