Blog
What's New in Automation 360 for Enterprise
July 25, 2022
4 Minute Read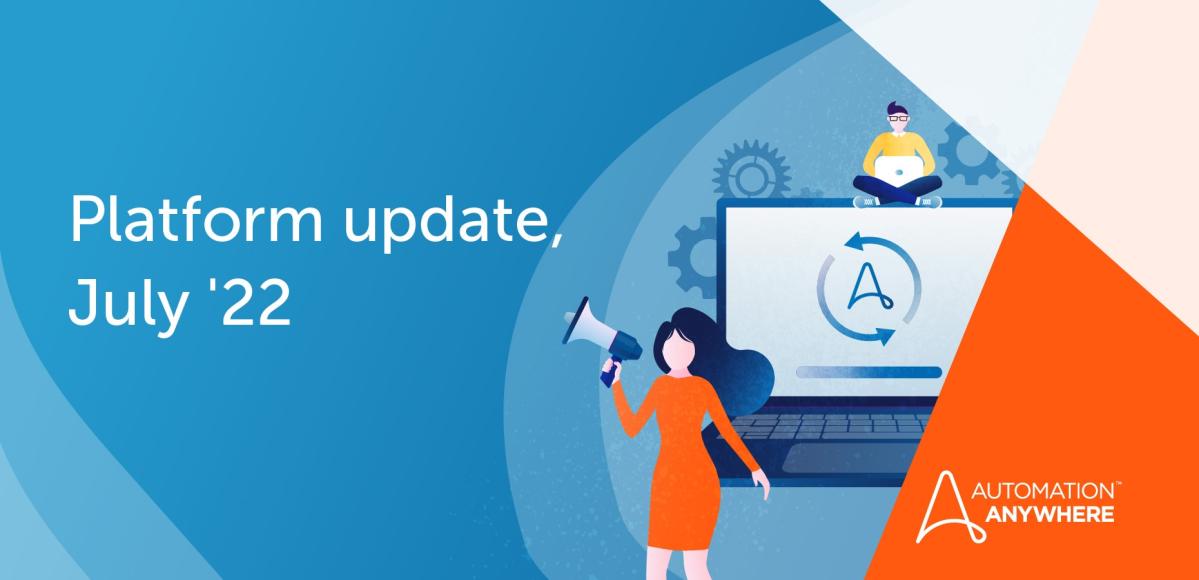 Automation Anywhere is excited to announce the July 2022 release of its industry-leading cloud-native intelligent automation platform, Automation 360™ v.25. This release introduces a new intelligent document processing (IDP) solution, Document Automation, bringing one-click access to the latest innovation with seamless updates, code analysis to ensure best practices, and integration with Genesys. This update also enhances the process discovery capabilities introduced with the acquisition of FortressIQ.
 
Extract and embed document data into any workflow
Document Automation is an exciting new IDP solution with expanded use-cases to transform finance, accounting, and other departments with automated end-to-end invoice processes, from receipt to payment, right out of the box. It's built natively on Automation 360 and integrated with RPA Workspace to connect to best-of-breed artificial intelligence (AI) and machine learning (ML), such as Google Cloud's Document AI ("DocAI"), so anyone can easily automate top invoice document use cases. It's fast and simple to get started with a business-user-friendly interface and pre-trained models that don't require a time-consuming setup. And, since it's integrated with RPA, you're able to extract data and action it in the flow of work.
 
Seamless Updates let you control access to new innovations
Automation Anywhere offers quarterly package updates and automatic bot agent updates that can be deployed instantly on Automation 360 cloud or on-premises. But now you can decide to switch on new features or postpone deployment to a later date, giving you additional control over which enhancements are applied to your bots. Governance is easier since you can define usage policies and best practices for new enhancements. And you can remain confident since backward compatibility always ensures your existing bots will continue to run.
 
Code analysis for faster bot development and deployment
As more bots get built, the need for standardization becomes critical so code is readable, maintainable, and secure. Code analysis simplifies this process with tools that let administrators select which rules to enforce and generate summary views to see which bots are ready to go. Bot builders also get feedback on what needs to be fixed, making the entire process a great learning opportunity while promoting coding best practices.

Integration with Genesys
Automation Anywhere can now be found on Genesys AppFoundry so that you can directly embed it into Genesys Cloud CX. The new Genesys command package contains 50+ Genesys functions making it easy to build automations for actions on Genesys Cloud CX. This helps reduce average call handle times (AHT) and allows faster onboarding of new agents as the power of the Automation Anywhere contact center solution can be installed easily from the AppFoundry. No extra security reviews. No downtime.
 
Enhancements to Process Discovery
New enhancements help keep your business moving faster by allowing multiple users to run concurrent Process Discovery workstreams without disrupting each others' work while focusing teams on automation projects that will yield the highest ROI. Updates further help you manage data privacy and access control, and a new automation scorecard uses machine learning to evaluate each individual task for suitability for automation so you can easily identify where to automate next.
 
Additional platform enhancements for trust and enterprise scale
Automation Anywhere continues to focus on our roadmap for customer success across our four pillars of Trust & Scale, Enterprise Success, Business Solutions, and Intelligent Apps. For this release, enhancements have been made to help center of excellence (CoE) administrators enforce license usage and gain visibility into IQBot license consumption details. As customers grow their automation deployments and operate at scale, they benefit from Automation 360 availability on Google Cloud Marketplace 2.0, which allows them to use marketplace credits and enhancements to ease upgrade success and deployment success.

Automation lifecycle management enhancements were also added to this release, as were enhancements for the developer experience, bot automation, and the recorder.

These and many more enhancements to the Automation 360 platform are now available. To learn more about these and other features in v.25 release, please refer to the release notes.
About Krishna Parab