Blog
What's New in Automation 360 for Enterprise
April 11, 2022
3 Minute Read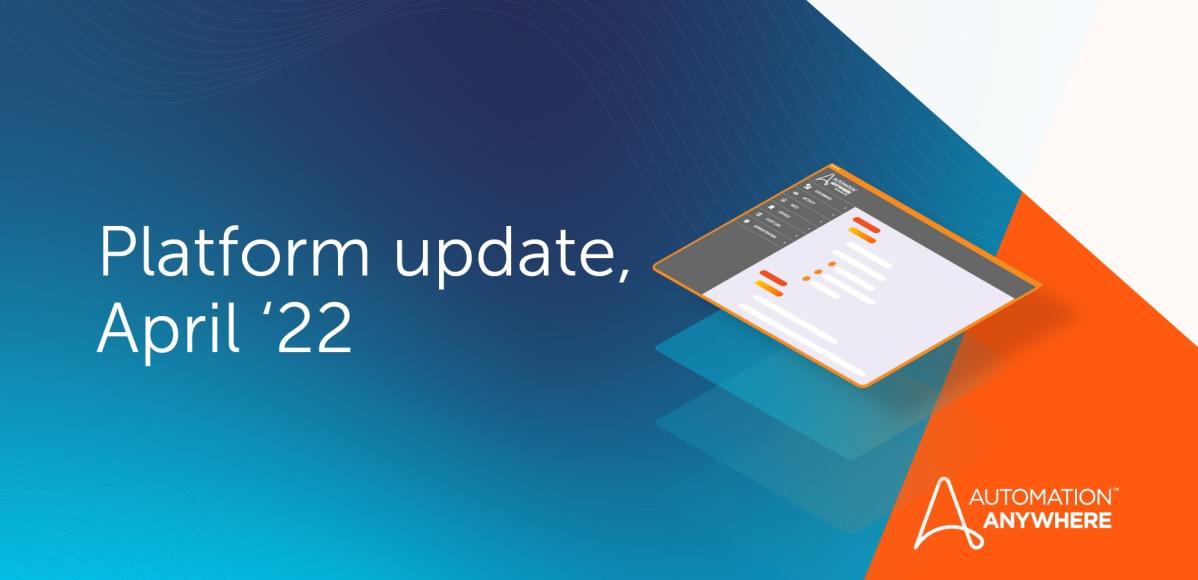 Automation Anywhere is excited to announce the latest release of its industry-leading cloud-native intelligent automation platform, Automation 360™ v.24. This release improves existing features, introduces new automation capabilities and tools, enhances support for the Microsoft Edge Chromium browser, and simplifies platform maintenance and upgrades. 
 
Smooth and flexible platform updates
While our users expand their digital workforce to hundreds and thousands of bots, we continuously enhance the Automation 360 platform to simplify its maintenance and lower the cost of system updates, for cloud deployment as well as on-premises installations. With v.24 release, Automation 360 command package updates are decoupled from the platform updates, allowing continuous functional improvements and a smooth transition to the latest platform. 
In addition, for v.24, the Bot Agent update is optional. The new Bot Agent update policy requires only two mandatory updates per year, while the other releases remain compatible with the previous version of Bot Agent and require no updates. This new policy offers additional flexibility and simplifies the update process.
 
Microsoft Edge support and Internet Explorer end-of-life readiness
Microsoft announced the end of support for Internet Explorer (IE) beginning June 15, 2022, and recommended using Microsoft Edge or Edge in IE mode. We introduced multiple enhancements to Automation 360 to ensure full support for all Control Room activities in the Microsoft Edge browser. 
 
New and enhanced command packages
We continuously expand Automation 360 platform capabilities, enabling our users to access the most advanced AI and ML technology, including Google AI. In v.24, we've added new command packages to support Google Document AI integration and JSON files. We have also introduced enhancements for the existing Excel, Email, Datetime, Recorder, SOAP Web Service, REST Web Service, DLL, String, and Error Handler packages.
 
Improved bot creation capabilities for citizen developers
Our top priority is to make bot creation easy for citizen developers. In v.24, we have enhanced the Recorder capabilities and continue expanding AISense support for new languages. We added the Japanese language, so AISense Recorder can automate applications that use Japanese and a combination of Japanese and English user interfaces. 
 
Smooth migration to Automation 360 for the previous versions
For the existing Enterprise v.10 and v.11 customers, we have introduced 56 additional improvements to support seamless migration to the latest Automation 360 v.24 release. The new Migration Status dashboard in the Cloud Licensing Management portal helps customers easily start the migration to Automation 360 Cloud. 
 
Advanced forms design and background processing with AARI
In the latest release, AARI (Automation Anywhere Robotic Interface) offers additional tools for flexible form design. Now you can fill initial form elements by creating query scripts that enter specific parameters in the form URL. You can also customize the text in your forms in various ways such as applying bold, italic, underline, and other formatting effects, changing the font size and color, etc.
AARI now also supports background processing with PIP (picture-in-picture) feature. PIP allows virtualizing the current desktop and running automations in a separate window so that AARI Desktop users can continue working with a mouse and a keyboard without any disruption to the bot​. At the same time, users are still able to interact with the process window and enter data there as with the main desktop. ​
Get ready to leverage the latest advantages of your Automation 360 platform. To learn more about these and other features in v.24 release, please refer to the release notes.
About Rizwan Husain