Blog
Transform your business and accelerate ROI with automation infused with AI
October 13, 2023
6 Minute Read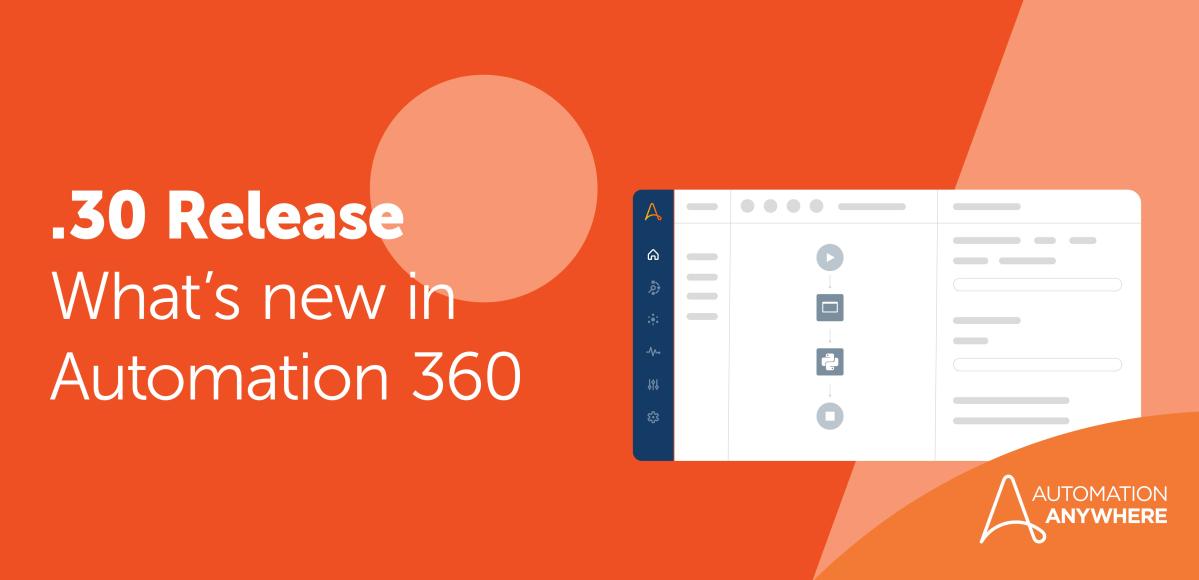 We are fresh out of our annual customer conference, Imagine, where we unveiled exciting innovations infusing generative AI across the Automation Success Platform. These innovations will be critical to helping our customers transform their businesses and deliver rapid ROI in these challenging macroeconomic times. For example, we heard an impressive transformation story from Carlos Barreto, CIO at Petrobras, a multinational oil and gas company in South America. Petrobas harnessed the power of automation and AI to streamline intricate tax procedures (specifically, ICMS), leading to a remarkable cost savings of $120 million in just three weeks!
We have carefully developed new innovations on our cutting-edge cloud-native Intelligent Automation platform, Automation 360™ .30, to make it even more effortless for our customers to accelerate their return on automation by leveraging the power of automation infused with generative AI.
So let's explore the top game-changing features together!
Document Automation
Data extraction using generative AI
Document Automation provides complete, end-to-end processing of business workflows involving a wide range of documents with capabilities ranging from ingesting documents, pre-processing, document extraction, validation rules, and human review, to downstream data actions. We have expanded the document types that can be processed with native generative AI extraction options in addition to our already wide range of native and third-party extraction options. With generative AI, you can now process unstructured document types like contracts, letters, and resumes, as well as complex structured documents such as Bills of Lading, Waybills, and Packing Lists, which are common in supply chain operations. These are just a few of the many use cases now possible as we infuse Document Automation with generative AI.
Bring your own generative AI package
Utilize your own customized or pre-existing generative AI solutions to speed up productivity across your automation workflows, including:
Content generation, such as crafting personalized customer emails or generating presentations, streamlining and enhancing your communication with a more tailored touch.
Employ Generative AI for data extraction and processing tasks, whether it involves extracting valuable information from resumes, application forms, or web pages, simplifying otherwise time-consuming processes. Use our brand new Document Automation SDK to connect custom generative AI document parsers to the Automation Success Platform.
Furthermore, content summarization is another valuable application, aiding in tasks like email triage or market research by swiftly condensing extensive information into concise, digestible insights, ultimately facilitating more efficient decision-making and information handling.
Native integrations with hyperscaler LLMs
Since launching the first set of large language model (LLM) integrations in February, over 1,500 customers have actively utilized them in their automation workflows. You too can experience the power of generative AI with native integrations of leading hyperscaler LLMs such as OpenAI, Azure OpenAI, Google Vertex AI, and now Amazon Sagemaker. These integrations, grouped under the generative AI command package, empower you to incorporate LLM capabilities seamlessly into your automation workflows to enhance decision-making, customer interactions, and data analysis.
Developer experience
Effortless automation building with predefined templates
Unlock rapid automation success with accelerated and simplified development of automations through predefined templates. This ensures not only faster results but also the confidence of organization-specific governance in place. Professional developers can craft custom templates tailored to internal business needs and bake in best practices, expediting the automation creation process with the highest quality ensured.
Enhanced recorder experience
Citizen and professional developers can initiate recording directly from the business application, eliminating the need to choose the target app from a list of open windows. During recording, users enjoy enhanced real-time visibility, including reviewing actions, UI element images, and seamless navigation through recorded steps. Additionally, actions like deleting recorded steps can be taken in the midst of recording.
Automation Command Center for pro and citizen developers
The Automation Command Center (ACC) serves as the central operational hub for IT admins, offering a real-time view of their automation deployments. We introduced this last summer, and within just a quarter, we already have over 1,000 customers actively using this product! Now, we've expanded ACC to support personalized experiences for developers and citizen developers, making work more efficient. Now, your developers can get quick access to ongoing automation projects and instant assistance through direct links to Pathfinder Community and Automation Anywhere University. We've added over 40 new courses to Pathfinder Mission Control based on popular demand, including new generative AI courses!
Enhanced Process Composer
In addition to easily building complex automation processes, spanning applications, and system of record boundaries, Process Composer now allows you to automate multi-user approvals with a dedicated approval task that can accept parallel approvals, comments, and custom timeout. This functionality helps you unlock use cases like new employee onboarding, invoice reception, or expense management.
Log user-defined variables
Introducing a new action, 'Log variables to file' in the 'Log to file' package, which allows pro developers to log user-defined variables of basic data types such as String, Number, DateTime, and Boolean to a log file. This feature will improve the developer's productivity as they can now troubleshoot and fix issues in the automation by logging and tracing the variable value at runtime.
Improve your automation security posture
Enhanced customer control and security
Fine-tune user roles to match your organization's requirements, enhancing both security and compliance.
Support network proxy in Control Room
Ensure smooth communication between Control Room-hosted services and external/internet-facing services, even in on-premises deployments with an active network (forward) proxy. The Control Room is made aware of the customer network proxy and is able to work with it.
OAuth2.0
OAuth 2.0 (OAuth2) is an authorization framework. It enables third-party applications to access user data securely. Users can grant access without sharing login credentials, thereby maintaining the highest levels of user privacy and security.
OAuth2.0 for REST Web Services
Upgrades to the REST Web Services package to consume the OAuth2 PKCE flow authentication support, ensuring compliance with industry standards and policies and seamlessly integrating with third-party applications requiring OAuth2 authentication while using REST APIs.
Unlock the future of Intelligent Automation
Automation Anywhere is committed to pushing the boundaries of innovation and transforming the realm of automation. Our latest release, Automation 360™ .30, is brimming with extra features crafted to ensure your success. For a comprehensive look at these enhancements, consult our detailed release notes and explore our demo videos:
We believe that the future is bright for businesses that embrace Intelligent Automation, and we are excited to partner with each of you to help deliver on that vision. We can't wait to see how you'll use these exciting new innovations to drive impact across your business!
About Automation Anywhere Staff