Blog
The Need for Speed in Procure-to-Pay
May 6, 2019
11 Minute Read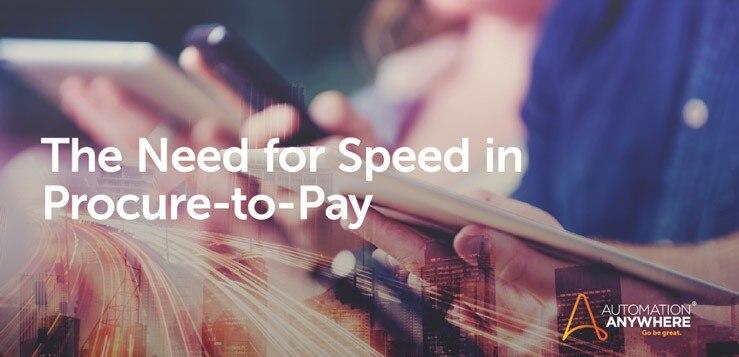 Succeeding in today's increasingly competitive global economy requires businesses to quickly seize opportunities to enter new markets, penetrate deeper into existing markets, and head off competitors. But many businesses are held back by friction in their procure-to-pay process.
To purchase goods and services, many businesses must manually:
Plan requirements
Issue requests for quotes
Monitor inventory levels
Request and approve purchase orders
Collect and maintain supplier information
Create and issue purchase orders to suppliers
Process and approve supplier invoices
Post approved invoices to an enterprise resource planning (ERP) system
Pay suppliers
Reconcile and report on spending
These procure-to-pay processes take a lot of time, resulting in missed business opportunities.
For instance, organizations with little or no automation spend 24 hours to place a single purchase order, according to APQC's Open Standards Benchmarking in procurement. Conversely, organizations that have automated their procure-to-pay process spend only eight hours to place a single purchase order.
Manual, repetitive procure-to-pay tasks also consume a lot of staff time. Organizations with little or no automation process less than half as many purchase orders per full-time equivalent (FTE) as their procure-to-pay peers with more automation (615.7 purchase orders versus 1,302.1 purchase orders), according to APQC.
The benefits of faster procure-to-pay cycles
Procure-to-pay leaders can't afford to let these slow cycle times go unchecked. The future of the profession will be driven by how fast procure-to-pay can execute and deliver business insight, Gartner predicts.1 Faster cycle times will enable procure-to-pay to:
Eliminate wasted employee time and reduce operational costs
Enhance service to internal stakeholders
Strengthen regulatory tracking, control, and reporting
Proactively identify out-of-budget and unauthorized spending
Resolve supplier inquiries regarding invoice and payment status faster
Gain strong leverage during contract negotiations with suppliers
Quickly respond to insights on the supply market and supplier performance
Robotic Process Automation (RPA) with cognitive automation speeds cycle times by automating simple, repetitive tasks and freeing procure-to-pay professionals to focus on more high-value work. A software bot copies keystrokes or follows a defined set of rules, interacting with systems just like humans do. The technology is largely plug-and-play and doesn't require changes to existing systems or applications.
Seventy-five percent of procurement leaders consider eliminating low-value activities an urgent issue, according to the Gartner report.
Cognitive automation applies artificial intelligence (AI) technologies that imitate the way the human brain works — technologies such as image processing, pattern recognition, contextual analysis, natural language processing, and machine learning — to help bots make decisions or complete tasks.
RPA solutions with cognitive capabilities have built-in domain expertise to find unique, process-specific data that's required for highly specialized processes, such as procure-to-pay. A combination of computer vision, optical character recognition (OCR) technology, and fuzzy logic extracts and enriches data while machine learning improves the accuracy of captured data. Cognitive automation helps ensure an intelligent system extracts all the unstructured data.
Once the data from documents has been captured and deciphered, it can be used by RPA bots for rule-based automation. The result is dramatically higher straight-through processing rates for document-centric, procure-to-pay processes and fast, end-to-end business process automation without any human involvement.
With fewer manual processes consuming its time, the procure-to-pay function can serve as a sourcing advisor to the business, allowing more time for developing and managing purchasing strategies.
Your business must move faster than ever. RPA with cognitive automation ensures procure-to-pay departments can keep up. 
See cognitive automation
in action.
About Semyon Sergunin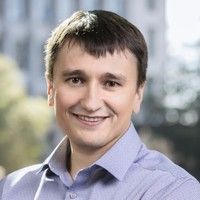 With a background in software development, B2B marketing, and sales, Semyon Sergunin has worked in automation technology for more than 15 years. He drives the global adoption of intelligent automation solutions, including IQ Bot and Discovery Bot.
Subscribe via Email
View All Posts
LinkedIn