Blog
Meet the New Digital Worker
February 2, 2019
3 Minute Read
Meet the new Digital Workers — now available in the Automation Anywhere Bot Store. Digital Workers are downloadable, plug-and-play digital personas, linking curated software robots with transactional, cognitive, and analytical abilities to emulate and connect with human workers.
By removing the robotic parts of daily jobs, Digital Workers allow people to refocus their efforts from repetitive and cumbersome activities to value-added work that takes ingenuity, creativity, empathy, and collaboration.
Designed to help organizations augment their human workforce, these new human-centric Digital Workers are a key part of accelerating digital transformation. This new, cognitive technology will liberate human workers to pursue new skills.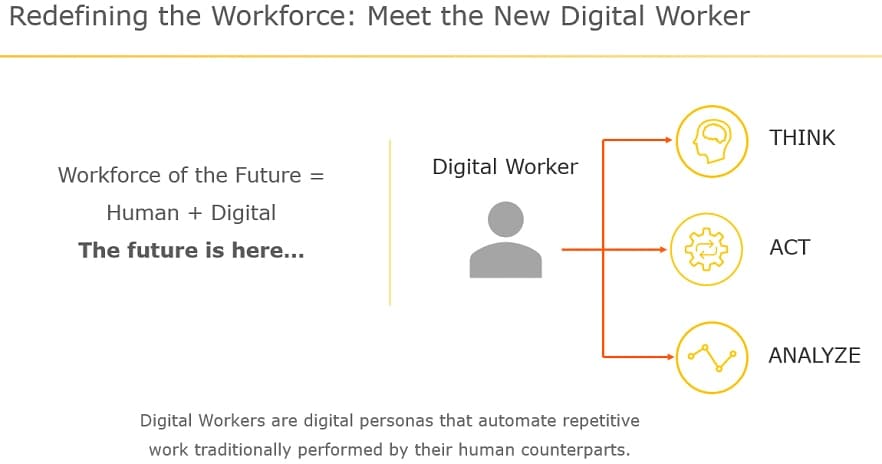 Whereas software bots are typically task- or process-centric, Digital Workers are human-centric, built to augment human workers in specific business functions across a range of verticals. Some examples of available Digital Workers in the Bot Store include a Digital Accounts Payable Clerk, a Digital Talent Acquisition Specialist, and a Digital IT Admin. These cyber employees automate entire processes and perform multiple tasks in a set of sequences, such as regularly submitting invoices through the system from beginning to end. Eventually, these bots can learn to prioritize certain business processes, allowing them to operate in roles such as accounts payable specialists with little to no supervision.
By taking a human-centric approach rather than just a task- or process-focused approach to automation, Automation Anywhere accelerates the realization of return on your Robotic Process Automation (RPA) investments — and prepares you for the future workforce: a seamless blend of human and Digital Workers that enhance each other's strengths and abilities, ultimately making businesses more efficient. 
What's driving the Digital Worker shift?
The demographics of today's workforce are changing significantly with millennials, and now Generation Z, entering the workforce. By the end of this decade, nearly half of global employees will come from this group of tech-savvy, mobile-centric, socially networked workers. At the same time, companies are facing the inevitability of a rapidly aging workforce and a shortage of skilled labor in many markets. As a result, finding and hiring top talent is becoming a challenge for even the most basic job functions.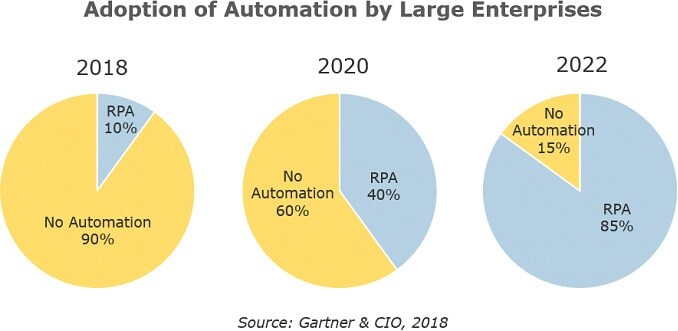 This upskilling of the global workforce is also driving business growth — companies that are adapting to a digital world are 52% more profitable than their industry peers, according to a study by BDC. We know employee satisfaction is directly linked to employee performance, meaning happier employees are more likely to develop new methods, products, and technologies.
Although the business case is clear, revamping an entire organization can be a challenge. Prebuilt, ready-to-deploy Digital Workers allow your business to implement artificial intelligence (AI) into business processes 70% faster and at less than half the cost incurred by deploying automation from the ground up. New Digital Workers further define the future of work, one in which humanity is returned to the workplace and all employees are engines of innovation.
Learn how automation
can improve your business.
About Max Mancini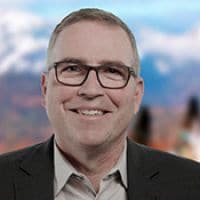 As executive vice president of the Digital Worker ecosystem, Max Mancini is responsible for growing the company's thriving ecosystem of developers, bots, and Digital Workers. He regularly advises companies on ecosystem businesses and e-commerce at scale, in addition to driving thought leadership around the future of the Digital Workforce.
Subscribe via Email
View All Posts
LinkedIn