Blog
4 New Ways to Boost Your Business Success with Enterprise A2019
July 21, 2020
4 Minute Read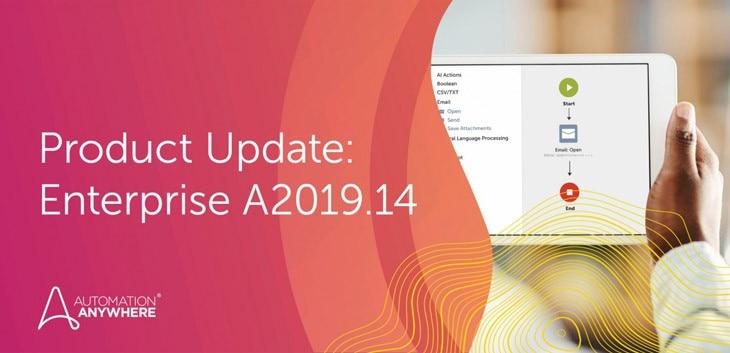 Believe it or not, challenges are a good thing. They force people to adapt, innovate, and never settle for mediocrity. Businesses will always run into challenges. That is why, at Automation Anywhere, we believe in equipping our customers with the intelligent automation capabilities they need to become agile to meet their challenges. 
We focus on enhancing our products by continually adding new features and improving performance for a better Robotic Process Automation (RPA) experience. And our latest release of Enterprise A2019.14 is proof of that commitment. Here are some of the things included in the new release:
Bot agent just-in-time
Previously, while our customers anticipated regular product updates, the manual task of updating the bot agent was cumbersome — especially when running bots on hundreds of devices. Problem solved with the new "bot agent just-in-time" upgrade feature.
Customers can now set their bot agents to automatically upgrade to the latest version whenever there is a major bot agent update available. If devices are idle, the update will automatically be pushed to these devices, including Bot Creators and Bot Runners. To avoid any interruptions in your work, the update for devices with scheduled jobs will be queued to prevent any disruptions in your operations. 
AISense recorder
The AISense recorder, designed to work with virtual machine (VM) environments such as Citrix, is now available in Enterprise A2019.14. This machine learning (ML)-based, secure recorder helps you reduce the time spent on building and automating your bots on a VM and, more importantly, keeps your personal data and information secure.
The AISense recorder complements the existing Universal Recorder, giving you artificial intelligence (AI) capabilities to help you when object-based automation is difficult or if you come across a complex user interface (UI). Users can also benefit from the AISense recorder's resiliency to screen resolution, browsers, and UI alterations, reducing limitations and obstacles when recording tasks across your business applications. 
Document Automation additions
Document Automation for Enterprise A2019.14 comes with two key additions that augment your capabilities to extract data from documents: Custom domains and additional OCR support.
Users now have the option of choosing an existing document from a drop-down menu such as invoices, purchase orders, and more. They can also import a custom domain that has been created previously and edit to include additional document fields. This feature expands the capability of IQ Bot into other documents and allows users to employ existing learning instances from 11.x versions.
Document Automation in Enterprise A2019.14 also introduces additional OCRs: Google Vision API as well as Tegaki (Beta support). These two OCRs can be accessed from the IQ Bot UI drop-down as you are creating your learning instances. They enhance extraction accuracies for Asian language documents and intelligently extract semi-structured and unstructured data from a variety of complex document types such as invoices, purchase orders, bill of materials, mill sheets, and even medical receipts.
Workload management enhancements
The new "work item" template will help you manage your dependencies and packages. For customers who may want specific jobs and automation to run on specific devices due to audit reasons and the accessibility of certain applications on those devices, we are introducing support called "run on default devices." With this offering, every Bot Runner can be associated with a default device, allowing you to schedule a WLM job to a specified device for a particular end user. This is especially helpful for customers who have devices out of the domain and want a strict mapping between their users and devices. This ensures a user cannot log in to any other device.
Explore these features and much more in the latest release of Enterprise A2019.14.
Ready to Switch to Enterprise A2019?
About Murali Pallikonda