Blog
5 Benefits of Automation in Government Agencies
August 7, 2019
3 Minute Read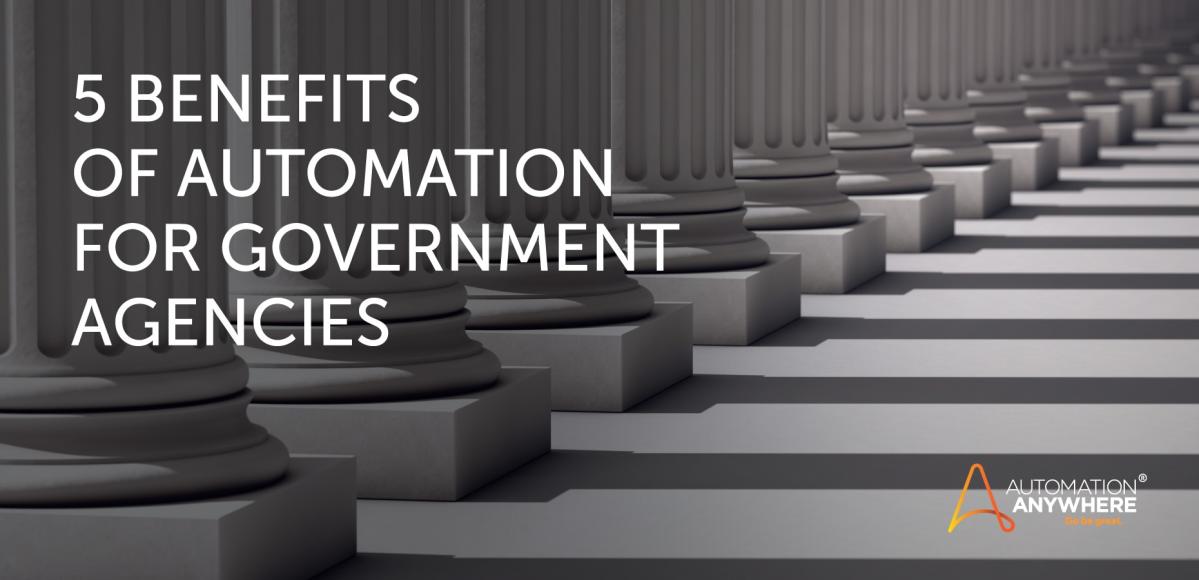 A new generation of public service is underway as government agencies across the globe consider adoption of Robotic Process Automation (RPA). And, as the sector follows in the footsteps of privately owned businesses, governments can learn from their private sector counterparts. Businesses have already discovered many benefits of RPA and intelligent automation, many of which translate to the public sector, as well:
1. Focus on speed 
Government bodies can be so highly regulated that a rigid-rule framework could pose a danger of becoming an ingrained part of daily life. In turn, employees may place their focus on adhering to those rules no matter how overly complex and superfluous, resulting in less time spent taking actions that provide direct benefit to citizens.
Because the public sector must go through additional approvals to change even outdated practices, they can often be dissuaded from implementing significant process improvements. Automation provides the public an opportunity to access more accurate information at a faster rate than before.
2. Rebuild the public trust
Citizens expect to be able to access information instantly. When they can't, as with private business, they feel let down and unable to trust they can get what they need. There's difficulty for public services to keep up with modern expectations from a public that's used to mobile apps and instant private services.
By adopting RPA, government organizations can keep pace with private sector companies, giving citizens timely access to the information they demand. Ultimately, this will help establish government as a trusted agent with modern capabilities.
3. Save money
When multiple layers of approvals are necessary in order to reduce the possibility of human error and before a process can be finalized, the extra steps can lead to more delay, bulked-up staffing, and inflated budgets. Training times are longer, as well, for new employees because they have to be thoroughly taught even repetitive and mundane tasks.
Digital Workers from Automation Anywhere can support government organizations around the globe by taking control of robotic tasks, saving millions or even billions of dollars.
4. Achieve innovation
Government structures rely on processes that have historically worked to a sufficient standard. This approach does little to encourage progression, updates, or improvements. Since public sector agencies generally don't have a goal of increased profit to work toward, there's less incentive to find ways to enhance processes.
Because one of the features of RPA is that it works in tandem with existing IT systems and processes, progress is readily achievable in even the most careful and traditional organizations.
5. Scale without restraint
Because processes within government can be difficult to change, real challenges can be introduced if the need to scale up or down does arise.
Many public sector organizations struggle to respond to last-minute adjustments. Instead, they have to plan and prepare for scaling far in advance. This could lead to hiring extra staff, spending time teaching them processes, making adjustments to budgets, and more.
Robotic Process Automation can take rigid processes and make them flexible, scalable, and human. Using automation enables an organization to scale on demand as bots can instantly increase their workload without the need for extra employees or funds.
Private sector companies across the globe have realized benefits as a result of deploying RPA and now view automation as a standard part of their ongoing operations. Government organizations can achieve the five benefits listed above and many others by using intelligent automation to save time and money while delivering real benefits to the citizens they serve.
Explore RPA
and cognitive automation.
About Tony Nazor