Blog
Preparing the Future Workforce
August 27, 2019
3 Minute Read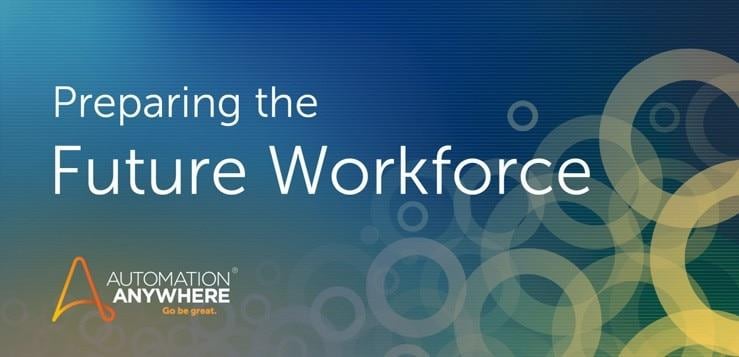 Time changes everything. Especially the way we work. "The kinds of skills companies will require in the next three to five years are going to shift, with profound implications for the career paths that workers will need to pursue as RPA continues its trajectory," predicts Sundar Nagarathnam, a senior vice president at Automation Anywhere.
Over the next five years, the company anticipates more than 1 million employees will need to be trained and certified in Robotic Process Automation (RPA) and, according to McKinsey Global Institute, that number could skyrocket to as many as 375 million people by 2030.
Meeting tomorrow's business needs, today
RPA is here to stay, and Automation Anywhere is here to help. That's why we launched Automation Anywhere University (AAU) in 2017, to provide scalable, effective, and convenient RPA learning solutions to equip the workforce of tomorrow.
"We believe that investing in retraining and upskilling today's professionals is an urgent business priority, and it's imperative to prepare the next-generation workforce for the future," Nagarathnam says. "Our company is steadfast in our commitment to provide RPA education worldwide anytime, anywhere, and to anyone."
In only two years, AAU has established relationships with more than 65 authorized training partners and more than 300 academic institutions, continuing education programs, and professional associations across the globe. As a result of these partnerships, more than 350,000 developers, business analysts, partners, and students have been trained in RPA. That's more than one-third of the million certifications expected through the next five years. And we're just getting started.
RPA courses and learning paths
A comprehensive library of free, self-paced courses offered through AAU is available in seven languages and designed for continued learning throughout your career. Business and IT professionals can choose from an expanding list of nearly 70 individual courses and nine role-based learning paths, as well as certification preparation classes.
In fact, Automation Anywhere has signed agreements with the American Institute of Certified Public Accountants (AICPA) and the Chartered Institute of Management Accountants (CIMA) to provide RPA training opportunities to the combined organizations' 650,000 members.
"We are excited to be partnering with Automation Anywhere to bring RPA training and education to the classroom," says Christine Cheng, professor of accounting at the University of Mississippi. "Leveraging RPA enables users like accountants and tax regulators the ability to improve business processes and lower operating costs. By teaching my students the fundamentals of RPA, we are providing a solid foundation to help accountants be on the forefront of innovation and bring new skills to future employers."
Start your
training today.
About Eduardo Vasconcellos