Blog
Why You Need a Center of Excellence
July 20, 2022
9 Minute Read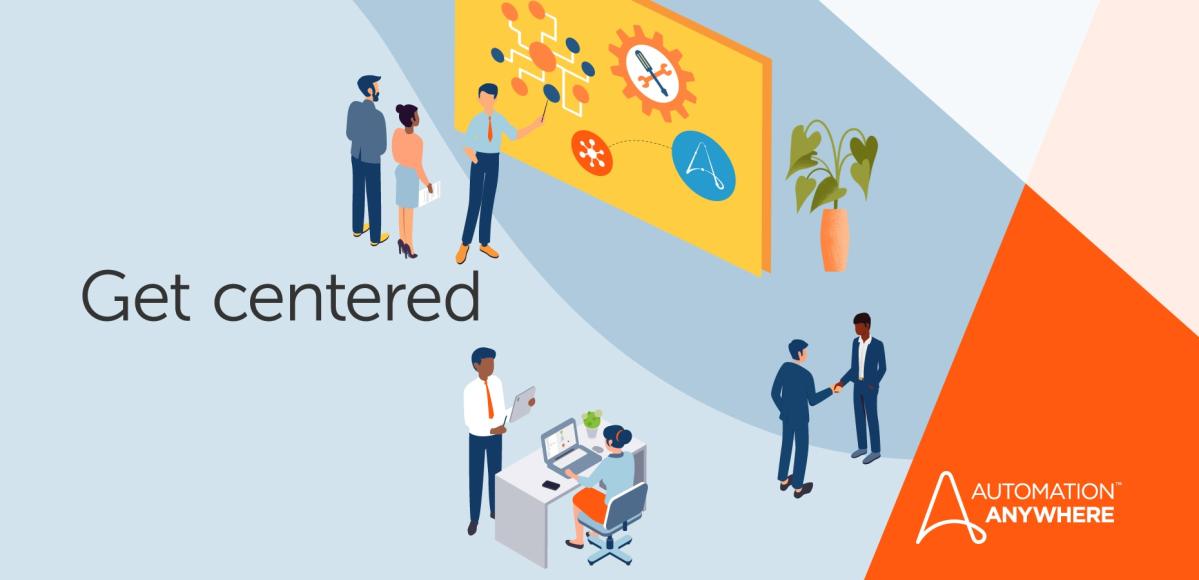 One of the best ways that business leaders can help their teams and businesses rise above the changes brought by disruptions is to ensure alignment around a common purpose. A center of excellence (CoE) can help companies do just that.
To effectively create and use a CoE, one should know what it is, why it's important, and when to establish one. Automation Anywhere has created an Automation Platform CoE, you can read about it on our website. 
What Is a CoE?
A CoE can be described as a competency or capability center run by a group of experts in the CoE's focus area. The CoE is usually built around critical processes, technologies, or applications to help the company adopt a particular process and eventually become more efficient. A CoE is not so much a physical center, though. It's a team, shared facility, or think tank that provides best practices, leadership, research, training, and/or support for a subject area.
Any organization that seeks to achieve business transformation should adopt and implement a CoE. Gartner posits that a CoE helps businesses focus and align their current resources and expertise around a specific capability to accomplish and sustain world-class performance and value.
The result of a CoE is that the organization is driven to shift across multiple disciplines together and reach goals efficiently.
Importance of a CoE
More often than not, teams within an organization find themselves working in silos as organizations get more complex. In such cases, these teams work without sharing knowledge with one another despite the evolution of their skills.
With a CoE in place, it's easy to identify the internal resources that could be pooled together and shared among groups. This sharing of resources increases efficiency within the organization while creating more consistent experiences for customers of business-to-business (B2B) and business-to-consumer (B2C) companies.
A CoE creates a structure through which members can measure, experiment, and drive each other towards excellence. Its sole purpose is to drive innovation and improvement.
Companies implement CoEs for several reasons, which revolve around implementing, managing, and using new technology, or adapting, managing, and using a specific or new concept or skill.
For instance, a CoE in the accounting department may be set up during the adaptation of new accounting software. The team would comprise accounting professionals within the company mandated to find the best software and support the company during implementation and train employees.
Another CoE that could be set up in a company would be for business intelligence. This type of CoE can be used to research best business practices and help the company gain insight into products, customers, and marketing initiatives while leveraging new business strategies.
CoEs are used in specific instances within an organization, but they're worth exploring in cases where the organization needs specific capabilities, specialized knowledge, and central oversight.
Similarly, a CoE will help the organization where knowledge is difficult to acquire, or capability is relatively homogenous yet still important to the business.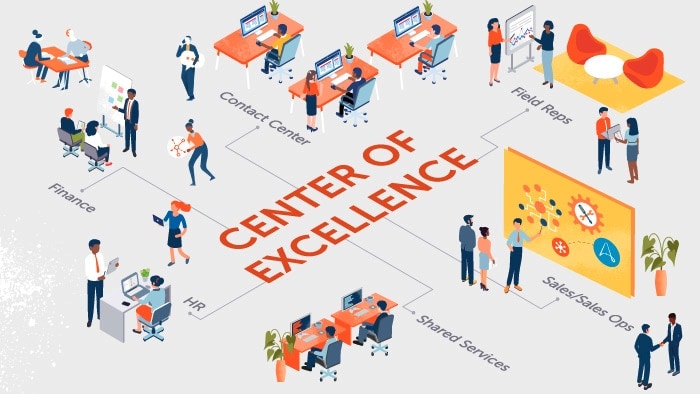 Benefits of CoEs
When it comes to CoEs, the critical issue is in ensuring that the effort of the professionals or experts doesn't go to waste. By creating a set of standardized practices that teams in the organization can leverage for specific projects, a CoE creates a framework that allows organizations to scale their efforts.
A CoE also acts as a new baseline for company processes to move forward, making it easier for these standardized practices to be adopted within other facets of the business. The CoE also puts a structure that helps the business to scale and maintain these practices going forward.
Among the benefits a CoE brings to an organization include:
Efficient use of resources
Provision of quality products and services to customers
Reduction in operation costs by eliminating inefficient practices and cutting implementation time for new skills and technologies
Consistency in how companies offer services and create products
CoE experts can help employees adapt to improve how they work, share effective techniques with one another, capture viable techniques, and support individual and team learning.
Pitfalls of poor CoE design or not having a CoE at all
For a CoE to work, there must be a vision and a strong commitment to overcome any obstacles along the journey. Yet, not all companies have a CoE, while others ignore creating one.
Some of the obstacles to a good CoE design or implementing a CoE include:
Complacency: This comes from the "if it's not broken, don't try to fix it" attitude. Companies taking such an approach may be struggling with the fear of the unknown, which takes hard work and courage to do. Not everyone gets the idea of continuous improvement, and the result is that such companies get left behind, especially when disruptions such as COVID-19 and other major changes occur.
Complexity: Some companies may say they don't have the time, expertise, or even the experience to understand and implement a CoE. For such organizations, a CoE is believed to be complex and requires experts, when, in fact, all it needs is common business sense.
Conservatism: Companies that take a conservatism approach believe they have a lot at stake and play the wait-and-see game before they can mitigate their risks. The problem with this is that they lose several steps towards their journey of excellence.
Organizations that are serious about pursuing excellence exhibit an attitude of hope and inspire their team members to lean forward. They offer new ideas, question past practices, and keep an open mind to new and probably unproven practices that, in turn, work for their good.
How to create a center of excellence
A McKinsey survey found that firms that own commitment to change have effective and regular prioritization and deploy the right capabilities and resources to implement transformation best.
A well-formed and executed CoE can add value to an organization by building trust with customers, instilling confidence and self-assurance among staff, and establishing a superiority reputation among other players in the industry.
A CoE shouldn't be confused with a business department or center, though. The CoE's purpose is to focus on finding best practices and disseminating them to other departments, rather than on performing operational tasks. For this reason, it's important to know the core aspects of a CoE as these will help the organization establish one with specific and realistic goals defined.
Every successful CoE initiative will encounter mistakes and missteps along the journey, which the organization should learn from and use to adjust their approach. Plus, as the CoE matures and learns, some early best practice guidelines and recommendations will most likely be replaced.
Core elements of a CoE
There are several key elements that a CoE needs to have. These include:
The team comprises a group of people who can be employees of the business or hired from outside the organization. These members can continue holding other positions or working in their roles part-time or full-time. The CoE can, therefore, be a temporary setup or an ongoing part of the business, as with the example we saw earlier of a CoE for adapting accounting software.
Specific area of focus or capability
A CoE is usually built around a capability or specific focus area. This can be any area of particular importance or relevance for the company and can include a business concept, improvement or utilization of a new skill, adaptation of new technology, or other broad areas of study.
A CoE can have a wide range of purposes, depending on the capability or focus area of the CoE. Some of these can include providing research, training, and oversight of employees, offering guidance, supporting the organization through best practices, and governing the organization on proper resource allocation.
Building the center
There are critical components and steps that organizations must have and apply to roll out a well-formed and executed center. These components include a clearly defined overall vision and specific strategies based on the vision. Rolling out the CoE will take specific steps from identifying the team members, scheduling regular meetings, and setting goals and timelines to creating a resource hub for sharing helpful resources.
Here's how to create and roll out a CoE in your organization.
1. Define vision and strategy
This stage involves conducting assessments to conceptualize the CoE and establish its feasibility. Some of the steps in defining the vision and strategy include:
Appointment of an interdisciplinary committee that will envision the CoE
Assessing the availability of foundational requirements such as financial resources, leadership support, and organizational culture for the success of the CoE
Crafting working mission and vision statements for the CoE
Conducting a study to assess the need for a Coe, determine the services it will offer, and ascertain its financial viability
2. Design and develop the CoE
Once the team has conceptualized and verified the feasibility of the CoE, the next step is to prepare detailed plans to address each aspect of the CoE. Specifically, designing and developing the CoE involves:
Preparing a comprehensive organizational design that shows the positions and reporting relationships required for comprehensive service provision
Devising shared governance processes and mechanisms for accountability and transparency
Designing a service environment customized to address customers' needs, especially those facing the issues targeted by the proposed center
Determining the assets to be housed in the CoE, anticipating the requirements of the employees and associated needs to deliver the best services
Identifying an appropriate location for the CoE and work with other professionals to prepare formal plans for it
Determining the staffing requirements and their skills, credentials, and experience necessary to fulfill the CoE's mission
Formulating a recruitment plan for acquiring highly qualified staff
Formulating plans to ensure that service and workforce assets are integrated carefully via the organization design for better service provision
Incorporating organizational learning principles to facilitate innovation, continuous improvement, and best practices
Envisioning the areas outside the CoE's command and control that customers will likely encounter so as to form relationships to facilitate the delivery of excellence across the customer experience
Selecting the CoE's brand name, designing brand identity, and formulating a center-specific marketing plan
Envisioning potential opportunities to cross-sell services or products to customers
Investigate opportunities to maximize efficiency and incorporate them into the company's processes to enhance revenues
Maximizing synergies between and among the CoE's features for enhanced financial performance
3. Complete and Commercialize the CoE
This is the final step in creating the CoE. Once the design and development plan is submitted and approved, the CoE moves from the blueprint stage to construction and then final launch.
The CoE then falls under the greater organization's strategic management framework, which includes standard planning, implementing, and evaluating processes and activities.
All these elements work towards ensuring that the CoE operates proficiently and achieves its goals of driving excellence within a company.
Discover How Automation Supports Your Excellence Efforts.
About Automation Anywhere Staff