Blog
Automation Anywhere Awards Honor 100+ Customers, Partners and Employees
December 16, 2021
5 Minute Read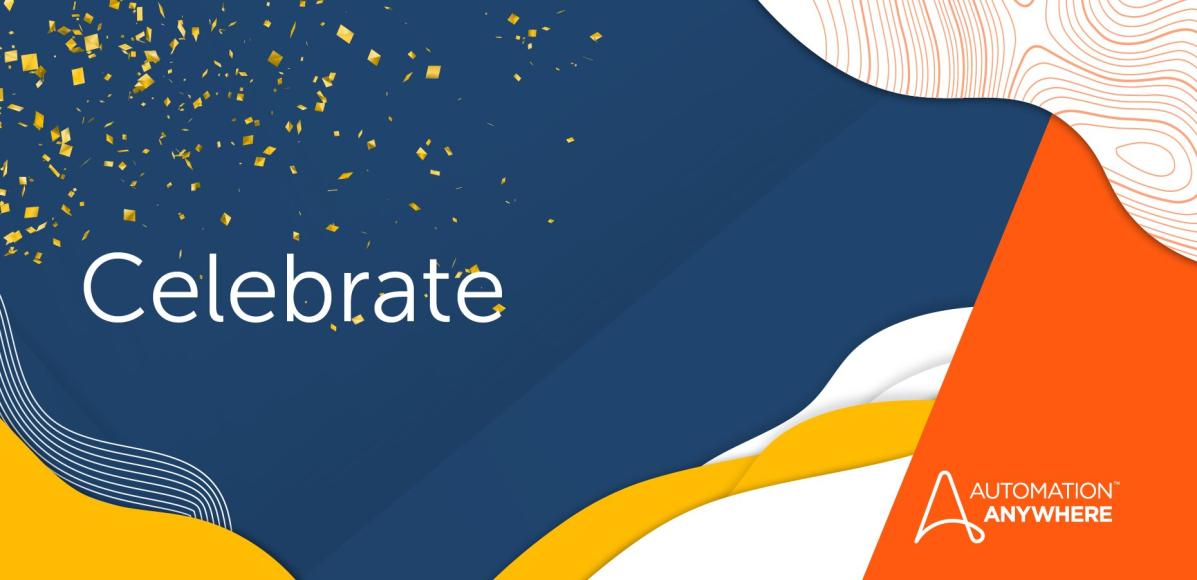 We've just highlighted more than 100 brilliant achievers in the field of automation--and now it's time to party!
Let's start with a big thank you to everyone in our ecosystem who submitted almost 400 nominations for an Automation Anywhere Award. Every one of these submissions was inspiring, and we celebrate each accomplishment. Well done!
Our customers, partners, and employees are vital forces that power us towards our ultimate goal of human enablement. Only through their amazing innovations and dedication can we create simplicity and endow people and organizations with more time to solve problems, build relationships, and drive business success.

The awards criteria
The awards are celebrating 103 outstanding winners who have used automation to make work more human or helped others to do so, enabling our entire ecosystem to grow and thrive. The awards also highlight those who live our company's four core values of Passion, Innovation, Customer First, and One Team One Goal.
With great pride and joy, we want to encourage these winners to continue their great work and to inspire others to join our movement with their new ideas, discoveries, and knowledge.     

In their words
Even a nomination for these awards can strengthen important relationships. "Excited to be nominated," reads a LinkedIn post by Kevina Finn-Braun, senior information technology executive at Splunk, who soon after was named the Americas Innovation Excellence winner. "Thank you to our team at Automation Anywhere; we are so grateful for your support!"
This kind of recognition can also nurture growing conversations and a commitment to our biggest aspirations such as more diversity and inclusion throughout our ecosystem. A LinkedIn post by our partner BP3 Global's "Bot Wrangler" Sarah Hanson—and Great Women Americas winner—reads:
 "Great Women: WOW! I've never won anything like this before. Although it's 2021, it's still really important to recognize the contributions that women make.  I'm grateful that Automation Anywhere realizes this and chose to create the Great Women Americas Award. I'm also grateful that I get to work with so many great women not only from BP3 Global, but from our various client companies as well."
We are proud to list all the names of our 2021 winners and their companies below—and there is a riveting story behind each one. To learn more about our external winners' achievements, read their individual stories on our customer and partner awards pages.

Looking in
The Automation Anywhere awards also honor colleagues inside our company for great work that expresses their commitment to our mission. The winners are peer-nominated and selected. Their stories show all of us at Automation Anywhere how to live our core values every day.
Visit our customer or partner awards pages for more information on the next awards nomination period and how to enter. 

Automation Anywhere award winners: customers
CIRCLE OF EXCELLENCE
UBS
UBS Global COE
 
DRIVING THE TEAM
Dentsply Sirona
Shailesh Mohanty
FIREFIGHTER
GlaxoSmithKline
Mike Kirby
GO BE HUMAN
Northampton General Hospital NHS Trust
Tremaine Richard Noel
AUTOMATION ANYWHERE MVP
Experian
Beth Wheat
Konica Minolta Business Solutions Asia Pte. Ltd.
Zhang Hui
Schlumberger
Sudeep Srivastava, Manish Kumar, Sufyan Sayed, Ganesh Gadhave and Neeraj
Chaudhari
St. James' Place
Sam Yates
GO EVANGELIST
Fujitec Co., Ltd.
Kenji Tomooka
Fugro
Tamil Arasu
GREAT WOMEN
Nissha Co., Ltd.
Keiko Nakatani, Esuteru Tano, Eriko Nomiyama
Aljazira Bank
Bashayr Al-Barrak
INNOVATION EXCELLENCE
Splunk
Kevina Finn-Braun, Director


NetApp

Finance Digital Automation Team
LinkedIn
Operations Intelligence Team within Central Operations
Scania CV AB
RPA COE Team
LOVE THIS HUMAN
LifeCell
Radha V
NetApp
Finance Automation Operations
Lupin
Yash Gupta, Advanced Analytics and Automation Manager
Vetter Pharma
 Sandro Hahn, Junior Controller Systems & BI
ONE TEAM ONE GOAL
Novartis
Rakesh Gupta
SHARING THE PASSION
Ensemble Health Partners
Phillip Lorey
THE AUTOMATION ANYWHERE BRAND AWARD
Nidec Corporation
Mineyuki Hashimoto
THE EXTRA MILE
GlobalFoundries
Prabhukiran Shivaiah
Vetter Pharma
Julia Schimmele
KFin Technologies Pvt. Ltd.
Praveen Shankaran
PASSION FOR EXCELLENCE
Corning, Inc.
Gregory (Scott) Chapman
Bank of Kyoto, Ltd.
Masaki Hino
Centrica
Michael Small
Kaust
Sajjad Mahmud
THE AARI FOR HUMANS AWARD
Splunk
Kevina Finn-Braun
ISON
Lalitesh Sharma
Automation Anywhere award winners: partners
CIRCLE OF EXCELLENCE
Netlabs Global IT Services
Rhea Medappa
DRIVING THE TEAM
Bristlecone India Ltd.
Amit Chakraborty
FIREFIGHTER
Infosys Limited
Krishna Prasad Pushadapu, Radhika Karuppannan, Muralikrishna Balasubramanian, Jyoti Bhagat,
Vaibhav Bankar
GO BE HUMAN
RPA Nuggets
RPA Nuggets Team
PeopleShores
Murali Vullaganti
AUTOMATION ANYWHERE MVP
Roboyo GmbH
Lukasz Andre Rybarczyk
Accenture Solutions Pvt Ltd
LKM RPA Team: Narayan Rao, Sridhar Prakash K, Dinesh Pazhaniyandi, Sidramappa Hunashyal and Babul Patnai
Tangentia Inc.
Team Tangentia
GO EVANGELIST
Mindtree Limited
Theertha K S
Predikly LLC.
Sunil S Ranka
GREAT WOMEN
Tangentia Inc.
Ashwini Hegde
Accenture
Syed Farheen
BP3 Global
Sarah Hanson
INNOVATION EXCELLENCE
ATA Technology (DALIAN) Co., Ltd.
Shen Hongyan
Infosys Technologies Ltd
Amit Kumar, Dhirendra Trivedi,
Naveen V, Sumathy N
Tata Consultancy Services
Lakshmi Mounika
Mozaiq Automation Pvt. Ltd.
Mozaiq Team
LOVE THIS HUMAN
Definiti
Dan Ormerod
LatentBridge
Ashish Hariyan
32Bit Bilgisayar Hiz. San. ve Tic. LTD. ŞTİ.
Gökhan Orhon
Tangentia Inc.
Gauri Shirur D'Souza
ONE TEAM ONE GOAL
Tangentia Inc.
Ajinkya Birwadkar
SHARING THE PASSION
Accenture
Vijaya Kumar Viswanathan
THE AUTOMATION ANYWHERE BRAND AWARD
32Bit Bilgisayar Hiz. San. ve Tic. LTD. ŞTİ.
Efe Yılmazer
THE EXTRA MILE
Shanghai Quark Information Technology Co., Ltd
Xiaopeng Zhang
TCS
Vamsi Kowtha
Infosys Limited
Radhika Karuppannan
A3 Servicios de Tecnología S.A de C.V
Alejandro López
THE PASSION FOR EXCELLENCE
Tangentia Inc.
Akshay Shirodkar
Mozaiq Automation Pvt. Ltd.
Deepanshu Soni
Mindtree Limited
Mahadev Pratap
FLY HIGH CLOUD
Laputa Technologies Limited
Kevin Li
Fujitsu Technology Solutions GmbH
Stefan Denz

THE AARI FOR HUMANS AWARD
TaskUs
Manish Pandya
Automation Anywhere award winners: employees
CIRCLE OF EXCELLENCE
IT Support Engineer II Ravinder Kumar Tabodia

DRIVING THE TEAM
VP, IT & Systems Kapil Vyas

FIREFIGHTER
Customer Success Team, Japan (APAC)

MVP FROM ACROSS THE WAY AWARD
Revenue Operations Director Jolene Ng
Development Representative Stefi Herrmann
Customer Success Manager Krish Patel

GO EVANGELIST AWARD
Developer, Evangelism Director Micah Smith

GREAT WOMEN AWARD
Senior Manager Software Development Archana Patel
Director and Test Team Software Development Engineer Bhavani Neerathilingam

INNOVATION EXCELLENCE
Solution Architect Sharad Jaiswal
Senior Sales Engineer Stefan Karsten
Senior Sales Engineer Aditya
Culture Project Manager Betsey Flood

LOVE THIS HUMAN AWARD
Enterprise Technical Support Architect Kiyoshi Suzuki
Senior Specialist in Order and License Management Libin Varghese
Procurement Sourcing Manager Sierra Routledge

ONE TEAM ONE GOAL AWARD
IT Manager Srinidhi Nuggehalli

SHARING THE PASSION AWARD
VP Field Marketing and Communications for North America and Europe Monica Patel

THE EXTRA MILE
Senior Automation Engineer Dongeok Kim
Talent Acquisition Manager Nick Burr
Senior Enterprise Architect Raish Saiyed
Contract Operations Senior Analyst Brandi Ford

PASSION FOR EXCELLENCE
Senior RPA Program Manager Takeya Nakagawa
Senior Solution Architect Chirag Miglani
Solution Lead/Architect Chiranjjeevi ("CJ") Vijayakumar
Customer Success Manager Mihir Borde

HAPPY FACE AWARD
Senior Software Engineer Chintan
Sales Operations Director Steve Auch

SHRINK OF THE YEAR
Senior Director Technical Program Management Swaran Sethi

MANAGER OF THE YEAR
Enterprise Engineering Director Charumathy Venkatraman
UK Sales Development Leader Dan O'Shaughnessy
Field Support Director Hazeem Sait
Customer Success Senior Director Dave McCargar

LIFE OF THE PARTY AWARD
IT Manager Nuggehalli

INNOVATIVE BOT OF THE YEAR
Senior Automation Engineers Sachdeep Sivakumar and Shashank Krishnan
Senior Automation Engineer Sarthak Gandhi

 
Make the Most of RPA with Automation Anywhere.
About Neeti Mehta Shukla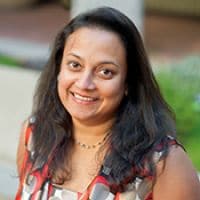 Company Co-Founder and Social Impact Officer, Neeti is committed to empowering non-profits and uplifting vulnerable societal groups through tech upskilling and making automation a global force for good.
Subscribe via Email
View All Posts
LinkedIn