Product Brief
Guaranteeing Trust and Privacy with Privacy Enhanced Gateway (PEG)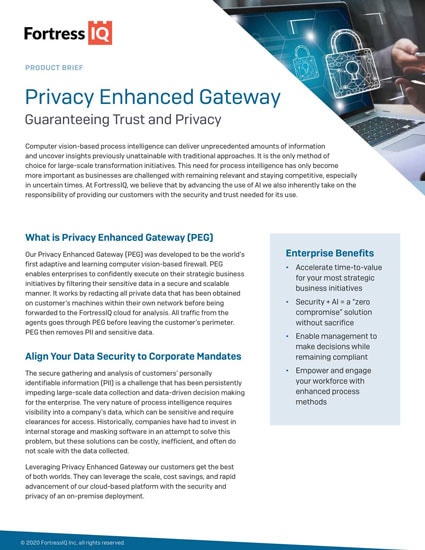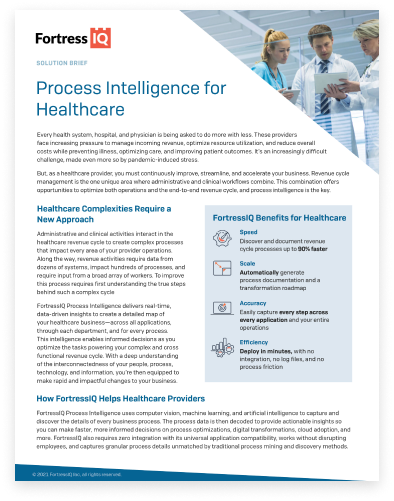 Mitigate data security and privacy requirements while executing scalable transformation initiatives.
PEG was developed to be the world's first adaptive and learning computer vision-based firewall. It enables enterprises to confidently execute on their strategic business initiatives by filtering their sensitive data in a secure and scalable manner. It works by redacting all private data that has been obtained on customer's machines within their own network before being forwarded to the FortressIQ cloud for analysis. All agents connect to PEG before leaving the customer's perimeter, removing PII and sensitive data in its entirety.
Our joint solution enables organizations to grow business productivity by automating repetitive, time-consuming tasks, allowing employees to focus on more strategic work. This integration provides organizations with an end-to-end solution for intelligent automation.
Enterprise Benefits

Accelerate time-to-value for your most strategic business initiatives

Security + AI = a "zero compromise" solution without sacrifice

Enable management to make decisions while remaining compliant
Empower and engage your workforce with enhanced process methods
Trust is a core part of our culture, products, and processes at FortressIQ and drives our mission to accelerate the responsible and ethical use of AI in the enterprise. Learn more about the PEG, download the Product Brief Now!