Blog
Protecting Your Business from the Next Crisis
August 4, 2020
6 Minute Read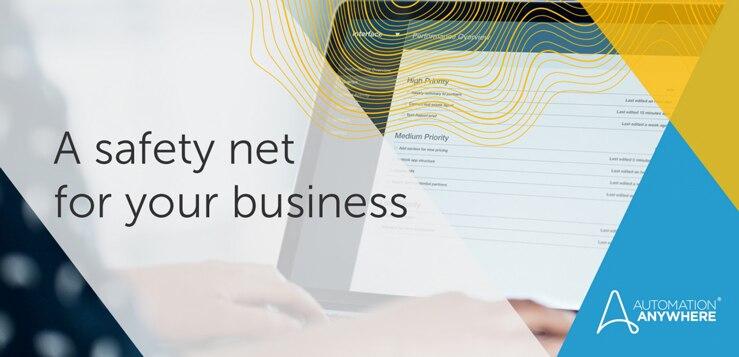 In a (PwC) survey of chief executives on crisis management, 69% of respondents said they have experienced at least one crisis in the last five years. The irony about the PwC finding is that businesses are still regularly blindsided by terrible events despite the time and money they spend on preventing crises.
Categorizing crisis triggers
There are many types of crises, which can be sorted into categories.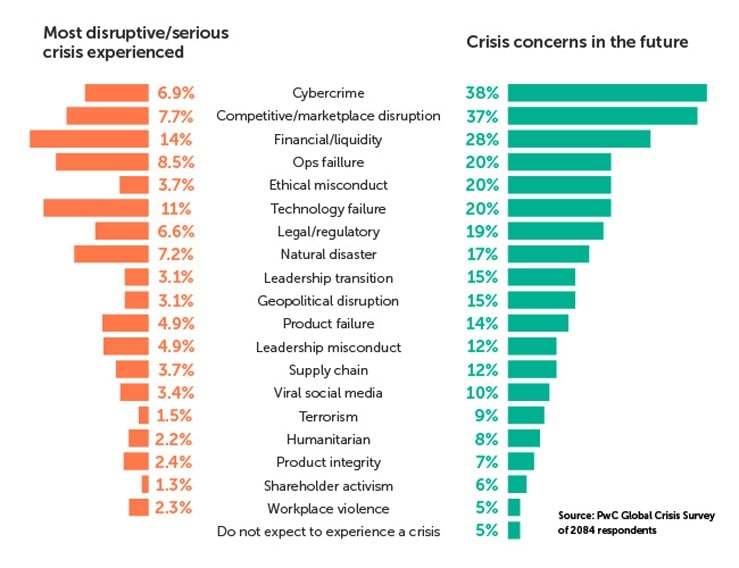 From these categories, the most commonly experienced crises are operational, tech-related, legal, and humanitarian. Major crises such as the COVID-19 pandemic, natural disasters, and political upheavals can negatively impact a business's bottom line.
Consider, for example, some relatively recent disasters:
Natural disasters — The earthquake that hit Haiti in 2010 damaged or destroyed virtually all vital infrastructures essential to response and recovery, including communication systems, medical facilities, and transport channels such as airports and seaports. The high costs, combined with long recovery times from such natural disasters, trigger many companies to reassess their strategies and footprints to make them more resilient to any kind of disruption.
Industrial espionage — It's another crisis that organizations often recognize when it's already too late to manage or act upon. Businesses that are counting on technological edge to prepare for crises may need to think about the possible disappearance of the technology and investigate signs of chatter over the Dark Web as part of its due diligence.
Unprotected infrastructure — This can disrupt businesses, especially if it affects the core of a nation. The U.S. power grid is a good example of a complex, decentralized enterprise that's susceptible to attack.
COVID-19 pandemic — This stands as one of the biggest disruptors. The unique nature of the crisis poses a new set of challenges for businesses as they slowly claw their way toward reopening and recovery. Yet, it will probably take a long time for small and large businesses to recover — if they can do that at all.
Getting fit for the next crisis
In the face of rising economic and business uncertainty, businesses are gearing up for the unexpected by building resilience and accelerating operational flexibility and productivity improvements. For example, new digital technologies in the retail and automotive sectors are reshaping operations. These technologies are using sophisticated automation powered by the Internet of Things (IoT), artificial intelligence (AI) technologies, and advanced analytics to augment or support human decision-making.
Companies in multiple sectors are already transforming their business models, products, and processes; however, they need to go further to speed up internal initiatives and pursue new collaboration with partners, suppliers, and customers. Resilient businesses that build greater flexibility into their end-to-end value chains will achieve success in the face of volatility and uncertainty.
Business crisis management
Here are some fundamental things that companies can do to mitigate risk and help them respond to their changing environment.
Planning for the unexpected
Many companies are underprepared for a crisis because they fail to have crisis management plans in place and to allocate clear roles and responsibilities for readiness. With the rise of unpredictable and fast technologies, such as social media, rigorous incident response planning is a must-have for any business. If your company already has a crisis management plan in place, assess your readiness to check if the plan is relevant and pinpoint any blind spots or gaps in the plan. This assessment includes holding interviews with the team that will execute the plan and check their readiness.
The next step after conducting an assessment is to run crisis simulation exercises based on creative and realistic scenarios with the relevant teams. Even with the crisis plan in place, it's important to cultivate a culture that embraces any new changes that come into the business and one that rewards innovation that drives productivity. Automation is one of the innovations that helps drive productivity, especially during a crisis. A good example is Tricor Group, a leading business expansion specialist in Asia that serves 50,000 clients in 21 markets globally. The company provides comprehensive professional and corporate services to its clients through its team of experts.
In 2019, Tricor implemented Robotic Process Automation (RPA) to digitally transform its operations and help boost staff capabilities while improving business efficiencies. By establishing a shared service center and automating payroll services, financial accounting, internal finance, and corporate secretarial processes, the company increased productivity by 30%.
Consequently, Tricor saved more than 3,000 hours in payroll services in the first year and 7,000 hours in financial reporting services annually and continues to deliver cutting edge solutions for its clients. The company is confidently navigating through the challenges presented by the current COVID-19 pandemic, and, in the future, it looks to use automation across more business functions to ensure business continuity.
Use facts for crisis response and management decisions
One of the reasons why organizations may be disjointed in how they respond to and manage a crisis is by not having facts to respond to the crisis immediately. This can be attributed to the fear of making the wrong call.
With established facts, though, companies can get to the heart of the matter quickly and operationalize to understand, prioritize, and address the crisis. This not only builds confidence with stakeholders but also allows management to take control of the situation. Information is power and forms the basis for an effective and credible response.
Enable collaboration between crisis response teams
At the heart of any crisis response are three main participants: the public relations and communications team, the legal and regulatory teams, and the operational response team.
The communications and PR teams develop and deliver the company's messaging internally and externally. Legal and regulatory teams understand the risk exposures and advise on the appropriate responses. The operational response team comprises different experts and professionals who do everything else from establishing the facts for the other two teams.
All three participants must work in sync at any given time, though it's not easy to achieve this close orchestration because they're often used to working in separate silos. The best way to ensure they work together is by including all three in the crisis response plan.
Add in learning
If a business is to emerge stronger, it's imperative to add this final element: Learning from the crisis and acting on the learning to ensure a better response next time. However, it doesn't always come naturally to learn from past crises, as companies may feel that it's easier to forget the whole experience and not bring it up again.
To mitigate this, companies need to learn lessons about the root causes of the crisis and how they can respond and act differently and see how to respond more effectively in the future.
Businesses that create and implement event-driven transformation strategies and identify and capitalize on the lessons learned before, during, and after crises will emerge stronger, sooner, and more resilient.
See How Intelligent Automation Can Help You with Crisis Management.
About Automation Anywhere Staff