Blog
Identifying Automation Opportunities for Human Resources
November 10, 2020
4 Minute Read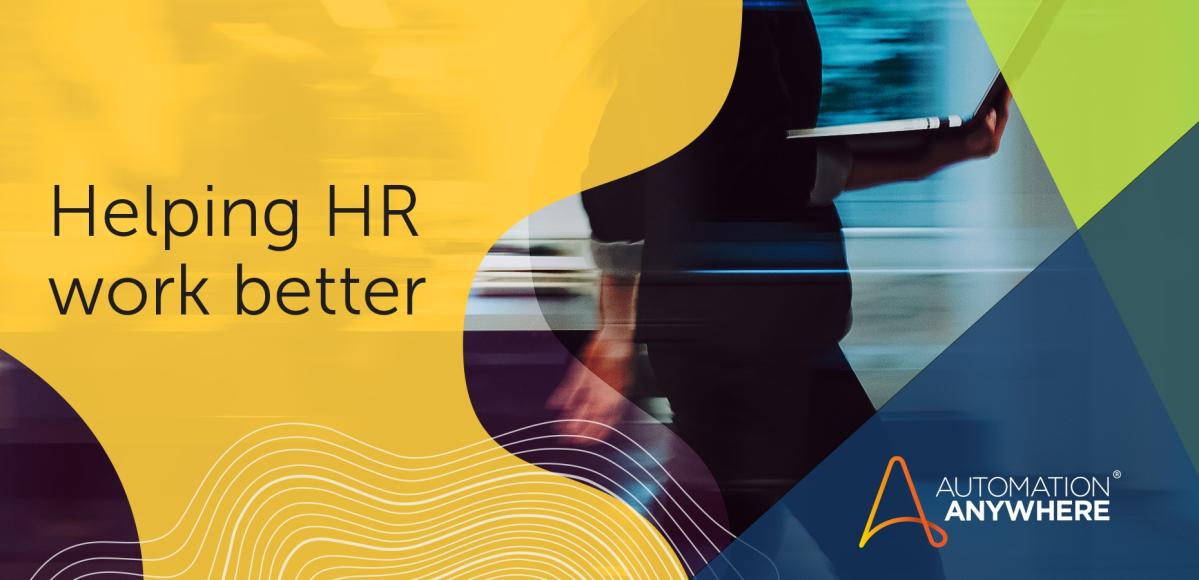 Human resources (HR) departments are fast-rising stars when it comes to successfully deploying Robotic Process Automation (RPA).  A case in point: RPA deployments for HR shot up by 50 percent between 2019 and 2020, according to the 2019-2020 Sierra-Cedar HR Systems Survey.
On the demand side, HR organizations are hungry for automation. HR has many standardized manual processes that are slow and cumbersome to perform and delay providing services for employees.  
On the supply side, RPA is continually getting easier to use, with more functionality included in every new release as the technology matures. And it improves the quality of work for HR staff. Those specialists are eager to build themselves "digital assistants," or RPA software bots, to do the repetitive, mundane work so that they can pursue initiatives that add more value to the organization.



A plethora of possibilities for RPA
According to a recent report by the Everest Group, the processes of an HR department can be divided into three categories: operational services, value-added services, and strategy.  
Operational services: This includes foundational HR services such as benefits, payroll, and employee data management.
Value-added services: These are services that build on operational services such as global mobility, performance and succession, and training/learning, recruitment, compensation, and rewards and recognition processes.
Strategy: Finally, the HR team is responsible for completing a lot of processes that involve strategies such as overall HR strategy, employee relations strategy, and regulatory and compliance strategy.

The four quadrants of automation opportunities
The Everest Group evaluated the HR processes in these categories using a proprietary methodology to assess the suitability of processes for automation. Named the Enterprise Value Chain Approach (EVCA), this five-step methodology helps businesses identify business processes, analyze each process, spotlight high-value opportunities for automation, and define metrics to prioritize those opportunities.
With EVCA scores, processes are divided into four quadrants based on cost savings potential and overall automation potential, as follows:
Pursue: Processes that score high on cost savings potential and automation potential fall into this quadrant. These are the highest priority processes to automate.
Opportunistic: Processes score high on cost savings but low on automation potential. They should be automated only on an "opportunistic" basis. Such opportunities should be pursued only when a use case presents itself during the regular course of business operations where the benefits outweigh the costs.
Watchful: The processes in this quadrant return relatively little value but are easy to automate. These lower-priority processes can be automated when budget/resource capacity allows for it.
Ignore: These are difficult to automate and return little value. Ignore them.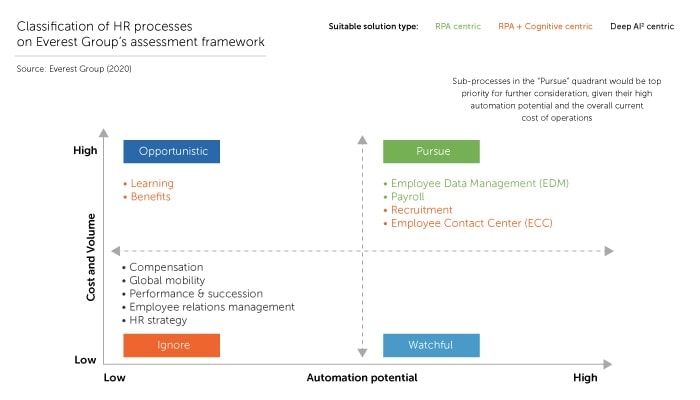 The Everest Group found that employee data management (EDM) has a very high potential for automation. This transactional process has to do with such things as extracting and updating data from different sources—something easily done by RPA bots.
Additionally, payroll input validation, reconciliation, sourcing, screening, and interview scheduling are all rules-driven large-scale processes that are ready for automation. Finally, natural language processing (NLP), an artificial intelligence (AI) technology, can create intelligent automation—RPA plus AI—capable of answering employee questions. This could revolutionize the employee contact center, improving efficiency as well as boosting the overall employee experience.
In this blog, we will take a look at EDM, a promising process in the "pursue" automation category for HR companies, and show how intelligent automation can be applied, resulting in significant time and cost savings.

Applying intelligent automation to EDM
EDM is one of the highest-volume processes within HR. When employees change their addresses, get promoted, or move to a different position in a different department, all that data has to be updated. But these changes typically come from different systems and in different forms—emails, faxes, even phone calls—and include multiple handoffs between different people and processes. The result? An error-prone process that is time-consuming and costly.
Intelligent automation can be embedded between disparate systems such as core HR, payroll, and onboarding to automatically make data changes while eliminating errors and accelerating cycle time.
The net result: intelligent automation reduces—or completely eliminates—error rates common in manual HR processes. It slashes the cycle time of processes while simultaneously reducing costs. It allows HR to deliver an enhanced experience to employees. And it frees up HR professionals to do more valuable work for their organizations.
Read More about Automating HR Processes.
About Nancy Hauge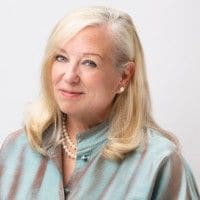 Nancy Hauge is the chief people experience officer at Automation Anywhere. She is a recipient of the "Stevie Awards" for women in high tech and was named by the Silicon Valley Business Journal as one of the "100 Women of Influence" in Silicon Valley.
Subscribe via Email
View All Posts
LinkedIn