Blog
How Your Procurement Can Benefit from Automation
October 29, 2020
4 Minute Read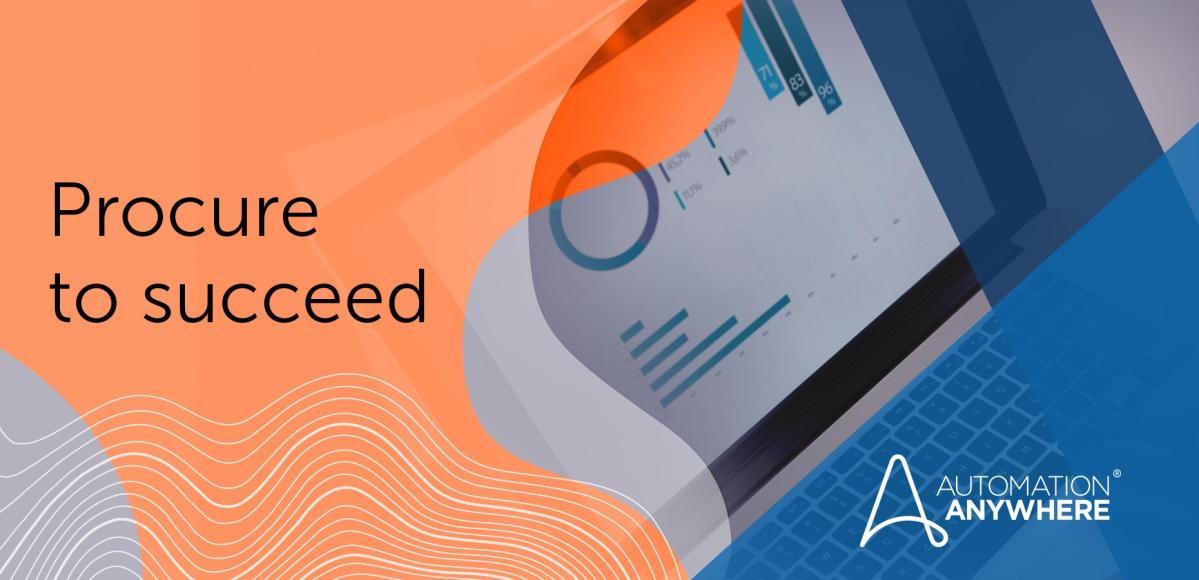 Procurement has rapidly become a high-impact area for automation. Traditionally, it has been primarily a back-office function, focusing on handling and approving requests from business stakeholders for products and services, dealing with vendors, and ordering and obtaining the items or services.

Now, organizations are looking at procurement as playing a bigger role as a strategic partner. They want procurement to help drive business outcomes, for greater efficiency, resiliency, and cost savings. And automation can be the catalyst to make that transformation possible.
Procurement leaders have faced several challenges in their traditional and expanded roles. Many of the procurement tasks are handled manually, with paper-based tools, including spreadsheets, and multiple human touchpoints. That manual effort can slow down the process—affecting efficiency and productivity—and opening the door to errors.
Robotic Process Automation (RPA), especially when combined with artificial intelligence (AI) to support intelligent automation, can enhance the efficiency and accuracy and reduce the related costs of procurement. According to the Everest Group, RPA and AI can also provide procurement leaders with strategic insights to be better business partners. 
The diagram below summarizes the core procurement processes chain. The Everest Group image shows the Source-to-Pay (SPS) value chain split into two process groups: Source-to-Contact (S2C) and Procure-to-Pay (P2P). These are two key areas for intelligent automation.


The four quadrants of automation opportunities
The Everest Group evaluated all of these processes using a proprietary methodology to assess the suitability of processes for automation. Named the Enterprise Value Chain Approach (EVCA), this five-step methodology helps businesses identify business processes, analyze each process, spotlight high-value opportunities for automation, and define metrics to prioritize those opportunities.
Using EVCA scores, processes are divided into the following four quadrants based on cost savings potential and overall automation potential:


Pursue: Processes that score high on cost savings potential and automation potential fall into this quadrant. These are the highest priority processes to automate.


Opportunistic: Processes score high on cost savings but low on automation potential. They should be automated only on an "opportunistic" basis. Such opportunities should be pursued only when a use case presents itself during the regular course of business operations where the benefits outweigh the costs.


Watchful: The processes in this quadrant return relatively little value but are easy to automate. These lower-priority processes can be automated when budget/resource capacity allows for it.


Ignore: These are difficult to automate and return little value. Ignore them.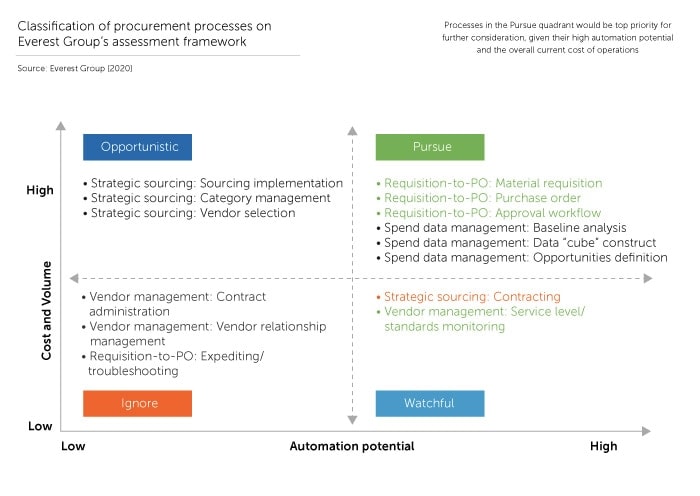 In this blog article, we will take a look at one promising process in the "pursue" automation category for procurement—requisition-to-PO—and show how intelligent automation can be applied.

The challenges of requisition-to-PO
For procurement specialists who are working with legacy solutions, including manual processing, the requisition-to-purchase order journey can be full of obstacles and worries. The specialists have to handle data from many sources such as purchase orders, receipts, agreements, RFPs, RFQ, and emails—unstructured and structured data. And that can take a lot of time for human workers to process, affecting productivity and cost-efficiency, with the possibility of some data falling between the cracks, so to speak, as the result of errors.
The typical requisition-to-PO involves a complex approval structure. A sudden influx of requests or a few mistakes along the way and you could face a process bottleneck, causing delays, long cycle times, and a bad procurement experience for stakeholder, vendor, customer, and the procurement specialist.
Legacy solutions can also affect visibility. Informational silos, inefficient data storage, and large volumes of paper often associated with those solutions can make it difficult to keep track of purchase orders, monitor spend, cyberattack, and fraudulent activity, as well as gain insights to predict future needs. 

The benefits of intelligent automation for procurement
Intelligent automation combining RPA and artificial intelligence automates and streamlines procurement tasks—increasing efficiency, lowering related operating costs, reducing errors, and improving the experiences of everyone involved in the processes. In addition, procurement specialists can move into higher-value work such as category management and analysis.  
Intelligent automation also offers benefits specifically for the requisition-to-PO process, including:


Handles all types of data. Intelligent automation can gather, extract, and analyze unstructured and structured data from a wide variety of sources—with no human intervention.


Accelerates the process. Requisitions can be automatically created based on materials and services. And the requisitions can be automatically routed to approvers, buyers, and suppliers—quickly and easily.


Eliminates bottlenecks. Automation can scale to meet demand, for a smooth operation.


Offers greater collaboration and visibility. Informational and process silos can be eliminated to enhance process visibility and allow for real-time information sharing.
Intelligent automation can help transform your procurement into a strategic partner to drive business success.
Learn More about Automating Your Procurement.
About Catherine Calarco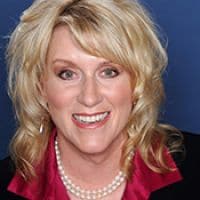 Catherine Calarco, vice president of innovation evangelism at Automation Anywhere, has more than 20 years of global leadership in life sciences, digital medicine, and technology. She's known for driving significant B2C/B2B revenue growth and developing innovative, award-winning digital health
Subscribe via Email
View All Posts
LinkedIn