Blog
Deloitte: RPA Leads the Way to Intelligent Automation
August 10, 2021
4 Minute Read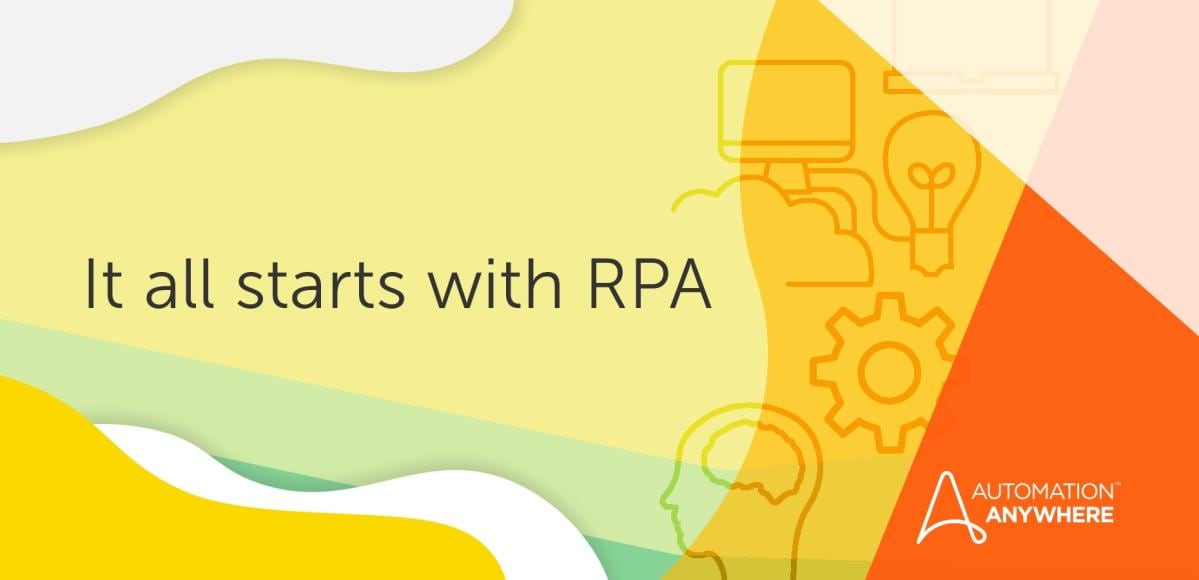 It is increasingly clear that it takes a portfolio of technologies to succeed at intelligent automation. The question is, what technologies do you choose to be in your particular portfolio?
In a recent survey, Deloitte found that Robotic Process Automation (RPA) is the leader of all technologies being used to achieve intelligent automation, with 78% of enterprises already implementing it, and 16% planning to implement it in the next three years. Only 6% of businesses are not considering using RPA for their intelligent automation strategies.
What is intelligent automation? It is an advanced innovation that combines artificial intelligence (AI) technologies—which can encompass machine learning, natural language processing, machine vision, and other cognitive developments—with some kind of automation technology.
That automation technology could be RPA. Or it could be business process automation (BPA), business process management (BPM), intelligent document processing (IDP), optical character recognition (OCR) … the list goes on and on.
Deloitte's 2021 global survey indicates 73% of all executives today have intelligent automation initiatives under development—an impressive 58% jump from 2019. It's no wonder the automation market is predicted to have a compound annual growth rate (CAGR) of more than 40% annually through 2027 when the total market value is likely to exceed $25 billion. 
The race to see which technology would prevail has been intense. But it looks like RPA can claim a decisive victory.

Most businesses lack an intelligent automation strategy
According to Deloitte, the ideal way to approach intelligent automation is to make a well-considered and deliberate decision about what they want to achieve with it, based on the current state of the technology. They then structure a holistic strategy around that decision.
Reality is much different from this ideal. Only 26% of businesses that are piloting intelligent automation, and 38% of those implementing and scaling have an enterprise-wide intelligent automation strategy.
In fact, lack of a clear vision is one of the top four reasons that businesses fail to scale their intelligent automation efforts. It is preceded by resistance to change; lack of IT readiness; and process fragmentation.

5 ways intelligent automation can help you today
Here are four common use cases for intelligent automation using RPA:
Servicing customers—Your customer service function is the face of your company. The last thing you want is to fail to deliver satisfaction when a customer calls, texts, or emails because they have a question—or an issue. Intelligent automation enables you to create intelligent chatbots and other systems that can answer routine questions automatically and escalate those more complex issues that need higher levels of assistance to the attention of human workers.
Managing insurance claims—Basic RPA can take care of some aspects of processing claims. But insurance claims often include unstructured data such as handwritten notes, emails, photos, PDFs, even medical scans. An intelligent automation system that adds AI or machine learning to the basic RPA functionality can extract the needed information from these documents and speed processing so the lifecycle of claims is significantly reduced.
Processing Invoices—This is a tedious back-office process that when done manually is tedious, repetitive, and prone to human error. But with basic RPA, this is a difficult process to automate because different vendors' invoices can be from a variety of sources—email, fax, via the company portal—and take a variety of unpredictable formats. Intelligent automation can read even unstructured documents, eliminate keyboarding errors, and free up finance professionals for higher-value work.
Recruiting and onboarding—Intelligent automation can help with recruitment by extracting key data from unstructured resumes from a broad variety of online platforms, analyze skillsets, and align what the company is looking for in people with the right candidates. Then, once candidates are hired, intelligent automation can manage all the various forms and checklists HR requires to get qualified workers into their jobs as quickly as possible.

RPA rules in intelligent automation
All these use cases and more are achieved by taking traditional RPA technology and adding AI or other intelligent technologies to it. In addition to automating rote, rule-based processes using highly structured data, an intelligent automation system can extract valuable information from unstructured data and learn to be better at a process as more data is fed to it. Some intelligent automation systems can even make judgment calls. But it all starts with RPA. That's the root of every intelligent automation initiative, as Deloitte has ascertained.
Get Started with Your RPA Plan.
About Automation Anywhere Staff