Blog
6 Reasons to Invest in RPA Education and Where to Get It
October 22, 2020
4 Minute Read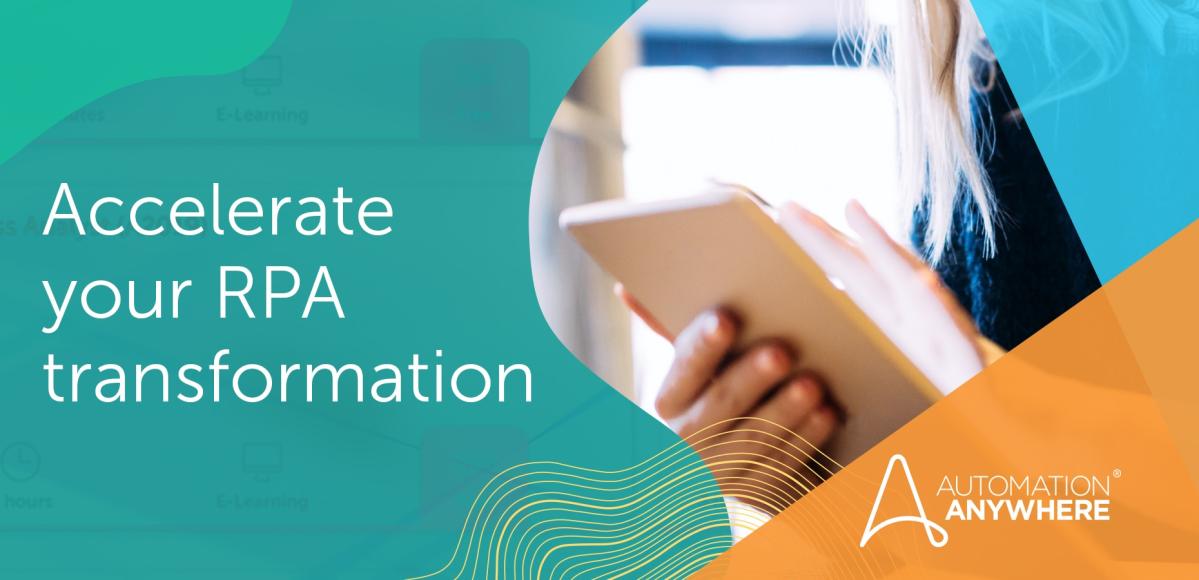 Robotic Process Automation (RPA) has become an essential tool in a wide variety of businesses, small and large, across industries, and around the world. According to Fortune Business Insights, the RPA market will grow to $6.10 billion by 2027 with a compound annual growth rate of 24%.
RPA can accelerate and streamline business processes, increasing efficiency and productivity. But to get the most out of that tool requires an understanding of how the tool works and its full capabilities. That's where education comes in. According to edureka, RPA and artificial intelligence are two of the top 10 trending technologies to master in 2020. 
Consider these six reasons to invest in an RPA education.

#1 Ability to scale
You've acquired RPA technology or thinking of doing so. The more you train and enable your people to use that technology, the faster and easier your organization can scale and take advantage of digital transformation. The ability to scale can equal higher ROI.
Think about one large group within your organization. Because of their number, your business users represent the greatest potential resource to scale up your operation and maximize your organization's RPA investment. Educate them about RPA and you can turn those users into citizen developers who can automate own their processes. Think what that can mean for productivity.

#2 Keeping up with technology
Just like any technology, automation is constantly evolving, with new capabilities. Having the most up-to-date, extensive knowledge of a platform will help your team get more from the technology. Providing RPA education can also help the team envision what's possible, fostering innovation.

#3 Supporting resiliency
If you invest in education that can turn regular businesspeople into citizen developers who can customize their experience, you'll not only build a more efficient enterprise, you'll create a more resilient one. Knowing how to build a bot can lead to knowing how to fix a bot. So, you could have more people who are able to handle problems themselves and get your operation back to business as usual faster.

#4 Freeing up IT
RPA education can be a friend to IT. Everything doesn't have to end up on the shoulders of an overworked IT group. For example, development tasks such as creating a bot can be off-loaded to the citizen developers so that IT can focus on higher-value activities and maintaining governance over technology in an organization.

#5 Enhancing security
RPA bot vulnerabilities can often be traced back to poor design. Educating your team on the proper design, handling, and care of bots can help reduce security risks.

#6 Getting everyone to work together
RPA education can also be used to help standardize best practices, procedures, and terminology within an organization, boosting collaboration and operational efficiency.

What's next?
You can see the benefits of RPA education. So, where can you get that education? You have many choices of where and how.
There are programs about RPA in general and programs that focus on specific RPA platforms or functions. You can sign up for classes through community colleges, companies that focus on business and technology education, and RPA vendors. You can choose individual classes or combined programs, learning trails, that cover a specific role such as a developer or analyst or an aspect of the technology leading to certification. You can go with free or paid RPA education.

Why Automation Anywhere
Each choice has its pros and cons; however, if you want the most comprehensive, in-depth, flexible way of mastering RPA, consider what Automation Anywhere University has to offer. We have more than 100 classes—free and by subscription, introductory to deep dives.
You can take advantage of technical webinars as well as virtual instructor-led training classes (VILT). The two- to four-day live hands-on VILT classes go deep into topics such as designing and building an advanced Digital Workforce and exploring solutions for RPA developers and solution architects. You can access an extensive online, on-demand library of general and in-depth content that covers a wide variety of automation topics. And you can get certified on RPA.
Our training has helped businesses accelerate their RPA adoption, reduce costs and time related to the learning curve, and maximize their RPA investment—great reasons to invest in RPA education and Automation Anywhere University.
Join Us at Automation Anywhere University.
About Automation Anywhere Staff