Blog
Using OKRs as a Motivational Tool
October 2, 2020
4 Minute Read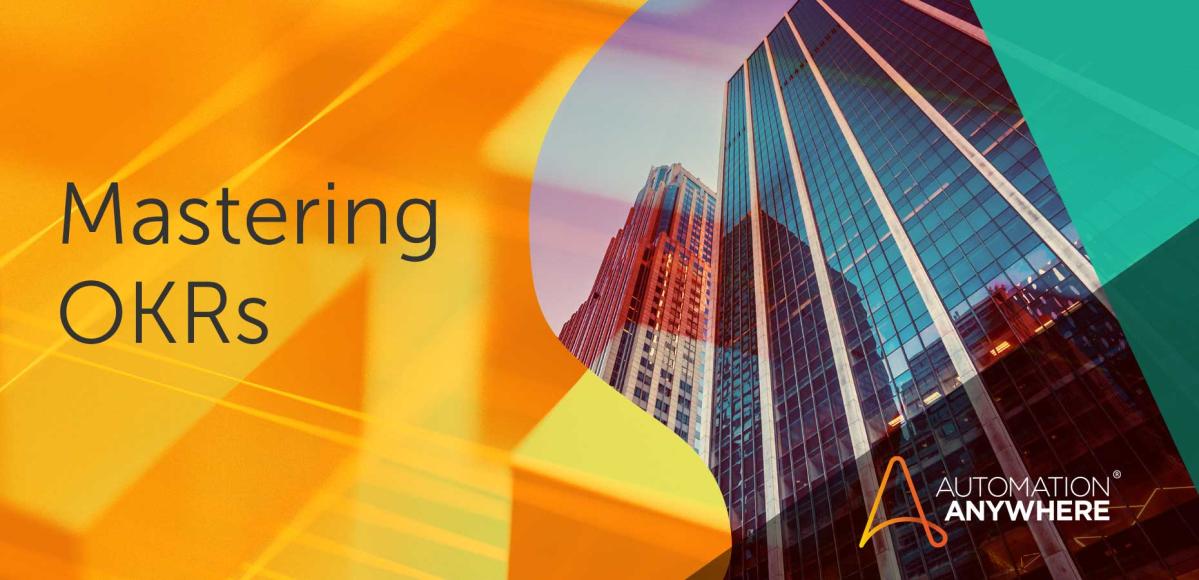 During this time of considerable stress due to the COVID-19 pandemic, employees are having difficulty staying on track to achieve their goals. To be successful, organizations must find innovative ways of encouraging and empowering their team members across their front-office and back-office organization. And that's where an Objectives and Key Results (OKR) framework comes in. 
What is an OKR?
OKR is a popular methodology that organizations use to ensure company-wide alignment to the corporate strategies. OKRs are made up of three to five objectives and key results under each objective. The objective is a goal that should be achieved, while the key results measure the progress made towards achieving the objective.
As a best practice strategic planning process, OKRs enable organizations to set, communicate, and track goals and results in a certain timeframe, for example, quarterly. OKRs organize teams and their day-to-day work around achieving common objectives. This, in turn, brings several benefits to organizations that use them, such as increased transparency, improved focus, and better alignment. So, what should be considered when developing objectives and key results?
Creating your objectives
Your objectives should communicate a clear picture of intent and direction. As mentioned earlier, these should be three to five objectives that you want to accomplish as a team, which align with your organization's overall goals.
There should also be an explanation as to why these objectives matter to the team and the organization. Objectives should be designed and communicated to inspire and spark motivation within the group, creating a sense of purpose that will drive the group forward, even in the face of disruption. The team's objectives may be designed as long-term or short-term goals.
Measuring your success
The key results should explain how success will be measured in a time period, such as a quarter. For every objective, clear key results will feature up to six measurable outcomes for the time period. Your key results will speak to the best possible outcome for each goal.
Bear in mind that you may not achieve 100% of this goal, but measurement should still be established and utilized. Key results should also be quantifiable and should not be in the form of action items or opinions.
OKR principles
Before getting started with OKRs, it's important to know the underlying principles of the goal-management framework. Here are a few:
1. Simplicity and agility
An OKR is a simple and easy-to-understand framework that ensures organizations invest time and resources into achieving goals.
2. Bidirectional
OKRs are set, and then each employee or team builds tactical OKRs aligned to the overall, strategic OKR. The result is an effective and efficient process compared to cascaded goals set from top to bottom.
3. Public
The transparent nature of OKRs ensures the goals are aligned across the departments and levels of the organization. Plus, objectives can be easily achieved with such transparency and alignment so that everyone moves in a unified direction.
4. Collaboration
OKRs encourage collaboration by making it easier to understand the critical roles every employee plays in achieving the overall strategic OKR(s). Everyone is moving towards a common objective, so it's clear that goals can only be achieved as a team, not by an individual.
The benefits of OKRs
A key benefit of OKRs is that they align and connect your team members to the organization's goals. OKRs bring clear direction to team members. This helps maximize productivity across the entire organization and serves as a form of performance appraisal when developing employees in their respective departments. 
OKRs increase the team's ability to make strategic decisions on their own. By outlining goals and key objectives, team members can see how the team's goals align with the company's overall vision, strategy, and priorities. This leads to increased effectiveness in goal setting, making goals that are clearer and more specific. As a result, the team's goals will be more likely to be achieved.
OKRs are a useful and relevant tool in building more cohesive teams and help inspire and encourage team members through the fulfillment of micro and macro goals. In 2020, OKRs are especially crucial to the work of inspiring and motivating workers in your front and back offices.
OKRs and automation
Deploying automation can help you achieve and exceed your OKRs, especially when it comes to meeting performance/productivity goals. Intelligent automation can accelerate processes across the board — front and back. It can help enhance customer service by making it possible for your agents to spend more time connecting with customers and less time on handling paperwork. It can help finance and accounting close faster and more accurately. It can make human resources onboarding more efficient, more human.
Achieve Your OKRs with Automation.
About Automation Anywhere Staff