Blog
What Happened at HIMSS22
March 23, 2022
4 Minute Read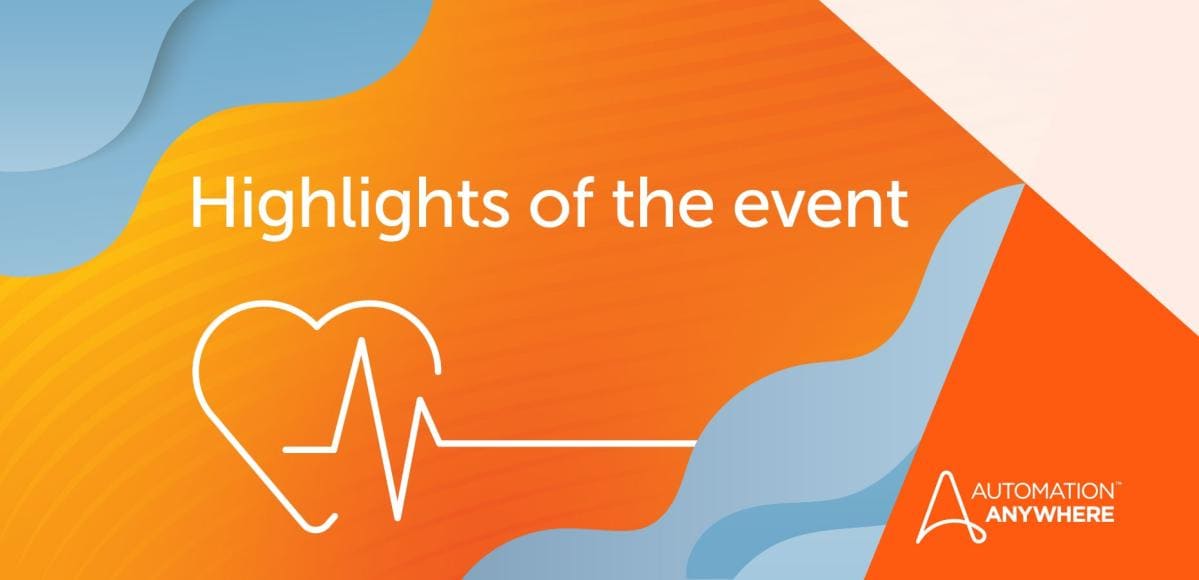 Between March 14 and 18, the Healthcare Information and Management Systems Society (HIMSS) held its second on-site event during the pandemic. HIMSS22 brought both a healthcare crowd and the Automation Anywhere team to Orlando's Orange County Convention Center. The event coincided with spring break for colleges, so airports and hotels were crammed full—to the delight of local hotels and restaurants but not so much for event attendees.
Occupying two-thirds of the cavernous expo hall, HIMSS22 featured nearly a thousand vendors who pitched their products to an estimated 28,000 attendees, about 60% of the typical pre-COVID attendance. Except for some registration issues and a few glitches such as running out of plastic badge holders and program guides, the event went fairly smoothly. As with past HIMSS conventions, the main draw was networking. Attendees seemed excited to be meeting in person once more. Some wore masks; some did not.

A variety of topics
More than 300 educational and special interest sessions generated buzz and conversations. The quality of the presentations was generally high, with topics including:
Patient experience and engagement, structural determinants of health, health equity
Virtual care, telemedicine, hospital at home, remote monitoring, digital health
AI, data analytics, algorithmic bias, AI-powered technologies
Interoperability, HL7, FHIR APIs, device integration, HIEs
Burnout in physicians and nurses, mental health, workforce culture
New business models – digital transformation, value-based payment, ACOs
Cloud strategy, migrating EHRs to the cloud
Cybersecurity, ransomware
Supply chain, logistics
Regulation today and on the horizon
 
Exploring what's new
Attendees also had the opportunity to learn about new products, solutions, services, and partnerships through company announcements and presentations such as:
Automation Anywhere brought strong sales and senior leadership representation and hosted a HealthIMPACT invitation-only dinner and a general reception. I had the privilege of appearing on HIMSS TV with, and later interviewing, Marcus Johnson, managing director of Highmark Health's new subsidiary Lumevity, which leverages Fortress IQ to achieve organizational transformation.
The next day, I hosted a special one-hour fireside chat with Steve Hadley, the intelligent automation lead at Intermountain Healthcare, who directs a successful automation program that includes innovative use cases such as telemedicine and COVID testing.
HIMSS22 felt like the beginning of a long-delayed recovery for the industry. One common remark was how much people missed face-to-face meetings. Yet, many attendees also seemed fatigued – a bit worse for the wear – after two years battling a tenacious virus. It's too early to tell how the pandemic will ultimately play out, whether we'll fully return to things as they were, or live with a new normal. The good news was a palpable feeling of optimism and hope in the future, expressed by speaker after speaker.
Learn About Automation Anywhere for Healthcare.
About Automation Anywhere Staff