Add the limitless possibilities of ML
to your day-to-day Process Automation
Realize AI with Machine Learning at scale to drive better business outcomes
The partnership between Automation Anywhere and DataRobot provides an end-to-end solution to enhance your automation with the cognizance of Artificial Intelligence.
Machine learning models can be trained using data and applied to real-world business problems to automatically make decisions and recommend actionable outcomes to the user. By combining DataRobot with Automation Anywhere, organizations can greatly increase the depth and breadth of use cases that can be automated. Use DataRobot to create, deploy, maintain, and govern Machine Learning models. Insert these models right into your bots with a simple drag-and-drop in the Automation Anywhere Bot Creator.
Visit the Automation Anywhere Bot Store to get the integration package for DataRobot.
See how ML and RPA work together in the real world
Watch DataRobot + Automation Anywhere apply intelligent automation to the $2 trillion global problem of money laundering to uncover financial crimes and help banks reduce costs and regulatory risk.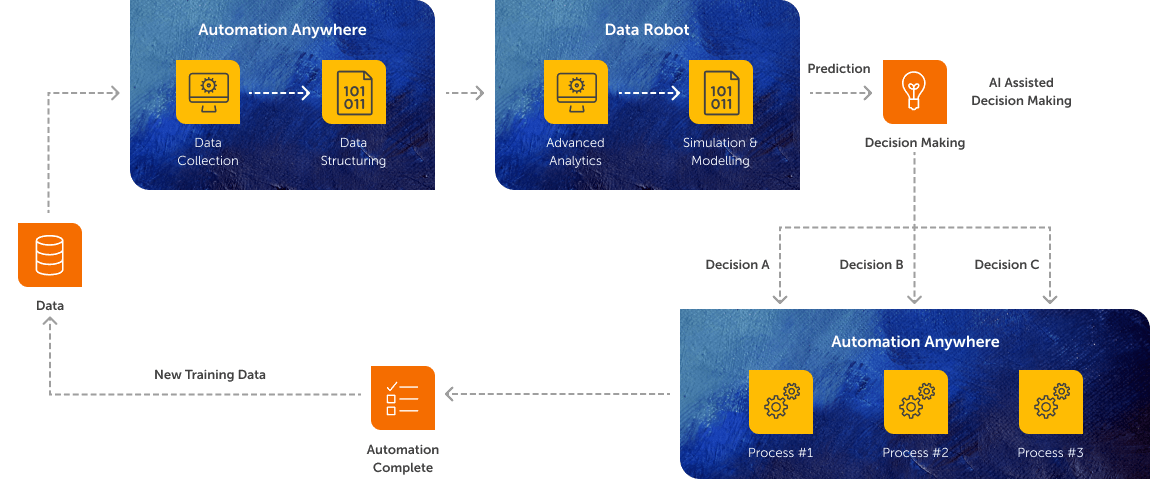 When RPA met ML: An intelligent automation love story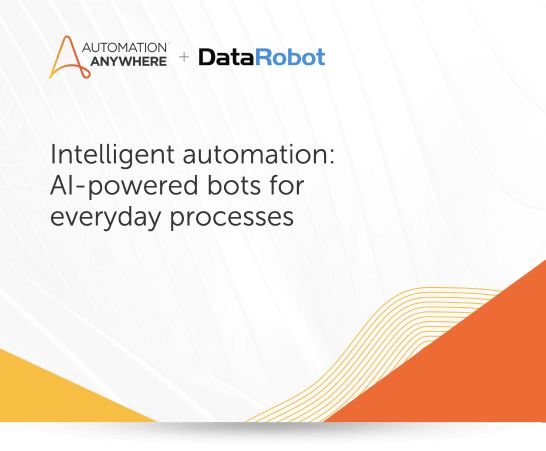 The ability to automate complex processes with a combination of RPA and Machine Learning will be critical to remain competitive during these uncertain times. The combination of Automation Anywhere and DataRobot will help organizations minimize costs and drive efficiencies, while providing a much-needed focus on finding value from data to navigate the rapidly changing business environment resulting from the global pandemic.
Find out what happens when automation is coupled with AI and machine learning tools and what that means for business outcomes (Hint: things like ROI in the triple-digit percentages).
Automating sensitive, complex, business processes? Easy.
DataRobot add the reach of automation with machine learning models that add interpretation, decision making, and prediction.


Automated Email classification and routing based on NLP model
Add DataRobot NLP model to build an automated workflow that checks and reads emails, predicts classification and urgency, then routes to corresponding recipients and analyzes and reports on all activity.


Automated follow-up scheduling for patients with high probability of hospital readmission
Improve care outcomes with DataRobot machine learning to predict hospital readmission based on case data to initiate automated follow-up scheduling for patients with assessed high probability of readmission.


Predict default likelihood for loan approval and review the high-risk applications
Evaluate new loan applications with DataRobot to predict default likelihood, then process with RPA to submit the new loans into the system or route high-risk applications to the loan review team for further assessment.