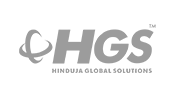 "INSURING" Back-office automation success for a U.S. Health Insurance Company
ABOUT
In the services delivery market, providing value-add in a transformative way is absolutely critical. Hinduja Global Solutions (HGS), a subsidiary of the multi-billion-dollar Hinduja Group, uses automation to provide transformative services. After testing multiple Robotic Process Automation (RPA) solutions, HGS selected Automation Anywhere for its ease of deployment and its organizational design fit with its client application architecture.
HGS implemented a proof of concept (POC) to automate several back-office processes for this U.S. health insurance company, one of its largest clients. Upon a very successful POC, Automation Anywhere was selected for various other clients within its portfolio.
40+%
Productivity Improvement
90+%
Reduction in Manual Labor
THE SOLUTION
HGS established a Center of Excellence (COE) to realize its internal vision of investment value derived from automation. The AutomationAnywhere team worked within the COE to develop the desired proof of concept solution, and to train HGS COE team members on best practices.
THE WHOLE STORY
HGS has automated several key processes for this insurancecompany, including:
Member Enrollment Process
Previously, 90 percent of the member enrollment data had to be manually keyed into 12 different product lines toggled between 20 different screens in multiple applications. Each enrollment could take 15 minutes to complete, and quality was suffering—80 percent of errors occurred during the manual entry process.HGS implemented Automation Anywhere in a two-step solution: leveraging the built-in rules engine by converting the XML data into a complete electronic application and enabling seamless business validation and data entry from the electronic enrollment applications into the system.
Commercial Claims Testing Audit
This audit, which tests specific claims scenarios on more than 150 bundled claims, is highly tedious, repetitive, and, at five minutes to test just one claim, very time-consuming. HGS implemented Automation Anywhere in two phases: first, to automate the screen capture process, and second, to automate the claims testing process.
Healthcare Product Build
Building a health package under a given s insurance plan is highly time intensive, taking up to 22 hours for each package. HGS designed a three-phase solution utilizing Automation Anywhere. In the Build phase, Automation Anywhere Bots collect all required information from various spreadsheets. In the Validation phase, Bots match business rules, validate line items, and enter details in the client application. In the final phase, the Bots update the client application.
The Benefits and Improvements
Automating several of the most time-consuming, manually intensive, and error-prone processes has enabled HGS to deliver significant added value to this U.S. healthcare insurer's back-office environment.
THE RESULTS
Member Enrollment
Average handling time per enrollment reduced from 15 minutes to 10 1⁄2 minutes
Quality improved, reaching 99.97 percent
Productivity improved by 30 percent
Commercial Claims Testing Audit
Manual effort reduced by over 90 percent
Average handling time reduced by more than 40 percent
Improved efficiency, with cost savings of greater than 35 percent
Healthcare Product Build
Average handling time reduced by 30 percent
Enhanced efficiency, with cost savings of more than 40 percent
CUSTOMERS LOVE AUTOMATION ANYWHERE, BUT DON'T JUST TAKE OUR WORD FOR IT
Our customers are excited to share their reviews and ratings of our automation products. See what they have to say.