Blog
What It Takes for a Parent to Re-Enter the Workforce
September 17, 2021
6 Minute Read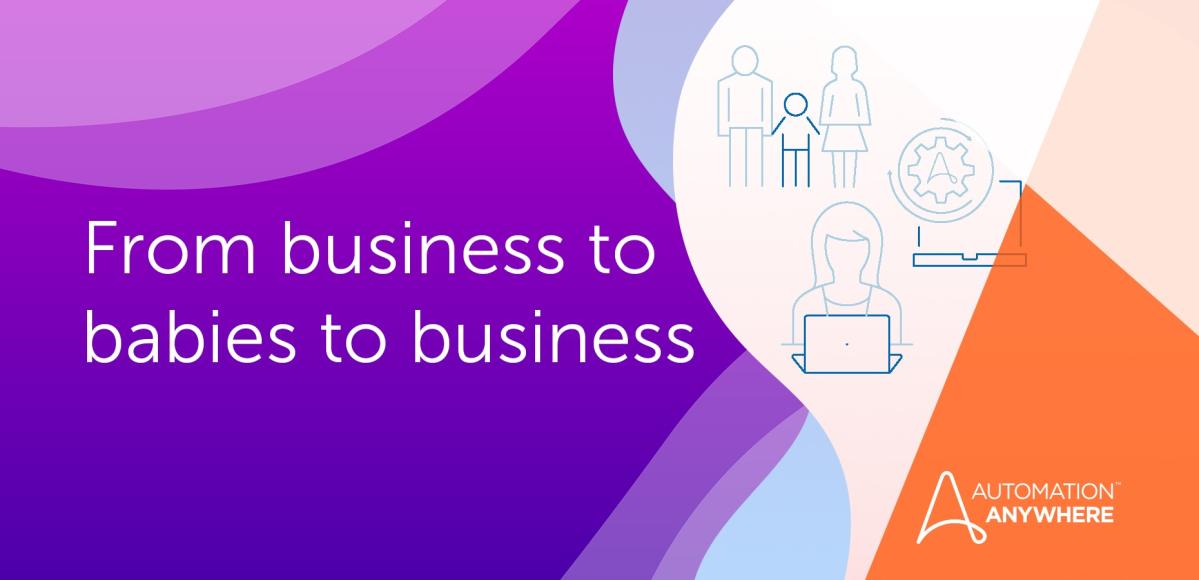 At this time of year, as I'm preparing my children for school, I have flashbacks to when I was the one returning to my day job after a break. Before having children, I excelled in my high-tech career, overachieving on targets, winning awards—the President's Club, that sort of thing.
Then, I started a family, took a career break, and moved multiple times, eventually relocating to Asia from the UK. Upon returning home, I decided to re-enter the workforce. And that's when anxiety set in.

Many questions
"I've been around babies and toddlers for the last six years," I thought. "Can I fit in again around adults? Can I carry on adult conversations and speak with polysyllabic words?"
My anxiety went beyond social skills. "Can I work in a structured office? Handling all the processes? What about new technology? Can I learn quickly? In any area of a high-tech business? Will I remember anything from the past? Will it all come back?"
And I also thought about whether I could handle working and raising children. "Will I experience burnout?" A recent article states 9.8 million working mothers are facing that condition.
Of course, that was a lot to think about, along with the first question to be asked, "Will I be able to get a job?" The answer to those questions has been "Yes," with one exception: Fortunately, no burnout.
I've been lucky and had some help, which I will talk about later in the article. But it has not been that easy for other people re-entering the workplace, especially women.
As stated in a Fortune article, it has been an uphill battle convincing Fortune 500 companies to hire more mothers even before COVID forced millions of women out of the labour force. Oxfam International offers some statistics: "The COVID-19 crisis cost women around the world at least $800 billion in lost income in 2020…Globally, women lost more than 64 million jobs last year."
Despite that situation, I'm encouraged by trends, programmes, and technology that will hopefully make it easier for all workers to transition back to the office.

COVID-19 and life/work balance
With the pandemic, many companies have been forced to rethink and be more open-minded and flexible about their policies on remote work, work/life balance, including childcare, and gaps in resume timelines.
In a recent survey of U.S. workers, only one in five participants said they worked from home all or most of the time before the pandemic. During the pandemic, the number increased to 71%. And with the shift to the home office came new work/life challenges that required allowances on the part of companies if they wanted to stay in business.
"For decades, employers have said, 'Don't bring family concerns in here. It's not relevant to my business,'" said Nancy Hauge, chief human resources officer at Automation Anywhere. "Now, we know that it is relevant to the success of the business. It's no longer easy to separate the two by, at a minimum, physical distance." According to Julia Pollak, a labour economist at ZipRecruiter, "A pandemic that really hurt women's careers could also paradoxically bring about big [positive] changes."
The changes could lead to more opportunities, with corporate acceptance, support, and an understanding of the challenges parents face and how to deal with them to help avoid burnout. For C-level decision-makers who found themselves to be executives, educators, chauffeurs, and caretakers during the pandemic, that understanding is personal—a powerful advantage for returnees.

Returnships and other programs
In 2008, Goldman Sachs created one of the first programmes to help women and men who have taken a break in the careers prepare for employment. Today, many companies across the globe offer similar "returnship" programmes directly or through partners, especially in high technology. For example, the list includes IBM, Amazon, Facebook, SAP, HP, Google, Dell, Adobe, Workday, Salesforce, and Apple.
Typically, the programmes are structured as paid internships, some offering benefits, that last between six weeks and six months. Participants have a chance to refresh their technical/business and social skills, with companies using the time to evaluate if the participants would be a good fit for their organisation. The requirements for participation usually include professionals with work experience who have been away from their careers for at least one or two years.
Some companies prefer to offer direct-hire opportunities instead that come with coaching and mentoring. You can learn more about returnships on the Internet, including career sites such as LinkedIn.

Automating the transition                    
Technology, especially intelligent automation, can also play an important role in easing the return, as I discovered with my journey back from the world of beakers and nappies. Companies across industries are embracing intelligent automation, combining Robotic Process Automation (RPA) and artificial intelligence (AI), to streamline and accelerate workflows, freeing staff from manual tasks for higher-value work.
In that decision, intelligent automation can help returning parents in two ways. Workers need to be trained on the technology, whether they've been on staff or joining the staff after a career break, leveling the playing field to a certain degree. A company that employs a low-code/no-code platform for intelligent automation can help workers make the most of the technology without requiring them to have previous programming or other technical expertise. So, even a professional with a business background can quickly and easily get up to speed.
The second way intelligent automation can help returnees is by automating the everyday, repetitive processes that take up a large portion of any workday. Intelligent automation allowed me to focus on the higher-value work at the time, which was bringing back my social skills, including connecting with co-workers, and adapting to the work environment. It helped with the transition, and it continues to help me be more productive and of value to my company. I can juggle more. And I feel more organised.

Being proactive and patient
External factors such as corporate support, programmes, and technology can be key factors in smoothing the transition, but what I've also learned in the journey is the importance of a strategy and the right attitude for success.
Unless you decide never to work again, don't lose your contact list when you leave a job to raise your family. Just as with any employment situation, networking is critical—friends and former colleagues are hired more than strangers. My contacts helped me. Parents taking a break should still stay current on the market and their industry and review their resumes from time to time to see if the resumes can be improved.
Perseverance and patience are also critical. Employment is often a game of numbers. One should be patient when looking for a job again and starting one.
The learning curve can be frustrating, the office intimidating. Even so, with external factors and internal fortitude in play, mothers and fathers are successfully re-entering the world of adults.
About Lisa Mullings