Blog
Top IT Investments for Business Continuity
May 22, 2020
6 Minute Read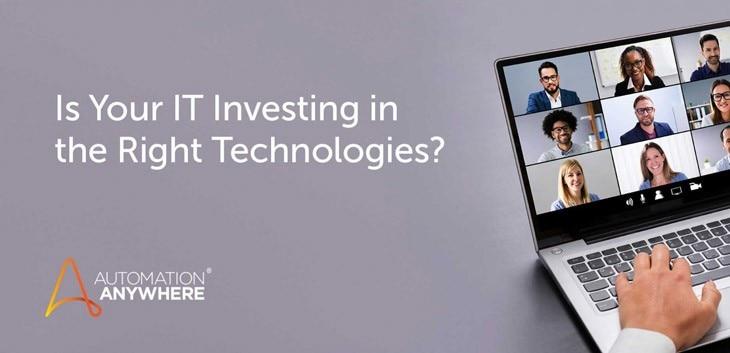 The recent pandemic has changed the face of business continuity. IT executives thinking about their organization's ongoing success are now taking into consideration a variety of factors — new and old — such as remote workers and virtualization, disaster recovery, improved communication, and solutions, including intelligent automation, to address those factors.

Accepting and operating in a remote/virtual environment
We are a remote, virtual business society at the moment. When I think about virtual, I think of it in a number of ways: virtualization in terms of technology, a virtual work environment including the tools used, and enabling employees to work in a virtual environment.
The recent changes have given us lots of lessons to learn from — good and bad. And some of those can be applied to a more remote and virtual working environment. They include spending more time on enablement, using tools such as Microsoft Teams and Zoom more effectively in conversations and daily work, and being able to communicate much more effectively across a company. That's one aspect of this remote working environment.
The second is a much bigger focus on investing in cloud applications that have been tried and tested. Moving applications to a cloud environment can enable employees to be more productive on-site or in a remote environment.
But making that move hasn't been easy for all businesses and industries. Some applications have not been properly built from a performance standpoint to be used effectively when remote. In some cases, the applications are not cloud ready and require a lot of rebuilding. Companies and their IT teams have not focused on this situation enough before COVID-19, and it's clear that many are now accelerating these efforts. In some companies, these have been core legacy applications designed for specific industries that have not moved towards the cloud. Getting applications ready for use in remote environments has to be an investment priority in the time ahead.  

Testing business continuity
Business continuity needs a rethink when it comes to testing and automation of the activation of processes. Traditionally, recovery plans have been documents gathering dust on the virtual bookshelf. These plans are now being put into action, and many lessons are being learned from this experience.
The biggest challenge with disaster recovery has been IT teams keeping up with managing new infrastructure and applications and making sure assets are rigorously tested in a highly available environment. As companies have adopted more technology and done so at a rapid pace, the architecture of business technology and the included data have become more complex. With people moving to a remote work environment, has the infrastructure been tested for such a scenario regarding performance, availability, and security? In more regulatory environments, how have IT teams thought about the compliance implications of having employees working remotely? When we think about high availability, what do we need to do to make our architecture more fault tolerant?
The current situation has shown that performance in general, irrespective of what application is used, should be looked at with more diligence as businesses and IT teams, in particular, think about disaster recovery and continuity. With an increasing number of applications moving to the cloud, there should be more focus on optimizing those applications for high availability and productive user experiences. 
For some organizations, investing in something such as disaster recovery as a service (DRaaS) may be a practical solution. This requires a combination of setting up their organizations to have a more continuous workstream around disaster recovery and a suite of core solutions driving this work — before, during, and after an incident.   

Investing in better communication tools 
Earlier, I mention improving communication in a virtual environment, but there is more to consider for business continuity. It's as much about responding to employees' queries as it's about what services are available to them and how they are used. How you monitor your infrastructure because you have a larger remote workforce and your ability to respond quickly have increased in importance today and will continue to be important in the future.
Keeping the lines of communication open with employees is essential for business survival. The use of technology, including collaboration tools such as Microsoft Teams and Zoom, has increased dramatically.
The next step is to enable each team to communicate the way they need to communicate, which can mean choosing the best communication tools for the application. For businesses in which communication is the heart of their work, for example call centers, investing in a communication solution that can accommodate an on-site and virtual workforce becomes an even more critical factor for ongoing success.

Cybersecurity continues to be a big focus
The COVID-19 pandemic has seen great examples of humanity. Unfortunately, it has not changed the minds of threat actors with their nefarious activities. Cyberattacks continue to increase, especially with email phishing, which is now increasing at an exponential rate. A large portion of phishing traffic now occurs daily. So cybersecurity must continue to be top of mind. How we enable and rally all of our teams — not just IT — to think "security is everyone's problem" is critical. Investments in security monitoring, email security, and workflow automation need to increase for protecting the business in good and bad times because, sadly, threat actors are here to stay.

Adding intelligent automation to the mix
One of the biggest lessons learned during this time has been the need to be flexible, to be proactive, and to respond quickly. And investing in intelligent automation solutions can help. That's especially true as employees have moved to remote working.
Internal processes or requests that used to be carried out in person now need to be thought out more clearly. High-volume processes or requests should be automated. In fact, entire workflows should be mapped out and automated to improve efficiency and processing speed — to help ensure continuity.  
In terms of automation in our own company during the pandemic, in the early stages, when we were thinking about critical applications and how to ensure their uptime and availability, automation ensured the right tasks in the team were assigned and other processes handled.
It has also helped with communication. At one point, we wanted to communicate to our shelter-in-place staff the latest company news as well as words of encouragement. To that end, we created a software bot. It reviewed key systems and made sure we had the latest, accurate staff information from those systems. Then, we migrated that information into our emergency outreach system to deliver texted messages to keep our people up to date.

Are you ready?
The lessons from the pandemic have been delivered. Will your next business continuity plan incorporate those lessons and investments?
See what intelligent automation can do for your company.
About Yousuf Khan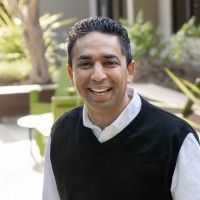 As chief information officer at Automation Anywhere, Yousuf Khan leads the IT team covering business applications, corporate infrastructure, and security. His more than 20 years of operating experience have all been in IT leadership and CIO roles at global companies.
Subscribe via Email
View All Posts
LinkedIn