Blog
The Low-Code Movement Will Spur Process Intelligence
June 2, 2022
5 Minute Read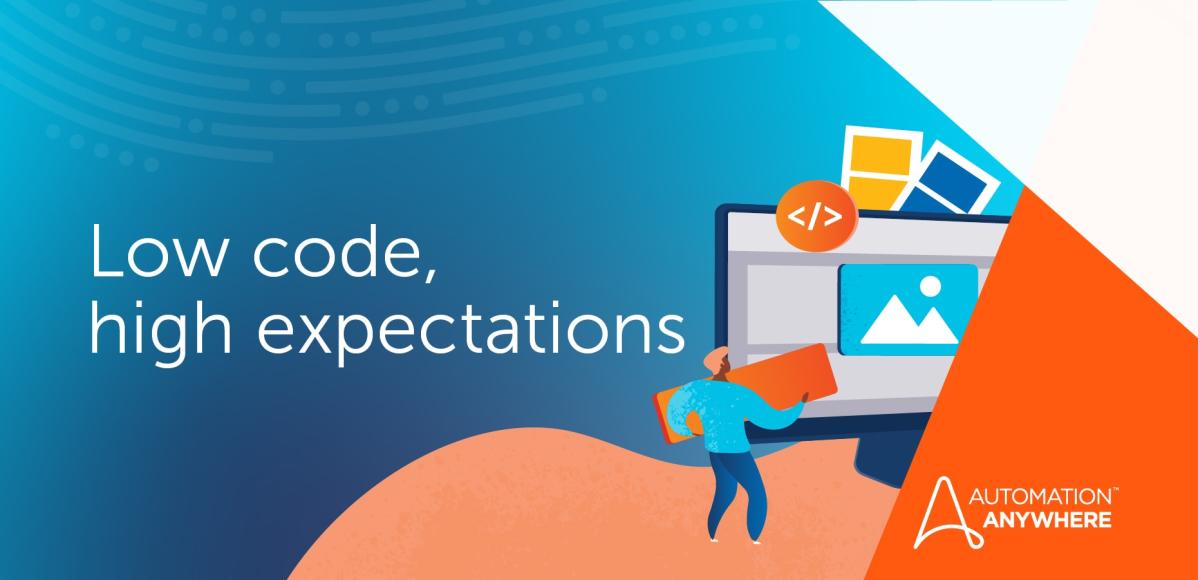 This article was originally printed on the FortressIQ website and includes updates to reflect the company's change in status. FortressIQ is now part of Automation Anywhere, and its offering is now our process intelligence product FortressIQ

Interest in low-code development is skyrocketing. Annual market growth is predicted to exceed 25%, growing from $13B in 2020 to $65B in 2027, according to research from Brandessence Market Research. For organizations looking to win in the digital-first agile world, low-code is quickly becoming a critical component of a modern enterprise technology stack. If you've been around technology, you have probably heard the phrase, "Faster, better, cheaper — pick two." But low code gives you all three and adds "flexible" to the mix.
With their roots in the Rapid Application Development (RAD) tools of the 1990s, low-code platforms are an application development environment that uses graphical user interfaces and configuration instead of traditional hand-coded computer programming. Formal software engineering skills are not required to create applications since a visual user interface in combination with model-driven logic is used. This opens the door to a wider range of people who can build apps for the business. With a little training, employees can rapidly create and deploy secure scalable software. One note to remember—low code is not interchangeable with no code, which is a subset of technologies aimed at business users primarily working on enhancing their individual productivity.

A player in the enterprise technology stack 
It's impossible to argue against the need and demand for low code in the enterprise. According to Gartner, more than 65% of application development in 2024 will be performed by low-code platforms. That's a remarkable shift for a software category that did not exist a decade ago. The number of digital applications and services being built is exploding as well. Between 2018 and 2023, more than 500 million apps will be created according to IDC. To put that massive number into perspective, that's more than the previous 40 years combined. With low code, companies can rapidly produce applications within a shorter time span and at a fraction of the cost. Schneider Electric launched 60 apps in 20 months, delivering most in just 10 weeks, and Ricoh replaced critical legacy systems 3X faster with a positive ROI in 7 months using Outsystems. Some skeptics may point out the lack of available IT resources, but business users can learn low-code development methodologies quickly, typically in less than one month. Clearly, the old way of building apps cannot keep pace with today's digital marketplace. 

Process intelligence jump-starts a low-code journey 
To help accelerate the utilization of low code and scale it across the enterprise, process intelligence is a key enabler. You cannot improve how you operate tomorrow if you don't fully understand how you work today. And most companies truly don't understand how they operate on a daily basis, especially at a granular user activity level required to automate a process or streamline a workflow. They have limited process understanding. They don't know how their applications and data interact, and they don't really understand what their customers expect.
The impact of this gap in-process data is well documented. The 70% failure rate of transformation programs is widely reported. McKinsey pegs the cost at nearly $1 trillion annually and noted on 14% of companies have seen a sustained and material improvement in their business. Another study from Gartner noted only 1% of companies have sufficient understanding of their processes to take full advantage of the technology solutions. 
Before embarking on a major initiative, a company must map its processes, its systems, and its experiences. Today, that necessary level of operational intelligence just does not generally exist in most companies, and on top of that, it is difficult to obtain without process intelligence.

Low code and process intelligence
Process intelligence was a similar catalyst for basic Robotic Process Automation (RPA), but the opportunity with low code is even greater. RPA programs enjoyed massive early uptake, but the challenge was how to scale the initiatives. Companies still struggle to get more than 50 bots deployed. Once any obvious low-hanging fruit is automated, it becomes difficult to identify what to tackle next and how to tackle it. Process intelligence answers those questions to help scale RPA. 
With low code, process intelligence accomplishes that and more. The combination will overtake basic RPA as the gateway for artificial intelligence (AI) and automation. Low code is more efficient and scalable than traditional RPA development because it does not operate at the user interface (UI) layer, making the applications more resilient.

Additionally, where RPA can be limited to task activities, low code is much more capable of handling sub-process and process level activities making it much more valuable to the enterprise. Coupling process intelligence with low code helps steer an enterprise toward a next-generation operation model that is faster, cheaper, better, and flexible. It may also fully realize the promise of citizen developers.
Explore Our Low-Code Platform.
About Rahul Talwar