Blog
The IT Service Desk: A Foundational Resource for the Enterprise
October 15, 2020
6 Minute Read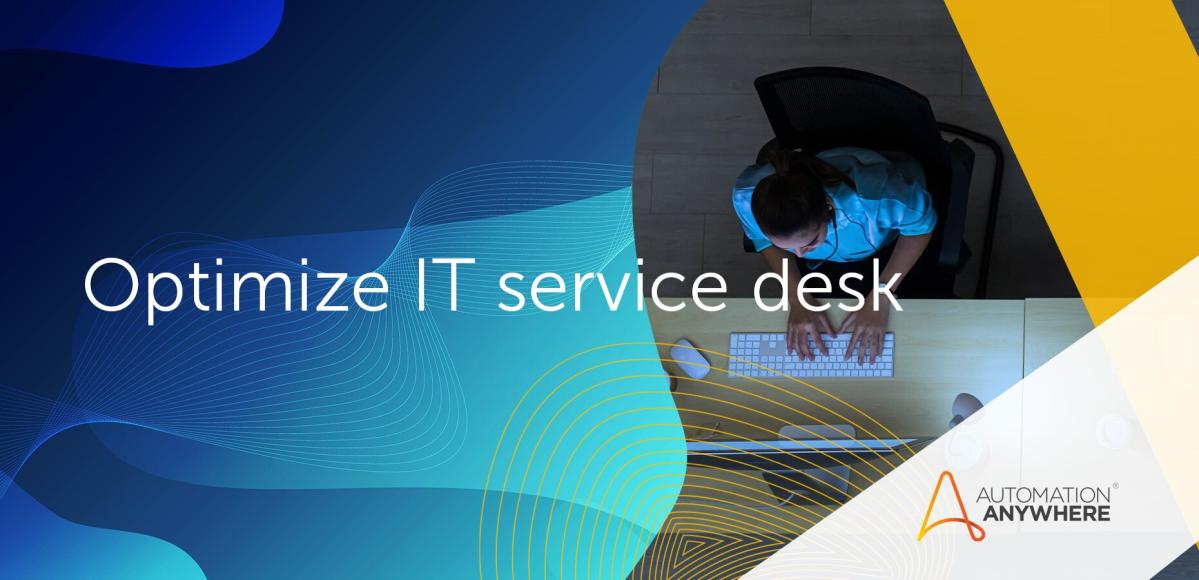 Today, no enterprise could function without a strong and well-run IT service desk. Especially in these times of widely distributed workforces—and new, user-facing technologies being introduced to support them—IT service desks are indispensable to the organizations' very survival.
What exactly is an IT service desk? It's a back-office main point of contact between an enterprise's IT organization and its users, the non-IT employees. As enterprises progress on their digital transformation journeys, the IT service desk becomes increasingly more important, as it's the single place employees go for everything—from training on new apps to reporting a phishing attack.
According to the Information Technology Infrastructure Library (ITIL)—a framework that lays out specific processes for how IT service desks should align activities with the needs of the businesses they serve—the service desk manages incidents (password resets or malfunctioning printers) service requests for routine tasks (setting up a new laptop, providing authorized access to an application) as well as communicating with users about planned downtime or system upgrades.
As companies pursue their transformation initiatives, the IT service desk must evolve to become more strategic and centered around the larger business goals. Supporting the entire business with service requests with just a handful of employees in the IT team takes away time that also needed for more strategic activities.
This is where automation comes in. Intelligent automation can minimize the workload by taking some of the repetitive, rule-based tasks off IT's plate. With automation, IT's daily workings can be transformed into seamless, mostly self-service operations.
Challenges IT service desks face today
Let's look at some perennial challenges for the modern IT organization. Then, in the next section, we'll see how automation can help.
The rapid pace of innovation
New technologies keep emerging, new apps and systems are being added, and existing ones keep evolving. Lately, the cloud and artificial intelligence, coupled with advanced analytics, have been front and center for IT departments. As they roll these innovations out to employees and customers, supporting their adoption and use can be challenging. Thus, your IT service desk staff needs to keep up with the latest technology developments and add new skills continuously.
Simultaneous handling of user requests
Precisely because of the importance of the IT service desk to keep the enterprise functioning, service desk staff needs to have efficient processes to handle any issues that arise and meet their SLAs. But this can be challenging since most traditional IT service desk processes are manual, meaning that the IT support staff will often be answering emails, and the volume of incoming requests or questions can get too overwhelming for them to actually focus on fixing the underlying issues in a timely manner.
Dealing with repetitive recurring incidents
Many of the issues that arise recur over and over again. An example of this is a password reset request. This can end up causing service desks to continually reinvent the wheel. ITIL calls this the difference between "incident management and problem management." Whereas incident management is about dealing with issues one at a time, problem management tries to eliminate common issues completely through automation.
Empower users to self-serve
Many of the incidents that a typical IT service desk must manage are small, repetitive, and time-consuming—and therefore costly. By some accounts, password resets account for as many as 50 percent of IT service desk calls, and other routine problems slow down attention to more serious issues. If enterprises could automate fixes to routine incidents, users could self-service many of the things that previously they had to call the IT service desk for help with.
Recruiting, hiring, and retaining service desk workers
High turnover is an issue for support roles across industries. That's because it's a demanding job. Turnover is expensive because of the cost of hiring and training workers on your business' particular technologies and deployments. Making the job more interesting and intellectually challenging, rather than repeat mundane tasks, is important and can change a revolving-door environment into a stable, satisfied team.
Creating a high-performing IT service desk with intelligent automation
Intelligent automation—the marriage of RPA with AI technologies—goes a long way to solving these challenges and offers significant benefits, in particular, these three.
Optimize costs
If you calculate the cost of service desk calls, it can be quite high. By focusing on the cost of the staff member's time, studies found that it could range from $20 for something easy like a password reset, to more than $100 if the issue were more complex. Using automation, you can both increase the efficiency of the service desk and reduce users' time away from their jobs. Just automating password resets can save hundreds of thousands of dollars—if not more —at larger enterprises.
Increase customer (user) satisfaction
Automation does a lot to boost user satisfaction. When users can log into a portal, file a ticket, and follow instructions or track their request's progress through its lifecycle online, they're much more content and make fewer follow-up calls to the service desk. By automating service catalogs that list basic service offerings and allowing users to choose their issue and track how it's being resolved, satisfaction goes up.
But it's one thing to enable users to easily ask for help. It's another to give them what they've asked for. Especially with digital-native employees, they're used to instant gratification. So, for example, asking them to wait a day to get access to a piece of software is not fast enough for them. But things like automated configuration management tools can deliver software on demand. And other aspects of user servicing can and should be automated as well. Anything that involves a support engineer having to do rote pushing of buttons should be considered a candidate for automation.
Improve IT employee productivity and satisfaction
The more the routine and repetitive work can be automated and/or turned into user self-service, the more productive and happy service desk employees will be. General rules on this include:
Live telephone calls or emails to the service desk should be rare and switched into self-service avenues such self-service portals as much as possible
Every type of service should have some sort of automated component—the team should constantly be pushing to automate more
Physical interaction with the service desk staff should be saved only for the most complex and unusual incidents

RPA delivers even more value for the IT service desk
These are just three ways that intelligent RPA can deliver value within the IT service desk. Are you interested in hearing more? The Everest Group has developed a proprietary method of assessing the suitability of processes for automation. Titled the Enterprise Value Chain Approach (EVCA), this five-step methodology helps businesses identify business processes, define appropriate metrics for successful completion of those processes, analyze each process, spotlight high-value opportunities for automation, and normalize metrics to perform comparisons and prioritizations of those opportunities.
The Everest Group has produced a white paper showing how to apply EVCA to the IT service desk function.
Read the Everest Report and Optimize Your IT.