Blog
6 Ways Intelligent Automation Is Transforming the Pharma Industry
July 8, 2022
7 Minute Read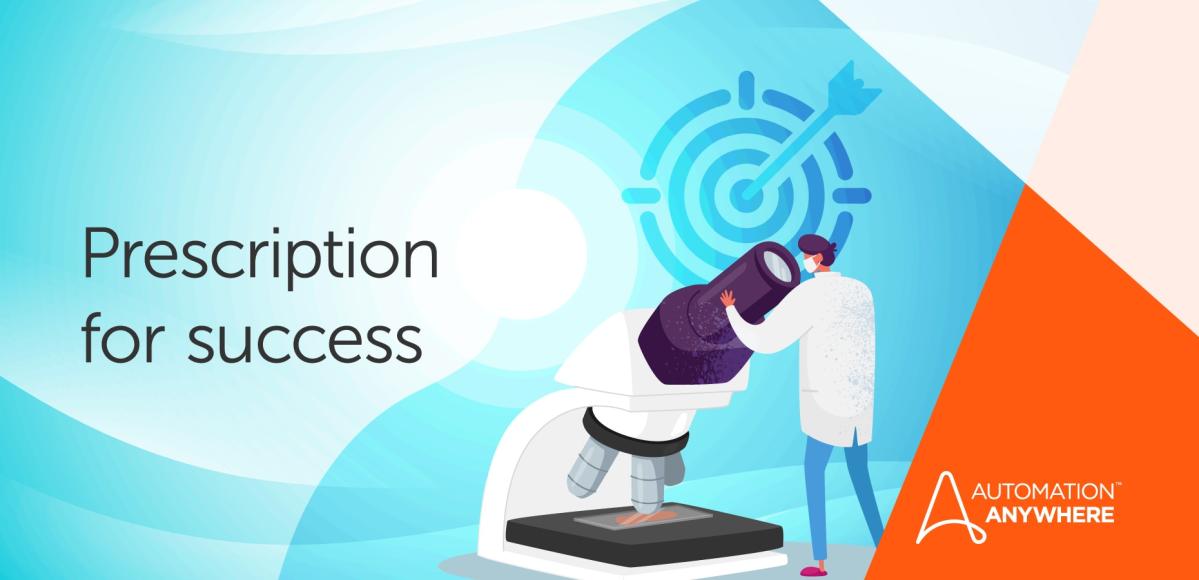 Reduced time to market. Increased agility. Higher and faster ROI. These are just a few of the benefits pharmaceutical, or "pharma," companies are reaping from deploying intelligent automation. It's not a moment too soon. A 2020 Bain & Company survey shows that 84% of companies across all industries have accelerated their automation efforts, primarily due to the fallout from the pandemic.
Pharma—which arguably has lagged other sectors using advanced automation technologies such as Robotic Process Automation (RPA), artificial intelligence (AI), and machine learning—has finally got the wake-up call. Investment in automation is increasing dramatically today in the pharmaceutical industry.
Indeed, pharma is ripe for automation. Think of the numerous digital processes that make up workflows in clinical development, clinical trials, regulatory compliance, and more. Not only can intelligent automation streamline these time-consuming and often cumbersome manual processes, but it can eliminate the inevitable errors that can occur when humans are involved.
Here are six ways that intelligent automation is helping to transform pharmaceutical companies.
Upskill employees
After trailing other industries in pursuing intelligent automation, the pharma industry has recently picked up its pace. It's in the process of transforming itself by automating everything that can be automated. McKinsey says that in this new, digital world, there is a particularly urgent need for pharma companies to reskill their workers to fill emerging gaps in talent. 
According to McKinsey, 50% of existing work in the pharmaceutical and medical manufacturing industry could be automated in the next 10 years. And up to 120,000 new jobs could be created. The role of pharma firms over the next decade, then, is to prepare their workforces to handle this massive shift of skills and responsibilities. Of special importance will be the demand for social and emotional skills, says McKinsey, which expects the need for those skills to increase by 33%.
GlobalData, which tracks "future-of-work" jobs, defines them as those created by companies in response to disruptive technologies. Almost half (47%) of pharma firms are recruiting for at least one position in this category. And "future-of-work" job opportunities in pharma rose 3.6% going into 2022, according to GlobalData. This was the highest of any industry tracked by the firm.
 
Personalize marketing
Intelligent automation also enables pharma firms to more precisely target healthcare providers (HCPs), administrators, patients, and other stakeholders with the right content at the right time based on stakeholder interactions and requirements.
No longer do pharma reps have to manually send emails in response to "triggers." Those triggers include stakeholders stopping by booths at trade shows, visiting the corporate website, or other actions they can take to solicit more information about a drug, indication, or reaction. Instead, automatic responses can deliver the right messages, through the proper channels, with the right content, which will result in much more personal engagement.
And the data from these interactions can be used to analyze what else a stakeholder might need. Each time they engage with you—open a text or an email, revisit the website, or download a piece of content—you have more information that you can use to target stakeholders.  
 
Accelerate clinical trials
New drug development and approvals in pharma are driven by clinical trials. These trials are top priorities in the value chain of pharma companies. But designing and completing clinical trials requires gathering vast amounts of data. That action is time-consuming and prone to human error as it traditionally involves multiple manual repetitive processes such as entering patient data into multiple systems, validating trial data, and submitting results to regulatory agencies.
Intelligent software robots ("bots") can do data entry and quality control very quickly and precisely. They can also interpret and process the data from clinical trials such as radiology reports much faster and more accurately.

Intelligent automation can accelerate clinical trial management through the automation of patient data entry, cross-checking patient records against electronic health records, matching patients to relevant trials, scheduling appointments, notifying patients of times and dates to show up, and generating clinical trial reports. All this allows pharma companies to bring to market new medicines in much shorter timeframes, enhancing their worker productivity and overall performance.
 
Streamline supply chain and inventory management
Supplier onboarding has always been a lengthy and problematic process. First, it involves collecting a significant amount of suppliers' data and performing due diligence on it to determine their adherence to compliance regulations and the financial risks of doing business with them. Then comes the signing of the contract and inputting all the data into the vendor management system. The accuracy and timeliness of this process are critical for managing supply chains and avoiding potential lawsuits related to non-compliance, quality issues, or late deliveries of supplies.

Intelligent automation bots can collect and enter data from vendor's records from PDFs, emails, and contract details, cross-check the details with other sources to ensure accuracy, identify when vendors' processes aren't aligned with regulations, and send notifications when needed to inform suppliers of changes or alterations to orders or processes.
Intelligent automation can also help with inventory management, helping to prevent overstocking or, alternatively, running out of stock during peak periods. You can deploy intelligent bots for everything from tracking shipments, citing delays or discrepancies, automating invoices and order-to-cash processes, and alerting human workers when drugs in inventory near their expiration dates.

Boost sales
A large proportion of pharma sales reps' time is spent tracking the right people to contact and doing data entry of all their details and credentials, as well as the minutiae of the interactions, including any samples or content provided. This limits the quality time they spend with HCPs, administrators, and patients.
Using bots to track customer feedback, retrieve timely and accurate sales data, or manage orders and inventory, sales reps can engage more intimately in high-value activities that require their human skills of communication and persuasion. 
Since COVID-19, "face-to-face" interactions have been increasingly virtual. But that hasn't been a problem. In fact, Bain & Company research shows that more than 70% of business-to-business buyers say virtual sales calls are as effective as in-person calls for complex products like pharmaceuticals.
 
Enhance compliance
Pharma firms face steep fines if they don't comply with the growing number of regulations designed to keep the population safe from poor-quality pharmaceuticals. Yet many regulatory affairs departments in pharma companies are still doing things manually. Everything from manually collecting documents, to verifying that they meet regulatory standards, to submitting them to regulatory agencies is time-consuming and fraught with errors. Indeed, many regulatory professionals still use spreadsheets to track their compliance activities, resulting in numerous silos of critical data being stored on individual desktops and difficult to access.
In the future, the volumes of data pharma companies need to create, store, and analyze to comply with regulations will only increase as more regulations such as the Drug Supply Chain Security Act (DSCSA) are passed.
Because it virtually eliminates human error, intelligent automation strengthens compliance with stringent standards and increasingly complex regulations. Indeed, almost seven in 10 pharma companies (67%) are increasing automation in their regulatory workflows.
Additionally, bots create trails that make it easy for audit teams to do their jobs.
 
Automation now critical to pharma
After a slow start in deploying intelligent automation, pharma has finally got to the point where it is increasingly dependent on the technology. The increased efficiencies and productivity coupled with dramatic reduction—or even elimination—of errors result in significant cost reductions, quality improvements, and, most importantly, improved patient safety, experiences, and outcomes.
See What's Possible for Your Pharma Business.
About Automation Anywhere Staff