Blog
Scaling Automation in Your Organization—What You Need to Know
November 21, 2022
10 Minute Read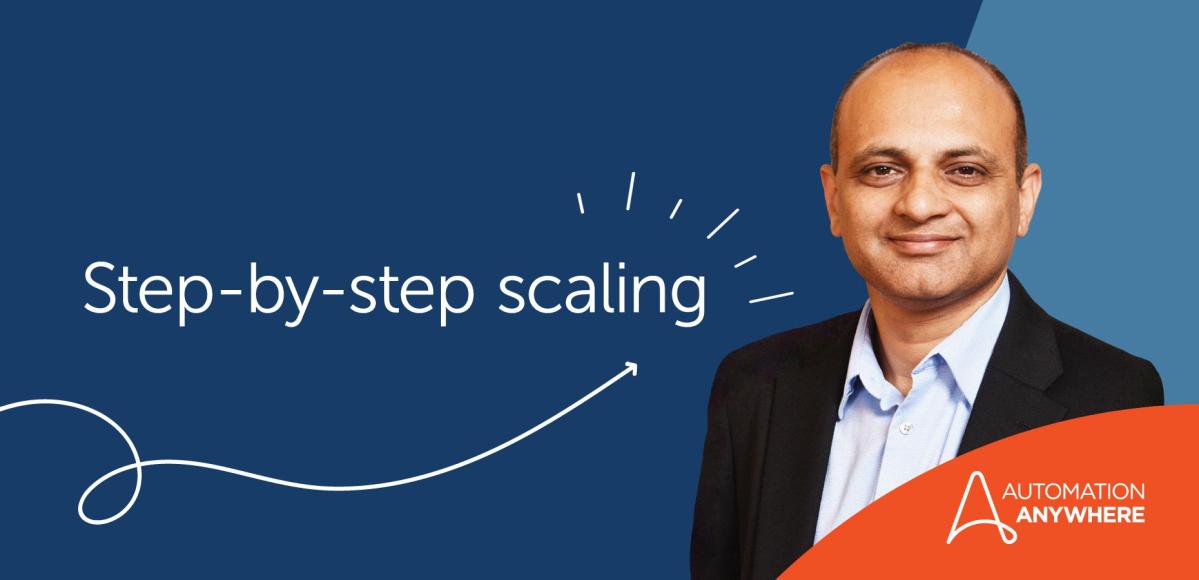 "How do I scale?" is one of the common questions that customers ask our chief information officer Sumit Johar. Following is an interview with Sumit about how to proceed and what to avoid to ensure success.
Sumit: Automation is a journey, and each organization needs to find the right pace and milestones that suits its needs. But after reviewing the individual journeys of so many of our customers, I see scaling largely occurring in four phases. It's important to go through each phase to avoid mistakes and to make the most of an automation investment. Again, how quickly an organization moves through each phase depends on the organization, including what it already has in place in terms of technology and expertise.
Phase 1
For many organizations, they're starting from scratch, yes?
Sumit: Most customers that I've spoken with are in phase one, what I call the exploration phase. They know everybody else is investing in modern automation technologies, and many are buying it because they fear missing out.
But once they get it, they sometimes don't know what to do with it. They know about a few use cases for finance and HR that their peers have mentioned. But they're still trying to figure out a long-term vision for automation. They don't always know what's possible with the technology, so they're looking to their peers, friends, and vendors. "Hey, I got this cool tool. But does it apply to problems that I'm trying to solve? Or maybe there are problems that I don't even know it can solve?"
This is the time, the phase, to explore the possibilities. Organizations usually start by focusing on ideas and issues that people bring to them. They already have a long backlog, the list of things that can be automated based on what users have experienced in their daily work.
How do you get a good start? Is there a risk of taking on too much or too little?
Sumit: The best advice is to focus on meaningful use cases that might take small investment but have a much broader impact. You very likely will have a small team that's still learning the technology and best ways to leverage its capabilities. Have them start with use cases that that can be automated with basic, rule-based Robotic Process Automation (RPA), for example, pulling information from spreadsheets into a database. The key is to focus on impactful use cases that don't necessarily need advanced skillset or complexity.
Sometimes, organizations get into trouble when they start with very complex use cases, involving decision-making with artificial intelligence (AI) and machine learning (ML). These tasks rely heavily on the quality and breadth of the data, as well as your expertise in data science.
You don't need to jump at the power of AI at this point because you risk spending too many resources, creating frustration if not adequately prepared, and ending up with a smaller return on investment (ROI). And it's possible that people will lose motivation if they don't see the value coming in.
People can also lose motivation if the wrong processes are selected to automate. In many cases, companies tend to make the mistake of automating a process that needs to be fixed or replaced such as one that's archaic. This ends up with a bad taste that RPA is not a good fit. So, it's important to thoroughly check out a process—its pros and cons and potential—before moving forward.
What if an organization isn't sure about what is a simple or complex task to automate?
Sumit: Phase one is also a learning phase. As I mentioned earlier, organizations can gather information and advice from peers, friends, and technology suppliers such as Automation Anywhere. We provide professional services, offering best practices and support. We have a strong community where users can learn from each other. We also have our Automation Anywhere University with more than 100 online courses, along with role-based learning trails and instructor-led training classes that lead to RPA certifications.
Does it make sense for an organization to bring an industry expert to set up and manage an automation program in this phase or other phases?
Sumit: For initial or specific-issue support, that strategy is worth considering; however, it doesn't help an organization democratize automation. Suppose your long-term goal is to make technology the future of work throughout your organization, to be an essential part of your organization's transformation. In that case, I don't recommend handing off the whole program or taking shortcuts. For maximum adoption and acceptance, make the automation initiative your own within the organization and take the entire journey: follow the sequence.
Phase 2
This brings us to the next phase.
Sumit: It's the evangelism phase, when the internal automation development team creates enterprise-wide awareness about the power of possibilities and when new tools, a center of excellence program, and automation champions are brought into the picture.
So, the automation leader says, "I've already proved the technology. I know what it can offer. But I'm stuck now because I'm only finding value within my department. I want to evangelize automation. I want to share my excitement with other groups." And that's only possible when some type of forum is created.
A forum through a center of excellence (CoE) offers the opportunity to talk about and share what has been built and how automation can help other departments or groups. It's about generating excitement and awareness. And now, there are some tools that are putting automation in the hands of the users.
You're referring to digital assistants.
Sumit: Yes, and more. Automation has always been looked at as a technology that runs behind the scenes. You don't get to see it. You don't get to touch it. Or experience it. And that's a disadvantage when convincing potential users of how it can help their daily work.
But tools such as digital assistants can be put into the hands, so to speak, of people to experience the benefits. At Automation Anywhere, we offer the Automation Anywhere Robotic Interface (AARI), which we call "your helpful automation co-pilot." It gives users access to automation on demand, embedded in their favorite applications. It makes automation quick and easy to use and frees workers from mundane, repetitive tasks, increasing productivity and job satisfaction.
This is also a good time to acquire automation solutions such as enterprise resource planning (ERP) software, and solutions from Salesforce, ServiceNow, and others.
You mentioned creating a CoE. What should be expected out of a CoE at an early stage?
Sumit: Put the center of excellence in place and start thinking about whether it should be federated, semi-federated, or centralized. You don't need to have all the details worked out, but as I mentioned before, it's important to create a forum for dialogue and a single point of contact. It's also time to start identifying individuals who would make good automation champions to help promote the initiative throughout your organization.
Phase 3
Sumit: Phase three in the scaling program is when your CoE starts maturing. It's the time you figure out the governance model for your center of excellence team. By now, there is a high chance that the demand is starting to exceed the capacity you have. You may want to consider a citizen development model to help free up your overworked professional developers.
If you decide to try the citizen developer model, you should address a few questions upfront such as "What kind of work will I allow my citizen developers to do? How do I ensure their work is not compromising data security? How do I check the quality assessment?" It's all about those checks and balances, security, compliance and avoiding headaches. The good news is that Automation Anywhere has recently launched a new product, "COE Manager," that addresses these challenges.
Another approach to increasing capacity is calling on the expertise of partners. Many Automation Anywhere customers have scaled in this way versus citizen development. Both approaches, or a combination, can achieve the same objective of more people creating automations.
This is also the time to explore hidden opportunities, right?
Sumit: Up until now, organizations usually focus on automation opportunities from the "to-do" list. And for most organizations, there are plenty of obvious initial use cases. But, typically, at some point beyond the initial "quick wins," organizations hit a wall—their pipeline for good automation ideas dries up. That's when tools such as a process discovery solution come in handy to unlock additional use cases.
What would be some of those hidden opportunities?
Sumit: They could be potential areas for automation that no business analyst or user has mentioned or knows about. For example, deploying the Automation Anywhere Process Discovery solution on individual desktops can help with "I didn't know my account payable teams have spent so much time manually on this task." In some cases, we have seen customers finding inconsistencies in how different regions were running their processes. Process Discovery not only helps you find the right candidates for automation, but also helps eliminate redundant or wasteful processes.
In this phase, you're scaling your automation into previously uncharted areas that can make your organization even more efficient, productive and a better place to work.
And then, it's time to step up the automation capabilities for even more benefits.
Phase 4
Sumit: The final phase is the time of intelligent automation. This is the phase where you combine the power of other independent technologies such as artificial intelligence (AI), machine learning (ML), and computer vision with automation.
At this point, the simple use cases have been handled, leaving the complex ones—more than rule-based automations—requiring intelligence for such things as unattended decision-making. The use cases require an expert skillset within the team. If you have teams within your organization who are driving missions on AI, ML, data science, and more in this phase, you should look at combining those independent technologies with automation. And scale your efforts to a higher level.
So how long should all the phases take?
Sumit: As I said in the beginning, the time frame is dependent on each organization. I've seen companies that bought a solution. But they already had a very mature automation team. And they were able to get from phase one to phase four in nine months.
But I've also seen companies that started from zero and wanted everything done fast. That rushing led to mistakes in picking the wrong processes because they didn't take the time to conduct proper research. Or they tried to solve complex use cases out the door. And both actions had a counter effect because everybody lost interest thinking the automation didn't work. They didn't have a mature AI program, they did not have a mature data science team, and they were trying to achieve something they were not prepared to handle.
So, the moral of the story is…
Sumit: There is no "one-size-fits-all" approach to your automation journey. Find a journey that takes your organization's strengths into account. The key is to be prepared and focus on impactful use cases no matter how fast you travel.
About Sumit Johar