Blog
How to Spot and Nurture RPA Champions
February 25, 2022
5 Minute Read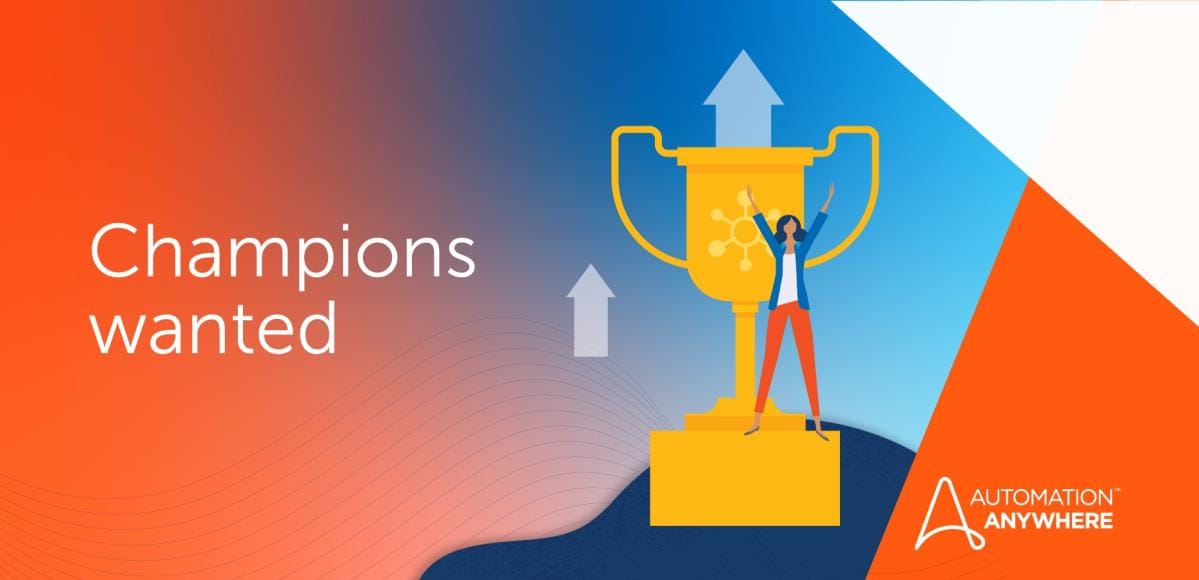 As Automation Anywhere's Social Impact Officer Neeti Mehta Shukla wrote in a blog last year, champions are an essential part of your successful journey with Robotic Process Automation (RPA). Calling them "sparkling gems," Shukla explained that champions help spread the good news about RPA, mostly by example, and are highly influential in determining whether your RPA project flies or flails.
In effect, RPA champions are innovation champions who work within an organization to promote change. They are the people willing—in addition to their day jobs—to take on responsibility for mentoring and coaching others in the business through the adoption of new technology. Businesses that take innovation seriously have a group of innovation champions.

What makes for an effective champion?
If you're in the early stages of your RPA transformation, knowing what to look for in champion candidates is one of the most critical actions to take. But it's an action that's frequently forgotten. The single most important thing to remember is that RPA champions can come from anywhere and be found in any function: business analysts, accountants, human resource professionals, developers, managers—all the way up to the C-Suite. But to be successful, you need to be aware of the characteristics of a good champion.
Enthusiastic. Make sure the person is sufficiently motivated. Champions often opt-in before you need to ask because they are genuinely passionate about making your automation efforts successful. In the best of all worlds, your champions are not just early adopters but strong believers in RPA and its potential. They need to be able to go the extra mile to promote it.
Confident. The best RPA champions are confident and show it. They are not shy. They proactively approach their colleagues—and managers—convinced of the value of the RPA projects they are advocating for.
Savvy. They know what makes people tick. They build support for RPA initiatives by taking a close look at the interests of each person they approach and tailoring their selling strategies for maximum effort. And they know who their allies are in their campaigns and who will resist them.
Sensitive. RPA champions also have an exquisite sensitivity to "reading the room." They know how to time their requests, so they derive the most acceptance and enthusiasm for them.
Credible. RPA champions must know their stuff. They must use RPA themselves and be intimately aware of its main features and capabilities, so they can easily answer any questions that come up.
Prepared. They should know the arguments against RPA. Resistance to change is frustrating, but keep in mind you are asking people to move from positions of security and habit to something unknown. Few people voluntarily move out of their comfort zones. But much resistance is due to a lack of knowledge. People may ask, "Why do we need it? How will this affect my job?" Champions should be able to answer with facts—and empathy. They won't dismiss concerns but will focus on the positive.
Persistent. Champions persist despite adversity. There will be false steps, even failures. Your champions won't collapse at the first time of trouble. They will try and try again. They will not take anything personally but will learn from setbacks. Indeed, being an RPA champion is not a good fit for someone with a pessimistic worldview. Look for those who see the opportunities, not only the problems.
Respected. Don't fall for making HIPPOs (the highest-paid people in the office) your RPA champions. It's not just organizational rank that makes someone influential. Think about informal networks. Who appears to have authority among their peers? Great RPA champions are well-respected and within their local groups have a great deal of influence that can easily be leveraged elsewhere. They also provide excellent examples by being role models to other employees.
Well-connected. RPA champions also have extensive networks. They connect people by instinct. They know how to leap organizational boundaries and make contact with people in other departments or functions. They can pull teams together from seemingly disparate personalities. And they have the power to nudge people along who are slow to respond to RPA initiatives.
Open-minded. You also need people with open minds—people who can spot exciting opportunities where no one else can and who are naturally explorative and open to new ways of thinking. They must embrace change wholeheartedly—which sometimes means letting go of their own preconceptions and beliefs.
Diverse. Make sure you get an excellent cross-functional mix of RPA champions so that all business areas are represented.

How to support your RPA champions
Once you identify them and harness their abilities and their powers, they can make the difference between a phenomenal RPA program that delivers high and fast ROI and one that only ends up returning average or below-average results.
But you need to nurture and support them. You need to provide training—which can be online, face-to-face, or traditional classroom training—for further developing interpersonal and technical skills. You should get the champions together for regular meetings—face-to-face or virtual. You should reward them for successes by recognizing them individually and promoting their efforts. And you should develop a library of scripts, playbooks, and other resources that they can use to do their "jobs." And remember, being an RPA champion is not their day job, but something they've taken on voluntarily. Treat them like the "sparkling gems" they are, as Neeti would say.
Where to Get RPA Training.
About Automation Anywhere Staff