Blog
Level Up Your Contact Center with Your Current Technology
October 20, 2021
5 Minute Read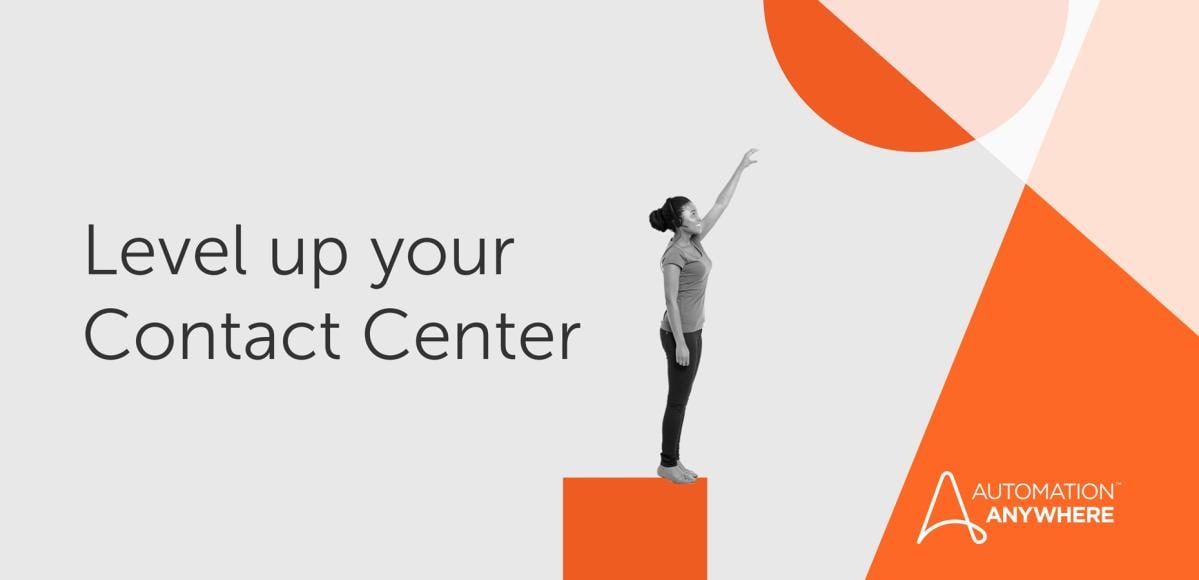 The market has changed. More consumers are shopping and conducting business online. In doing so, they've come to expect a quick, easy experience. Add to the cart, and then pay with a tap. Open a banking app, and deposit with a snap.
And consumers want the same when it comes to getting support from the contact centers of those businesses: instant pick-up, quick response, no "hold please." And no callbacks (unless they want to call back).
They expect accurate and complete information, personalized to them, and error-free. The support is always-on, available on any channel—text, app, web, live chat.
Meeting those expectations may seem almost unreachable to contact centers that conduct business with disconnected legacy systems—even companies that are digital natives may find the task challenging. To stay competitive, the centers must offer faster, better service. How can they do that utilizing the technology they currently have?
Automation provides a solution. Consider what the technology can do for one of the biggest challenges facing contact centers.

Reducing average handle time (AHT)
AHT is not only a challenge for agents, but it's also a sore point for customers—how long will an agent put a customer on hold to gather information for handling a request? In a typical contact center with disconnected databases and manual processing solutions, a significant portion of an agent's time is spent searching, gathering, orchestrating, and analyzing customer information. The agents rarely have a 360˚ view of the customer landscape and must spend time filling in the knowledge gaps to support customers.
In the end, a customer can be on hold for many minutes, in some cases 10 minutes or longer. Yet, according to a survey of more than 2,500 consumers, waiting one minute is too long. They can even be forced to call back—all of which can leave the customers feeling they've had a bad experience. And that can affect brand loyalty. PWC states, "In the U.S., even when people love a company or product, 59% will walk away after several bad experiences, 17% after just one bad experience." That bad experience can also be the result of errors made by an agent when handling a request.
In another survey, 66% of contact center agents stated that human error was the primary cause of their mistakes on a call. The mistakes can include answering questions incorrectly, not having correct or complete information, or making an error when processing customer information before, during, or after a call. 
 
What's possible
Automation can solve the AHT challenge. It can automate a wide variety of processes and actions, including calling up customer information, updating a customer's profile in multiple systems, creating a support ticket or refund, and routing a call. It can simplify and accelerate the agent experience and give agents more time to focus on the customer conversation. What took minutes to accomplish can be reduced in time to seconds, pleasing customers and agents. Other benefits to please customers: An automation solution can eliminate errors, work 24/7, is never grumpy or short, and can have an omnichannel capability, accommodating communication by text, web, video, live chat, or chatbot (virtual agents).
The right automation solution can connect to data across all systems, using all applications, eliminating the manual "swivel chair" tasks for agents and presenting in one place everything agents need to see for supporting customers and providing better, faster service. 

That's the potential
To make the most of automation, one needs a solution that provides enterprise-wide connections. For example, some contact centers have explored using automation as virtual agents to accelerate request resolution and give customers the convenience of self-service.
Those agents can save contact centers time and money. As reported by Dave Chase, formerly of 8x8, the cost of a live contact center agent is around $1.15 a minute. The cost of a virtual agent per minute is around $.27 a minute.
Even so, virtual agents are only as effective as their ability to access data. If the solution that powers the agents doesn't connect to all systems and applications—legacy and modern—across a center, to all the data, the virtual agents are limited in what they can do.
Think about automation in financial services. Without all the connections, a virtual agent may be able to provide customers with account balance information but not what's needed to apply for a line of credit without the help of a live, human agent.

What to look for in a solution
If you have a legacy, disconnected systems, and applications, there are solutions to help you level up—maximizing the benefits of automation and incorporating what you have. One example is Automation 360™, our cloud-native intelligent automation platform. It combines Robotic Process Automation (RPA) and artificial intelligence, made accessible on an agent-friendly interface.
Because Automation 360 is web-based, it can be quickly set up and launched to thousands of agents in just weeks. It can accommodate live and digital channels, human and virtual agents. It also offers high availability and flexible scaling, automatic upgrades, as well as built-in security, governance, and reliability for an always-on, end-to-end experience with high accuracy.​
 
Making your existing center even better
Automation 360 allows you to connect and scale your existing contact center systems and applications, integrating with a wide variety of legacy solutions in addition to modern solutions from industry leaders such as Google, Salesforce, and Genesys.
Virtual agents can handle more customer scenarios, and customer interactions can be enhanced with deep insights, by employing Google Contact Center AI with Automation 360. Live agents can automate complex workflows across multiple applications directly from Salesforce. There's no need to switch applications. Live agents can improve their productivity with an automation window that connects to contact center systems from within the Genesys agent interface.
Discover all the benefits of an Automation 360 solution for your contact center—for your customers and agents.
About Anna Rosenman