Blog
Get RPA Certified and Make Your Future Shine
March 31, 2022
4 Minute Read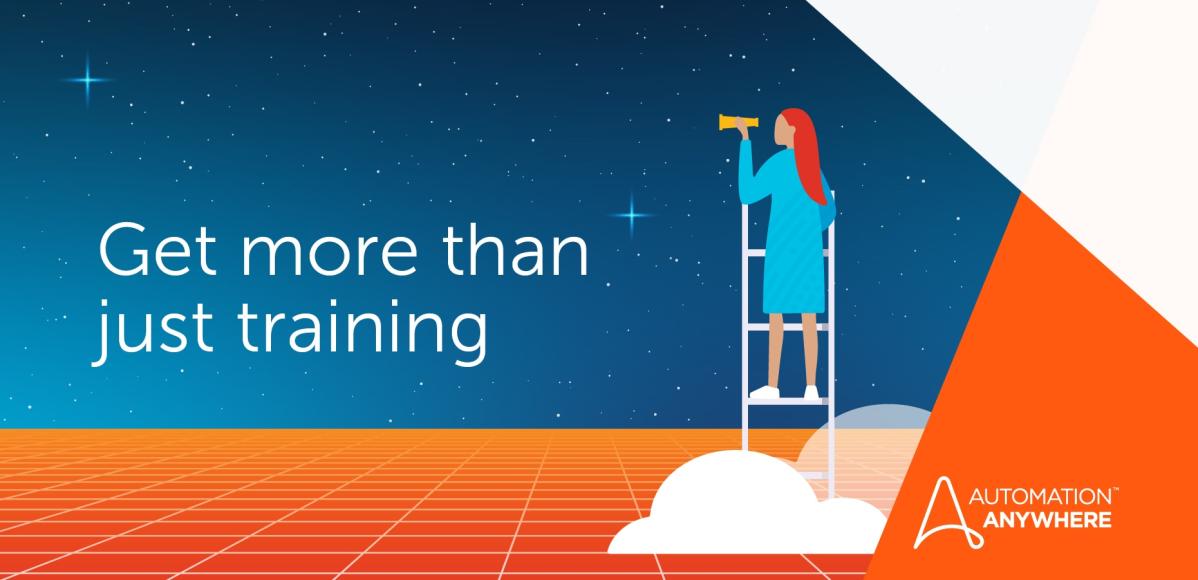 Today, there's no doubt that businesses see the value of Robotic Process Automation (RPA). Based on Precedence Research, the global RPA market was valued at $2.65 billion in 2021 and is expected to reach $23.9 billion by 2030. That's a compound annual growth rate (CAGR) of 27.7%.
From a career perspective, this is great news. Because of speedy market expansion, possessing RPA skills and experience pays off. According to ZipRecruiter, the average annual pay for an RPA developer in the United States is currently more than $115,713. And the future looks even brighter. Demand for automation skills is rapidly growing. The World Economic Forum ranked automation professionals as among the top five fastest-growing careers for the digital age. And it prophesizes that automation will create 97 million new jobs across 26 countries by 2025.
And these aren't necessarily all technology jobs that are being created. Because leading RPA platforms are low-code/no-code technologies, people who have developed problem-solving, analytical, or process-centric skills will see lots of chances to rise in their careers. Automation architects, business analysts, process subject matter experts, and project managers are all roles that are emerging across industries.
Intelligent automation—RPA infused with artificial intelligence (AI)—is also part of this scenario. Going past basic RPA skills to those involving machine learning, machine vision, and other AI technologies sets you up for what has been proclaimed the Fourth Industrial Revolution. By 2030, AI will lead to an estimated $15.7 trillion, or 26% increase, in global GDP, based on PwC's Global Artificial Intelligence Study.
How can you take advantage of these opportunities? Get trained. Even better, get certified.
 
Why certification matters
It's one thing to take a few classes. It's another thing to earn a certification.
According to IDG's IT Salary Survey, approximately half (48%) of IT professionals surveyed said certification had helped them get a job. A certification is a way to proactively differentiate one from other candidates.
Certification can also help with earning a promotion and getting better pay. Landmark work by Alan Krueger discovered that automation had the ability to raise wages. Krueger found that computer-literate workers—employees who worked with automation—were being paid 10% to 15% more than peers who didn't have their computer skills. Likewise, James Bessen, an economic historian, has tracked that over the last 200 years, wages have increased by a factor of 10 due to technology. Indeed. Bessen believes that ordinary workers owe increased salaries to new technology. Respondents younger than 55 were significantly more likely (56%) to have received one of these benefits because of a certification.

Where to get certified
There are many proven courses for certification. For example, Automation Anywhere University (AAU) is one of the industry's leading RPA training, education, and certification organizations. AAU has certifications and learning programs built around the Automation Anywhere 360™ platform, with comprehensive paths broken down by a number of categories. Recently, the offering was expanded to include non-developer roles.
Working through a certification program such as what Automation Anywhere University offers provides real-world examples from a variety of industries. One can work with highly qualified engineers and developers who know all the tricks and tips to get the most out of the software.
With Automation Anywhere certification, you can get a competitive edge:
Instantly gain recognition and credibility within the RPA space
Differentiate yourself—and your company—in an increasingly competitive landscape
Choose from two different certifications to establish your competency as a working professional: Advanced RPA Professional and Master RPA Professional
Get the Essentials RPA Certification for students or faculty to enrich your university education and experience
The need for personnel educated with RPA certifications is urgent, and the certification adds an invaluable upskill to your experience. So upgrade your skills today.
Start Your Journey at Automation Anywhere.
About Gabriel Carrejo