Blog
Applying AI for Good | Automation Anywhere
April 29, 2021
6 Minute Read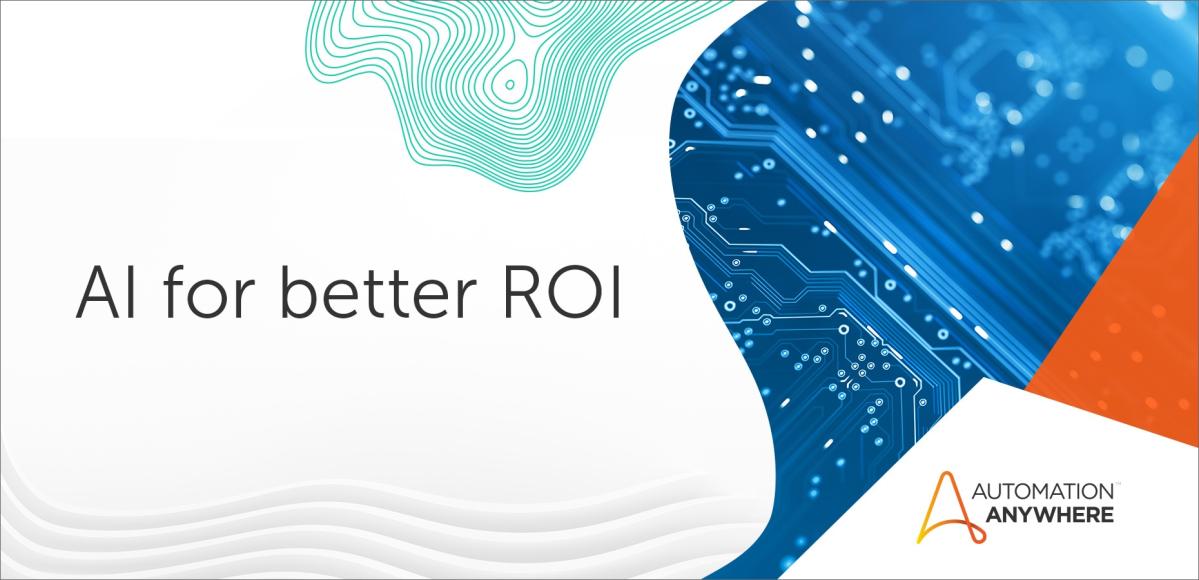 Despite the air of mystique that has always surrounded artificial intelligence (AI), as with all technologies, AI is just a tool. It can be used for good or ill, depending on the intent and skill of the user.
For good or ill, AI is here to stay. After an economically tumultuous 2020 due to the pandemic, businesses are increasing their investments in advanced technology at a rapid pace. Indeed, more than half (52%) of respondents to a PwC survey said they've accelerated their move to AI specifically because of COVID-19. And 86% of the businesses surveyed said AI will be a "mainstream technology" for them in 2021.
In this blog, we'll look at real-world AI applications in four different industries—healthcare, retail, manufacturing, and banking—to show you how AI can be a force for good in business.

AI in healthcare: enabling more precise diagnostics
AI became much more important in the healthcare industry during the pandemic—particularly in the race to discover the best patient protocols for treating COVID-19 and to develop safe and reliable vaccines. According to CBI Insights, thanks to innovations based on AI, the next generation of MRI and CT scans were made faster, cheaper, and better. At-home rapid testing of various medical conditions meant fewer trips by patients to professional laboratories. And AI-based monitoring of patients' vital signs is fast becoming commonplace in clinics, hospitals, and nursing homes.
Despite the economic uncertainty brought on by COVID-19, investment in AI R&D for the healthcare sector reached record levels by the end of 2020, according to Optum, which found that 59% of healthcare executives expect a full return on investment (ROI) on their AI investments within three years, up from just 31% in 2018—a 90% increase.
Diagnostics appear to be an especially promising intersection between AI and healthcare. This is significant since earlier diagnoses lead to better overall patient outcomes. AI's innate ability to quickly process large datasets applies to the huge volumes of data in healthcare.  By doing so, it can be used to dramatically reduce the time to help narrow down possible causes of an illness.
In "Assessment of Machine Learning Detection of Environmental Enteropathy and Celiac Disease in Children," first published in the Journal of the American Medical Association, a machine learning tool developed by the University of Virginia School of Medicine was found capable of processing tens of thousands of images from children's biopsies and of identifying celiac disease more precisely than human doctors. This promising study raises hopes that the treatment of children with the disease can be accelerated.

AI to personalize retail shelves for individual customers
AI is also quickly changing how the retail industry operates. The use of forecasting through predictive analytics has always existed for improving the efficiency of inventory management. The AI-based recommendation engines being adopted in new e-commerce storefronts are driving higher revenues per customer. Based on a recent survey, 70% of Millennial shoppers appreciate it when retailers show relevant products they might be interested in purchasing. This is made possible through the use of AI combined with the information of prior browsing and buying histories.
Grocery retail giant Kroger is applying AI to determine what shoppers see on shelves as they walk the aisles. Their system called, Kroger Enhanced Display for Grocery Environment (EDGE), allows Kroger to transform traditional shelf displays. Product prices are displayed in digital format, allowing for real-time customization. This enables Kroger to make changes as customers approach a particular area and provide personalized pricing and offers. The implementation uses computer vision and facial recognition of generic customers to determine age and gender for offers, while loyal customers can opt in to get even more personalized content. The technology is currently in a pilot program and could spread through more Kroger stores as the system and techniques used are fine-tuned and optimized.

AI drives digital transformation of manufacturing plants
Manufacturing is also going all-in with AI. According to Deloitte, 93% of manufacturing firms say that AI will be "pivotal" to driving growth and innovation. AI spent in the manufacturing industry will exceed $2 billion by 2025, with a compound annual growth rate (CAGR) of more than 40% since 2019. AI is especially hot in the Chinese manufacturing sector due to supportive government policies coupled with high investment from private industry.
By joining AI, the industrial internet of things (IIoT) and big data, Bosch is transforming its Bosch Automotive Diesel System factory in Wuxi, China. By placing sensors on machinery, Bosch can monitor how machines are operating through data analysis. A device's temperature, cycle count, speed, vibration, and other measurements are fed into models that help predict a device's health and efficiency and provides a more accurate sense of when preventative maintenance should be conducted. This saves costs by removing excess maintenance while also ensuring that maintenance is done prior to failure or a wear-out event that could cause line-down occurrences. As a result, Bosch can find the sweet spot in scheduling maintenance activities well before any failure. Some customers have reported increased output by more than 10% while also enhancing delivery punctuality and customer satisfaction.

AI helps banks retain customers and make better equity decisions
Fewer industries have been more disrupted by AI than banking. New, non-banking "fintech" institutions are stealing traditional banking customers and raising customer expectations of how they wish to be treated. According to CapGemini, the top reasons that customers are adopting banking services from non-traditional players are low cost (70%), ease of use (68%), faster service (54%), better features (39%), and more personalized products (39%). All these capabilities have been enabled by AI.
One particularly interesting AI technology that banks are using is natural language processing (NLP), which enables machines to derive the "sentiment" and then advise on possible next steps.
J.P. Morgan Research has created a machine-learning algorithm that processes more than 250,000 analyst reports to determine what they said—good, bad, or neutral—about specific equities. After testing the model on 100,000 news articles that focused on the global equity marketplace, researchers concluded that the system could better inform future equity investment decisions than human analysts.

AI is fast becoming ubiquitous
Throughout all industries, not just these five mentioned, AI is fast becoming an essential tool for business. And because of the so-called virtuous circle that comes with AI—good results engender better results, which results in accelerated learning and improvement—companies that invest in AI early are likely to break away from the pack more than their risk-averse peers.
With Robotic Process Automation (RPA) in particular, the benefits of integrating with AI technology are considerable. Whether you choose to use the Automation 360 products for document extraction, process discovery, or Robotic Process Automation, various AI capabilities can be leveraged that can address your business requirements and needs. 
Experience the Power of AI.
About Automation Anywhere Staff