Blog
Top 5 Reasons to Become an Automation Anywhere Certified RPA Professional
September 10, 2020
4 Minute Read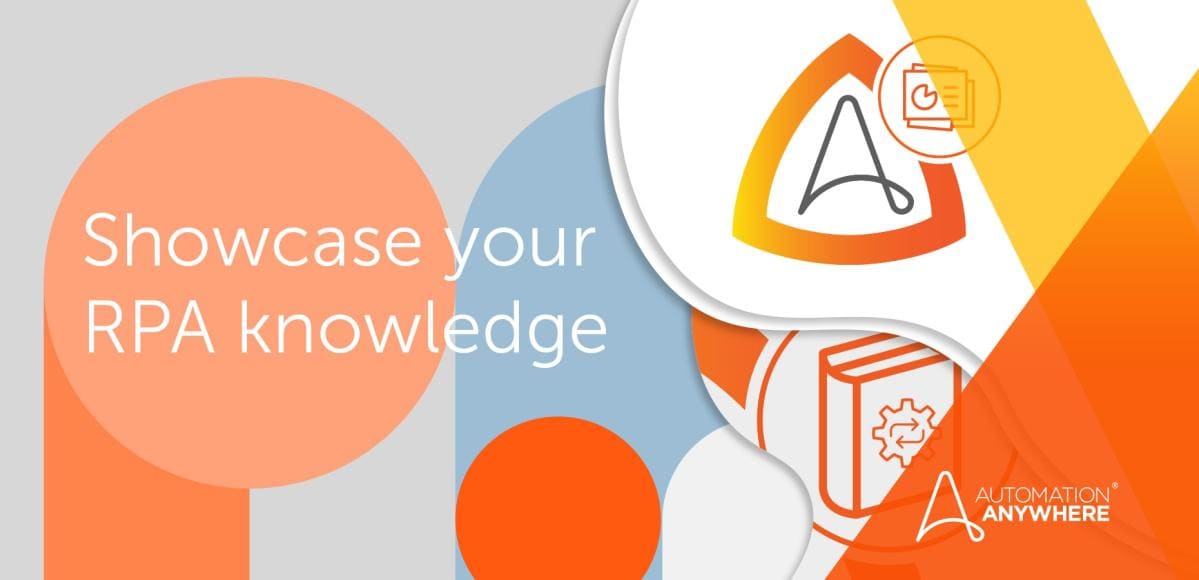 Almost half of Gartner's Top 10 Strategic Technology Trends for 2020 were directly or indirectly related to automation, reflecting the importance of this technology. It makes sense, given the possibilities automation provides for scaling, increasing ROI, improving customer service, and eliminating the burden of manual tasks.
What the Gartner list does not say, however, is how much becoming a certified RPA professional can do for you and your career. Bringing such meaningful benefits to your organization can make you a hero and position you for advancement.
According to the LinkedIn 2020 Emerging Jobs report, careers in automation are the fastest-growing segment. Just as automation has become ubiquitous in our daily lives (Hi, Alexa!), it has become part and parcel of business as usual. From the front office to the back office and across every industry, automation opportunities are everywhere — and the world is clamoring for professionals to bring the vision to life.

Advancing your RPA skills
The most effective way to develop your skills and let employers know you're the perfect choice for automation-related roles is by achieving your RPA professional certification through Automation Anywhere University (AAU). You'll gain the knowledge needed to make a difference, the confidence to throw your hat in the ring, and a credential recognized in the industry.
You can display your RPA training certifications and badges on your resume and social profiles to stand out from the crowd. Prospective employers recognize Automation Anywhere for its prestige and its partnerships with organizations worldwide such as NASSCOM, ICT Academy, the AICPA-CIMA, National University of Singapore, and others.
Here are the top five reasons why you should get your RPA certification from Automation Anywhere:

1) You can customize the program to meet your unique needs. There are multiple learning trails based on your job role, function, and interest – from developer to business leader, and administrator to academia. Each learning trail ends with an assessment that lets you demonstrate your competency.

2) You can start slow and accelerate when you're ready. After completing a learning trail or two, fast-track your RPA learning with the Automation Anywhere Certified Advanced RPA Professional program. It covers the following topics:
Identifying business processes that can benefit from automation and how automation can provide solutions for real-world business problems
Understanding the advanced features and capabilities of the Automation Anywhere bot-building interface, as well as monitoring activity and scheduled tasks, administering settings and roles, and reviewing analytics
Once you've passed your Advanced RPA Professional certification exam, you can enroll in the Master RPA Professional certification program. At its completion, you will understand:
How to create bots that can automate business processes, based on real-world scenarios
The architecture of the Automation Anywhere Enterprise Digital Workforce platform
The components required to build bots
3) It opens the door to a whole new community. Automation Anywhere is just the first step for your career in RPA. It also introduces you to a peer group that you will value for years to come. A-People is an interactive community that enables you to ask questions, share knowledge, and discuss best practices. For the more technical audience, there is the Developer Portal. Both are inviting and collaborative resources for RPA-related and certification information. You'll find solutions to common issues faced by other learners and can contribute to topics posted by other users.

4) It's convenient. Automation Anywhere University is a great way to learn on your own schedule. All online learning trails are available on demand and are self-led, so you can study and take the certification exams at your own pace. You also have the option to register for virtual instructor-led classes and enroll for free RPA technical webinars.

5) There's no risk. Many of the AAU online learning trails are free. This means you can get started and begin honing your skills without ever getting your credit card out (or asking your boss for budget). Once you've dipped your toe in the water, you can decide if automation is the right move for you and your career.

Join our free training
If you're already an Automation Anywhere RPA user and are ready to take the next step, you can't miss our Innovation Day. Before a deep dive into new products and solutions on October 7, 2020, we are offering a Pre-event Training session on October 6, 2020. You will have the opportunity to interact with AAU trainers, participate in a cram session with peers, and even get your certification — all for free.
Take Your RPA Skills to the Next Level.
About Mary Beth Perrot