Solution Brief
Adapt to Healthcare Disruption with FortressIQ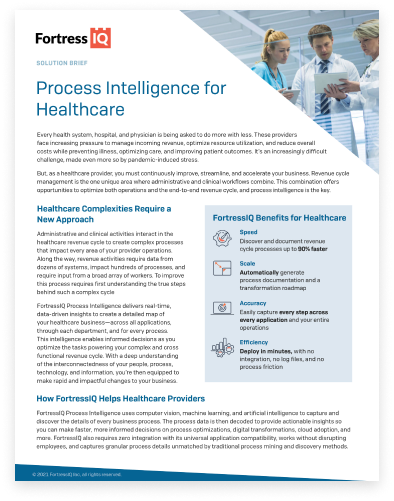 The effects of the pandemic may be receding, but continued healthcare disruption shows no signs of abatement. Simultaneous pressures to digitize, innovate, and scale your administration are being exacerbated by increasingly demanding patients, faster and more agile vendors, and constantly shifting healthcare business models and trends in payer preferences.
Process optimizations and adjustments are required, but moving forward with incomplete or incorrect information can cause even more problems. FortressIQ quickly decodes work at every level, with no bias or blind spots, and no gaps.
Highlight of the improvement
Automation
Reduce time-to-value on your RPA investment
Operations
Leverage your existing technology investments
Experience
Maximize workforce productivity
Performance
Reduce operating expenses
Transformation
Optimize your business outcomes
Learn more about how we enable accurate, automated process discovery in just a few weeks in our Solution Brief.