Next Wave of Bots in Manufacturing Plants to Automate Routine Business Processes
Automakers are used to using robots to make their cars on the shop floor, so why not use robots to make cars even more profitably in the back office?
A new partnership announced today between two growing software companies is about to use a different kind of bot to help manufacturers improve the speed, quality and profitability of their billion-dollar operations.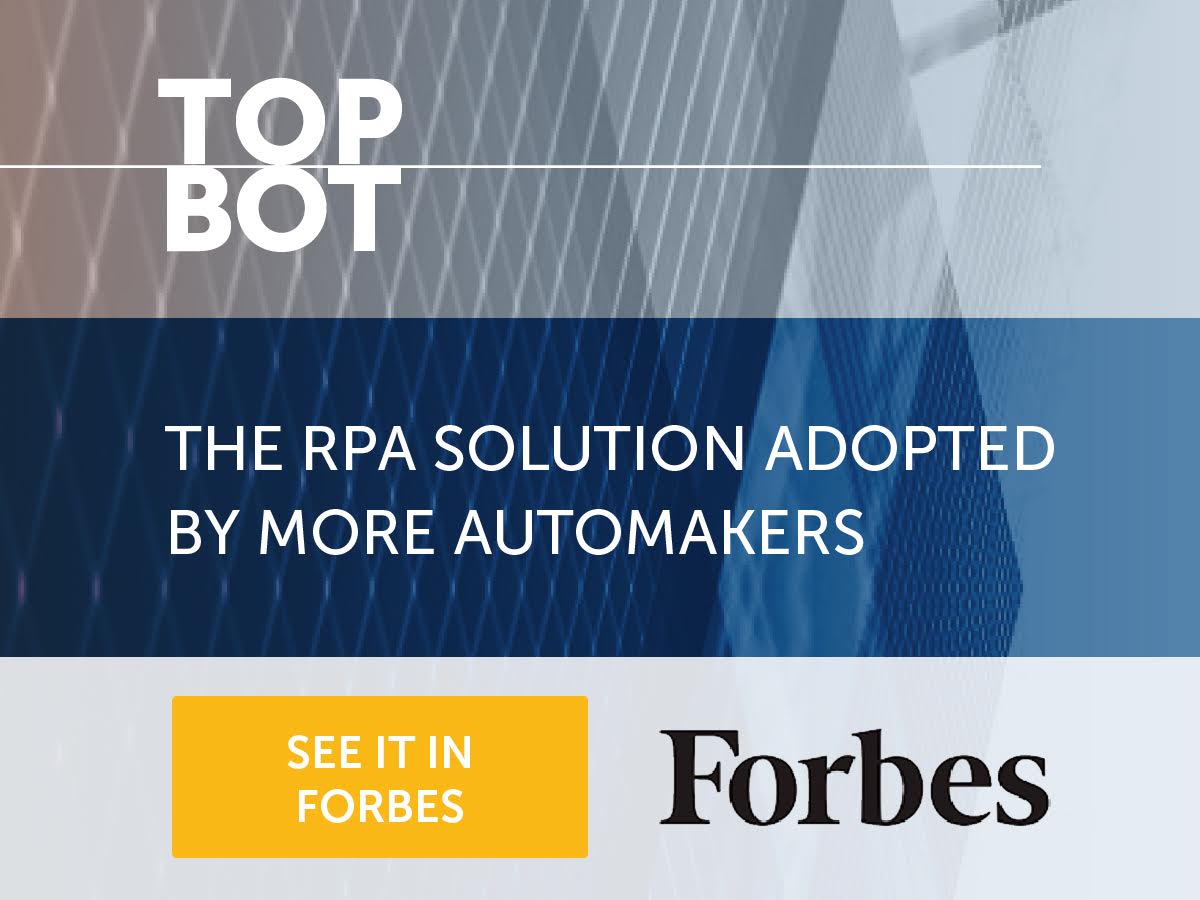 Welcome to the world of "robotic process automation," or RPA, the industry word for software bots that automate processes like invoicing, ordering parts and cutting electronic checks for vendors.
While companies have computerized earlier manual processes like data entry and invoicing, there are still many millions of hours spent manually entering and processing all the data manufacturers generate. In most business functions, there is a 20 to 50 percent cost savings that can be achieved with RPA.
While the banking, financial and retail industries have already started relying on bots to automate tasks like these and other routine work, the auto industry has yet to use RPA in large scale.
"Car companies are very comfortable with robots on their factory floors, so this next step to automate business processes won't be a big stretch," said Bhavesh Shah, CEO of Plymouth, Michigan-based Thirdware. "These folks are under tremendous pressure to return value to shareholders. These software bots help do that in the same way that robots helped deliver higher quality welded, stamped and riveted vehicles to customers, faster.
"In the same way that productivity skyrocketed in the 1980s and 1990s when everyone started using standard business software for individuals, RPA will save time, money and improve accuracy by taking the human factor out of repetitive, but necessary business processes," said Shah.
Detroit Meets Silicon Valley
Silicon Valley-based Automation Anywhere is the biggest specialized player in the 15-year-old world of robotic process automation. In the partnership with Thirdware, Automation Anywhere brings its enterprise RPA technology, while Thirdware is the consulting partner that allows the bots to talk, work with and even learn from existing manufacturers' enterprise software.
"Automation Anywhere provides a 'digital workforce' that combines software bots with cognitive and analytical capabilities, and we've teamed with Thirdware to make this technology work with business software already running at their clients, particularly in the automotive industry," said Anubhav Saxena, executive VP, partnerships, strategy and operations at Automation Anywhere. "Bringing two industry leaders together ensures that organizations can achieve the greatest benefits from RPA."
As a partner to Automation Anywhere. Thirdware will have access to Automation Anywhere's cutting edge RPA platform, tools and best practices. Thirdware will leverage its two decades of business process knowledge, technical expertise and delivery capability to sell and implement Automation Anywhere's solution worldwide, as well as provide customers with ongoing technical support.
About Thirdware
Thirdware is a global IT consulting firm based in Plymouth, Michigan with offices in Europe and Asia and over 1,500 employees worldwide. Thirdware manages enterprise applications to achieve sustainable competitive advantages. With over two decades of demonstrated experience in consulting, design, implementing and support of enterprise applications for Fortune 500 firms, Thirdware have significant competencies in Transaction systems, Analytics and Cloud applications.
Media Contact:
Dharm Sadasivan
Vice President – Marketing
+1-734-272 1824