Blog
The History and Importance of ERP
July 29, 2020
5 Minute Read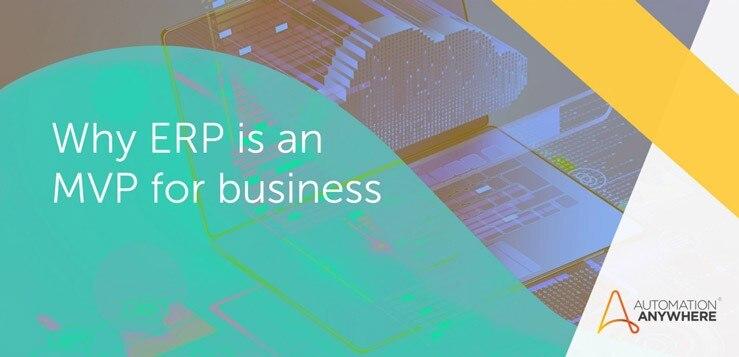 Businesses today operate in an increasingly complex environment that requires the flow of data for timely and efficient decision-making regarding a wide variety of business functions such as procurement, inventory management, human resources, accounting, and more. Enterprise resource planning (ERP) can help keep all those functions moving. As business process management software, ERP is employed by organizations of all sizes to manage and integrate their core functions and work processes into a unified system.
According to Gartner, ERP software grew annually by 10% to become a $35 billion market in 2018. This growth was driven by user investment in ERP due to factors including but not limited to the maturing of SaaS applications and purchases of newer ERP versions.
The evolution of ERP
The term ERP has its roots in the 1960s when software engineers created programs for manufacturing companies to monitor their inventory and quality control, reconcile balances, and report on status. These control systems, referred to as manufacturing resource planning systems (MRP), represented the first step in using computational machines. MRPs were developed internally based on the unique requirements of procurement, production, and delivery, and used to collect and use data in product-based organizations.
MRP II
Several advances sprung up in the 1980s, which saw the development of an iteration of pre-ERP software known as the MRP II. This term encompassed more processes in the manufacturing sector and extended MRP to financials while adding support for cost management, sales and operations planning, shop-floor controls, and capacity planning.
In the 1970s, vendors and consultants started developing networked mainframe software to manage processes such as payroll and accounting on a single database.
ERP
It wasn't until the 1990s when the Gartner Group coined the term "ERP." Other than inventory management, quality control, and other operational processes, systems had other back-office functions such as project and human resource management, engineering, and finance, among others.
In the 2000s, ERP II came into being, which offers a high degree of flexibility for businesses to manage processes at any time and from any location. It offers a single or series of applications that automate ERP systems over the internet through the software-as-a-service (SaaS) model.
In recent years, ERP vendors have bolstered their solutions with emerging technologies that are all about making ERP more intuitive, interactive, and intelligent.
Why ERP is important
ERP breaks down barriers between business functions and units by enabling access to important business information. There are several specific advantages of ERP, which, when added up, show the clear value of the solution. Here are some of the main benefits:
Optimizing efficiency through transparency and team collaboration
Access to business-critical information in the moment can significantly improve the performance of employees across the board. For instance, the accounting team can get sales reports without relying on the sales managers or the marketing team can get data on daily web traffic without having to wait on the web team to pull the information.
Reducing costs
With most operational activities connected, organizations can save on costs, anticipate issues such as delays, interruptions, and breakdowns, complete complex jobs faster, and reduce lead time.
Enhancing security
With an ERP system in place, business data is centralized in one place protected by firewalls and restriction controls to prevent data breaches. Administrators can monitor access points closely to grant access rights to employees, depending on their roles. Administrators can also grant access to new hires, deactivate ex-employees, as well as identify a suspicious user or non-user activity and unauthorized actions in the system.
Simplifying risk management and compliance
As businesses grow and operate in different countries, keeping track of all the different environmental, human resources, and information security regulations imposed in different local, regional, and global locations can be challenging. Many ERP systems are designed so that businesses can maintain compliance with these regulations at every stage.
Allowing for accurate forecasting
To make the best decisions, stakeholders need consistent and complete reports in real time. ERP systems facilitate these reports by filtering data inconsistencies to ensure stakeholders receive accurate, timely data. Forecasting tools within the ERP systems allow users to predict events in labor, demand, and budget, which, in turn, helps businesses create more secure budgets, schedules, and plans for product development.
Improving planning and management
Inventory management, product planning, and resource management are a major challenge for growing companies. ERP utilizes radio frequency identification (RFID) tags, barcoding, and serial numbers to monitor expanding inventory levels at each stage of the supply chain. Companies are then able to track warehouse inventory, items in transit, and items already on the shelves for customers.
ERP gives insight into all operations for better optimization of production schedules, labor, and equipment to maximize capacity. It also manages the company's fixed assets to track any changes and allow for scheduled equipment maintenance, thereby reducing unexpected downtime.
ERP offers businesses the flexibility and agility to adapt to market needs or buyer-imposed conditions. By augmenting legacy ERP systems with Robotic Process Automation, many of the manual steps can be eliminated—making your ERP even more valuable.
Automate to support any ERP process.
About Automation Anywhere Staff