Blog
Making the Most of Citizen Development—Preparation is key
December 16, 2022
4 Minute Read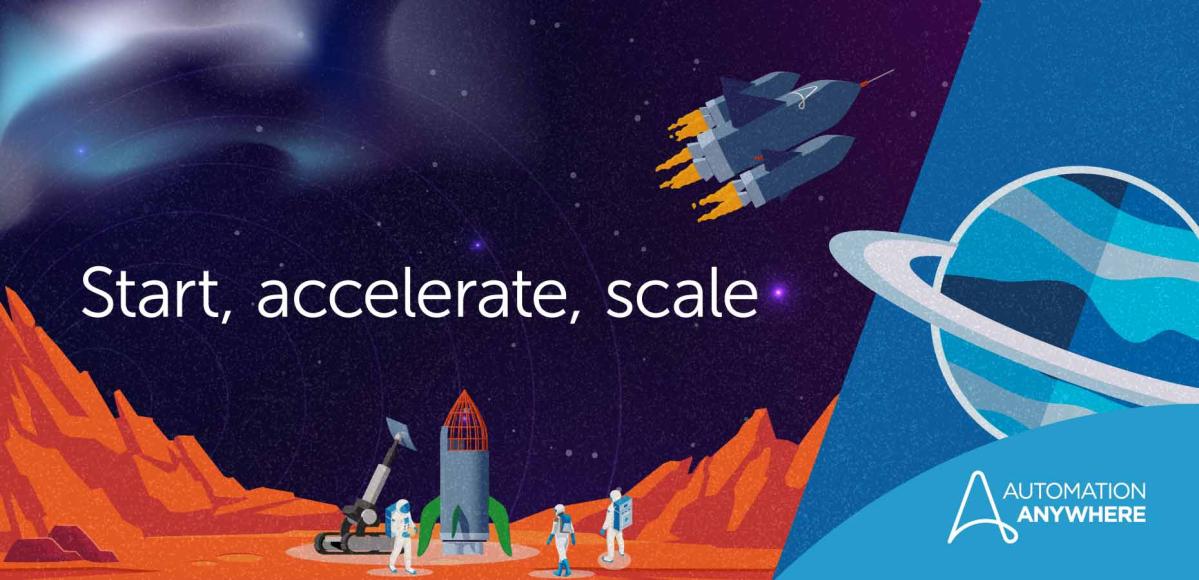 The Automation Anywhere Pathfinder Program is your fast track to automation success. Take advantage of the program that includes self-paced learning, peer and partner expertise, community engagement, and product innovations that empower you to run agile, scalable enterprise-wide automation programs. This blog article on citizen development is the first in a series that gives you a taste of the information and advice available through the Pathfinder Program. To learn more, visit our Pathfinder web pages.
We know the drill: You're an automation leader in your company's center of excellence (CoE). It's 8:30 pm. You should be at home. But you're still working away—lots to do and not many on your team to do it. You're wrestling with the question your CIO just asked: "Can't you go faster if you train up some citizen developers?" You understand why citizen development sounds great. But the practical side of you believes opening up automation development across the organization sounds risky in terms of governance and quality. We get it. But with the proper tools, training, and support systems in place, citizen development is an incredibly effective way to scale automation success across your enterprise. It can even take the pressure off your own time- and resource-strapped CoE.
Make sure you have these key elements in place before moving forward with a citizen development effort:
Secure sponsorship. General support is good. But citizen development requires more than that to be an enterprise-wide success. It also takes convincing key leaders to be program sponsors to ensure prioritization and participation.
HINT: Meet with departmental leaders to understand their most critical business goals. Explain the program's benefits for their departments. At the executive level, the discussion will probably not only focus on alignment with objectives and priorities but also on how to enlist citizen developers and what support is required to make the program work.
ANOTHER HINT: You may need to be in education and evangelism mode when you meet. If you're starting from scratch, you'll need to explain what automation is and why it's a powerful co-investment for your business partner. If your business partners are chomping at the bit to empower their teams but they don't yet understand the time commitment or training needed, you'll need to educate them.
Identify roles
You'll need to identify the roles that will be part of your first citizen development cohort. The most likely ones are:
Highly skilled developers who are new to automation
Tech-savvy business analysts who fancy themselves "coders on the side"
The completely uninitiated—they know how to use their computer but otherwise will likely think: "low-code...what?" This is OK. A lack of technology skills is not a barrier to creating your first automation. As long as your pool of talent is motivated to learn and has an innovation mindset, they'll be successful on a cloud-native platform
Leverage your existing automation presence 
If people within your organization have already experienced the benefits of automation, convincing them to contribute resources for even more benefits should be an easier sell than starting from scratch. If your company doesn't yet have an automation footprint with a track record of success, focus on that before considering Citizen Development. See 5 Pillars for Moving Your Automation Program "Beyond the Bot" and Blueprint: Winning Plays for all 5 Pillars of Success and Scale to kickstart your Automation Program.
Ensure that your center of excellence is operating with excellence
An established CoE with robust best practices around development, deployment, ideation, and governance is also a prerequisite. Citizen development can be adopted with a centralized or business unit-specific CoE. As the program matures, the CoE can also evolve into a federated model.
What's next?
So, those are the prerequisites for creating a citizen development program. In the next article in the series, we'll cover the steps for planning, evangelizing, and training citizen developers. In the meantime, check out our Pathfinder Program web page.
About Automation Anywhere Staff