Blog
See What's New in Automation Anywhere Enterprise A2019.16
October 6, 2020
3 Minute Read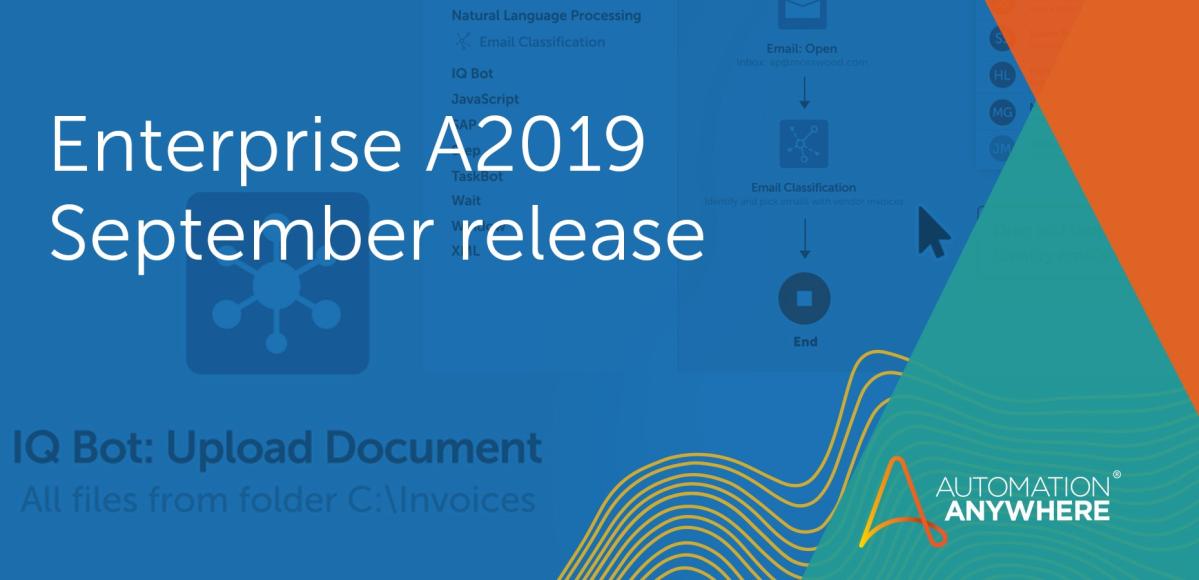 At Automation Anywhere, we always augment our Enterprise A2019 platform to help our customers make the most out of their automation "superpower." With the latest release of Enterprise A2019.16, we've enhanced Process Discovery, Document Automation, and more to ensure you have what you need for your business to succeed.

Keep all your users happy
For customers with large deployments, we now offer silent bot agent installation in bulk. Customers can use the Microsoft Active Directory group policy to push bot agent installations and have the option to install the bot agent to a specific Control Room using a generic registration key. Users can also regenerate the token at any time, leaving the old tokens invalidated and allowing the new token to be used for future installations.
By setting up the group policy once, every computer in the organization will have the bot agent installed automatically without users needing to install the agent on their devices. In one step, you can push the agent to all the devices in your organization, saving time and effort.
This release also includes support for Chinese, Korean, and Japanese variables and bot deployments running on multi-user environments, starting with Windows Server 2019.

Transitions made easy
Process Discovery on Enterprise A2019.16 includes a more powerful and flexible user management capability compared to previous releases. Users can assume the admin, recorder, and analyzer roles simultaneously and do custom role assignments. Analyzers can participate in recordings, and business users can create processes if needed.
This flexibility in user role management supports a gradual transition from business users to citizen developers. With growing experience in process discovery and automation, the same user who took the recording in the past can now identify opportunities and auto-create bots for increased productivity.

Tailored intelligence
Document Automation boasts several enhancements with this release. Users can implement custom logic on Bot Runners, and Python scripts can be executed for tasks that include changing date formats and fine-tuning extracted results. And we are adding image pre-processing capabilities such as cropping, reorienting, sharpening, turning images into grayscale, removing blur, and more. By improving image quality, these capabilities make it possible for IQ Bot to process images more efficiently and accurately.

Interactive forms
We are introducing enhancements to our interactive forms. With table elements, users can display tabular data to manipulate the data, add and remove rows, and send updates to the backend. The table element allows table data type to send and receive data from a bot. Another upgraded feature is the rich text box, which gives call center agents the ability to create a formatted text with a summary of the call that can be sent out in an email with a single click—without reformatting. The box takes and returns an HTML string.
In addition, Enterprise A2019.16 offers a new action in the forms package called form validation. When users run form validations on a specific button action, the form will not proceed until all validations are cleared. This is managed by a simple configuration in the form composer. We have also provided users with the ability to use the snapshot element to store files in any given path.
We hope that our Enterprise A2019 customers find the latest upgrades helpful.  


Find Out More About Enterprise A2019.16.
About Rizwan Husain