Blog
See What's New in Automation Anywhere Enterprise A2019.15
August 26, 2020
3 Minute Read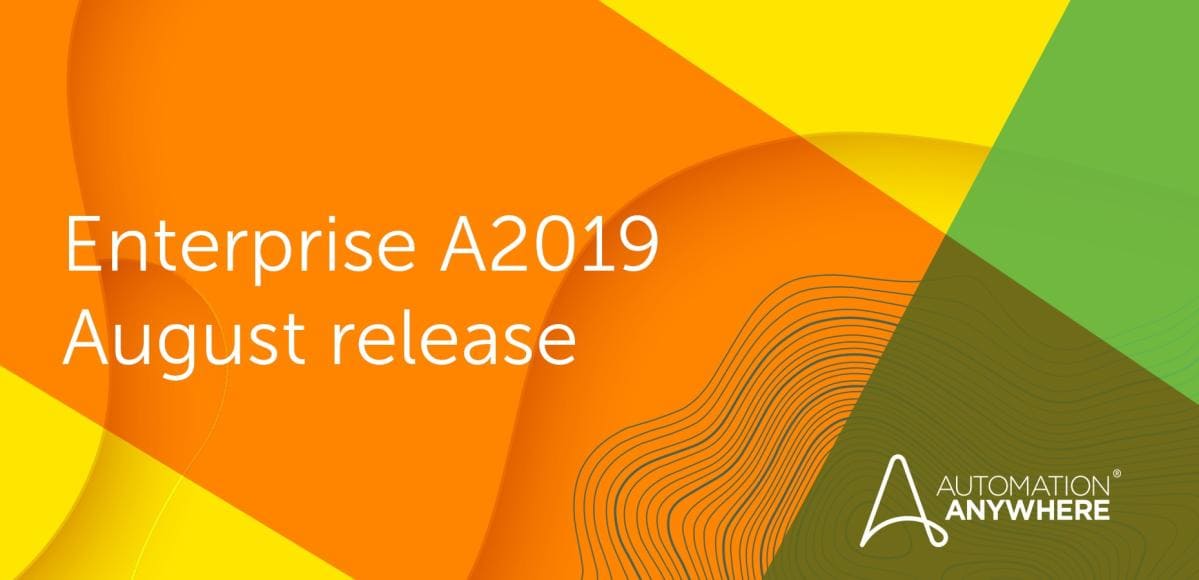 At Automation Anywhere, we treat our Enterprise A2019 platform similar to how a Formula 1 team treats their vehicle: we constantly improve every aspect to achieve optimum performance. Our monthly releases address customers' current and future needs to ensure a smooth automation journey. Our latest release delivers improved quality and experience, with new features. Here's what you can expect from Enterprise A2019.15.

Uncover new automation opportunities
Automation Anywhere Discovery Bot, our process discovery solution, is a significant component of Enterprise A2019.15. Available natively on the platform, Discovery Bot eliminates the challenges associated with traditional process discovery methods. It accelerates and scales automation projects by identifying repetitive manual process steps and generating bots to automate them with one click.
Discovery Bot takes the guesswork out of what to automate. It records users' activities and breaks them down into individual steps, helps to identify automation opportunities within repetitive manual operations and showcase the ROI in automating those steps, and automatically converts the opportunities into bots. It's a great way to see your entire processes at a glance to scope out bottlenecks and scale your automation at the same time.

Analyze data your way
In any business today, data is the driver of crucial decisions, which is why we improve our analytics capabilities with every release. In Enterprise A2019.15, we have made more enhancements to Bot Insight, our automation analytics solution, by giving users additional visualization options to get the data they need, in the format they want. We have added options to include bar and line charts, sort/limit options on any dashboard widget, visual side-by-side dashboard comparisons, as well as a new devices dashboard to help with real-time deployment monitoring.

Organize your documents
With Enterprise A2019.15, we are introducing several enhancements to IQ Bot. Two document processing capabilities in this release improve document extraction accuracies before the documents are sent to IQ Bot. The first classifies and organizes your documents into separate files based on format. For example, during the process of opening a new bank account, new customer onboarding applications get sorted as they come through a mailbox and classified into proof of address, proof of employment, ID documents, and so on. The second capability makes it possible to convert documents to a PDF. That allows for better processing of complex documents by flattening them and removing unnecessary data that sometimes interferes with OCR engines.
We are also introducing significant scalability improvements by allowing customers to scale IQ Bot using Bot Runners and to process up to 25,000 documents per Bot Runner.
This release offers many more new and exciting features to help you succeed in your automation race. Read more about the latest Enterprise A2019.15 release.  
Get Enterprise A2019 for Your Business.
About Rizwan Husain