Blog
Is Your Digital Workforce Performing?
February 26, 2018
3 Minute Read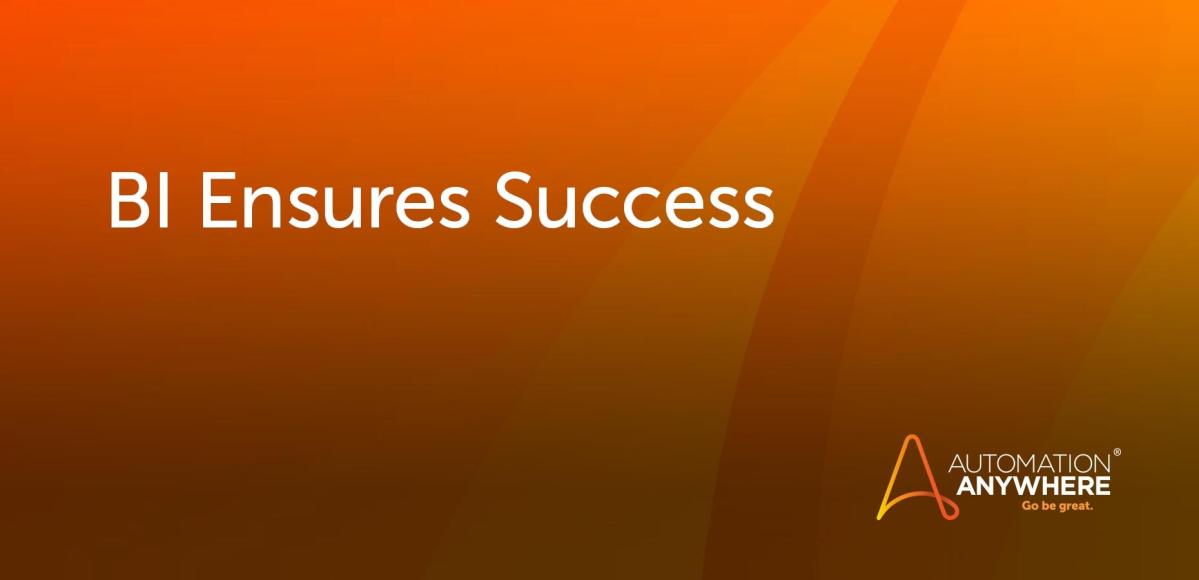 The Robotic Process Automation (RPA) market is exploding. Sales of RPA software between 2016 and 2022 are predicted to rise almost 60% annually at a time when enterprise software budgets are increasing at just 4.1% each year, according to Morgan Stanley research.
Enterprises are investing in RPA disproportionately to other types of enterprise software, such as enterprise resource planning (ERP) and customer relationship management (CRM), with great expectations for it. McKinsey studied 20 companies that had deployed RPA, finding a return on investment (ROI) for one year between 30% and 200%.
That sounds extremely promising. No wonder so many firms are jumping on the RPA bandwagon. But wait a minute. Ernst & Young found that as many as 30% of initial cognitive RPA deployments fail.
How do you ensure you're one of the successes?
You use business intelligence (BI).
BI is the software-driven process for analyzing data and presenting actionable information to help businesses make better decisions. The right BI solution can give you up-to-the-minute reports on how well your RPA investment is working.
If you are on the path of rapidly scaling your workforce using software robots (commonly called bots), wouldn't it be nice to know how those bots are performing? It only makes sense to use BI. After all, we regularly evaluate our human employees. Shouldn't we have similar criteria for evaluating our digital ones?
Most enterprises by this point in time have invested in centralized business intelligence (BI) tools. However, integrating and feeding data from your bots to third-party BI tools can introduce friction and reduce your "bot velocity" — the time it takes to move a bot from concept to production.
This metric — bot velocity — is very important to most successful RPA-deployed organizations. The faster the bot velocity, the sooner the payback for the RPA investment. But PwC found that although the payback period for a cognitive automation initiative in the financial services industry can be as fast as six months, on average it is approximately 14 months.
That is too long for most companies, impatient for results.
Optimal bot velocity in a Digital Workforce initiative is achievable. Automation Anywhere has an integrated, full-blown BI platform in its RPA platform, putting both operational and business insights at your fingertips. Better still, you're provided with these insights at three levels: the business level, the process level, and at the level of the bot itself.
If you have an RPA center of excellence (CoE), you can easily use a CoE dashboard to communicate key business insights, such as the number and volume of processes automated, as well as the associated cost savings, productivity improvements, and revenue growth.
You can measure progress on your digital journey. You can see your digital workforce performing to expectations.
Enterprises using Bot Insight to measure the performance of their digital workforce are the most poised to benefit from optimal ROI via increased bot velocity during this RPA market explosion.
To date, Automation Anywhere has helped more than 900 global enterprises build Digital Workforces — 500,000 automation full-time equivalents that have saved hundreds of millions of hours of manual tasks. Several dozen of our customers already have more than 1,000 bots deployed. And by all projections, the RPA-powered Digital Workforce is expected to continue to grow at a rapid pace.
Increase your bot velocity
and ROI.
About Manish Rai