Blog
How Automation Can Elevate Government Performance
January 7, 2020
3 Minute Read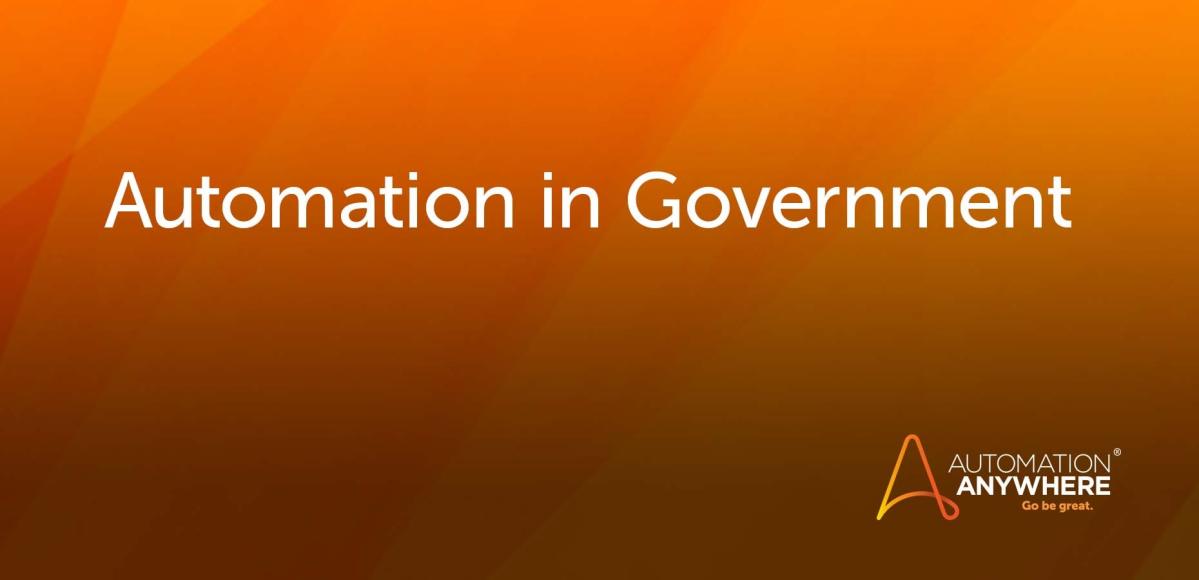 Measuring performance is one of the trickiest challenges for government executives. Without a stock price or revenues to chart, the government generally gets graded through a series of negatives — think backlogs, errors, and inspector general findings.
A good positive playbook for boosting government performance is the President's Management Agenda, a vision for modernizing the federal government to improve mission outcomes, provide excellent service, and, effectively, steward taxpayer dollars.
The agenda lists 14 cross-agency priority (CAP) goals focused around IT modernization, data, and people. One of the CAP goals is "shifting from low-value to high-value work."
As part of this CAP goal, executive branch agencies are encouraged to take advantage of technologies such as Robotic Process Automation (RPA) to reduce repetitive administrative tasks and other process-reform initiatives.
The role of automation in government
Based on a one-year progress report of this CAP goal, RPA and artificial intelligence (AI) initiatives are making a significant impact in the government's burden reduction efforts.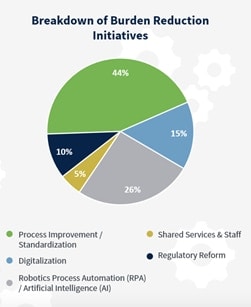 More than 30 initiatives are currently underway by various agencies, including the Departments of Defense, Agriculture, Housing and Urban Development, and the General Services Administration.
Automation should play a critical role in any federal agency's IT modernization strategy. By automating their processes, agencies can improve performance, reduce errors, and speed through their work backlog.
One health agency has deployed 97 Digital Workers, or collections of bots, to automate three dozen processes using Automation Anywhere technology. Out of 540,000 transactions reviewed by Digital Workers, zero errors were recorded.
Moreover, bots can run on a 24/7 basis, allowing agencies to work through their backlog and providing time and freedom for human workers to pursue more strategic, analytical work.
Empowering public sector performance
Next on the agenda for this agency is to add artificial intelligence capabilities to its Digital Workforce. This will allow the bots to take disparate information from various sources (say, a form where the last name comes first and another where the name is reversed) to compile an error-free summary record.
The second example of automation fueling public sector performance improvements is a national security procurement center that must conduct thousands of contractor validations each year. These checks are essential in order to ensure contractors are appropriately authorized to do business with the federal government. However, each check takes an average of two hours for an individual to search multiple databases manually.
The national security procurement office programmed a Digital Worker to conduct the search on an automated basis. Now each contractor check takes two minutes, saving an estimated $29 million in hours repurposed toward higher-value work and producing a return on investment of 14,000%.
A third example of government performance is a leading utility company that produces 35-40% of the power for the state of New York. Regulations require that the utility capture data from its multiple power plants hourly, daily, and at certain other instances.
Traditionally, this required humans to manually log onto EtaPRO (a power utility monitoring application), capture four screens and save the captures as a file, and then store the file into a reports folder. The hourly reports weren't always generated on time, based on a confluence of factors.
The utility built a bot in 20 minutes that captures screen images every six minutes, exceeding the regulatory requirements without interrupting the humans who were previously disrupting their workflow multiple times a day. The utility estimated the savings at $10 million per year.
Now that is truly an applause-worthy performance.
Learn more about the benefits of automation for the government.
About Keith Nelson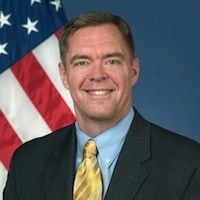 Keith Nelson puts his more than 18 years of experience in the federal government to work as senior director of industry marketing for public sector at Automation Anywhere, where he strives to eliminate red tape in government, academia, and nonprofit sectors.
Subscribe via Email
View All Posts
LinkedIn