Blog
Getting Started with Process Discovery
May 28, 2020
3 Minute Read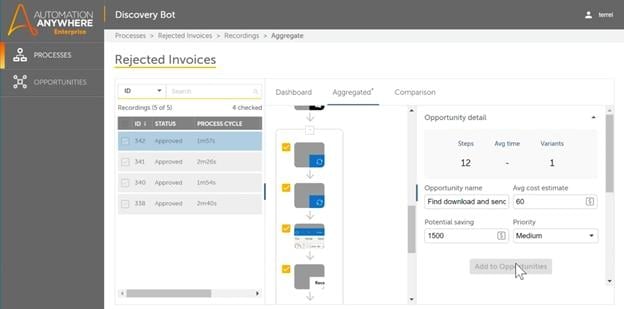 In one of our previous blogs, we've discussed how manual process documenting and mapping are slow and consume 60-80% of the efforts in an automation project. This number has been confirmed again and again in dozens of conversations with our customers. And everyone points to this painful process as a major barrier for scaling automation.
One of our customers explained it well. Their automation program was successful, and management was looking for ways to accelerate its expansion. However, despite assigning all available process analysts to this initiative, they still didn't have enough resources to manage the automation pipeline — document processes, define, assess, and prioritize automation opportunities — effectively.   

There is a bot for that
If the strength of Robotic Process Automation (RPA) is the automation of repetitive processes and process discovery is just another set of repetitive tasks, can't we just automate the automation?
This was the fundamental idea behind the highly popular Process Discovery. Its unique ability to streamline the collection and transfer of process data significantly simplifies the identification of automation opportunities and enables tight collaboration between three key roles: business users, process analysts, and RPA developers.
Because of the tight collaboration between users on a single platform, the auto-discovery of automation opportunities, ROI assessment, prioritization, and management of the automation pipeline becomes easier. Yet, the most impactful benefit is the acceleration of automation projects with automatic process discovery and documentation.
 
Let's discover what to automate
To automate a process, you need to transfer process knowledge from business users executing the process to automation experts (e.g., RPA CoE) who design and implement bots. Traditionally, this happens manually: Internal or external consultants or process analysts are sitting next to business users and observing the way they execute the process. It's a time-consuming, resource-intensive activity, which is also very distractive for business users. Nowadays, this approach is hardly possible at all in the current work-from-home and social-distancing environments.
Process Discovery is an integral part of the Automation 360 platform that provides a unique environment for collecting process information and then using it for automation. Here's how it works:
A process analyst sets up a discovery project for a specific business process and invites participating users to record their activities while executing this process. Business users utilize process discovery to record a required set of actions.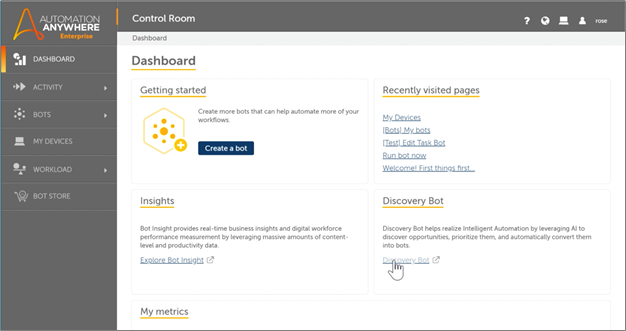 When the recording is complete, business users can review each recorded step along with the screenshot and annotate it, providing the descriptive information, and submit the recording to the process analyst for review and analysis.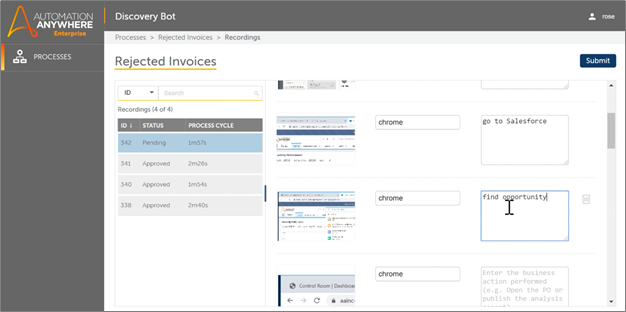 The process analyst accumulates multiple recordings from different business users, reviews process details, and identifies the optimal path to execute the process. While this data collection and analysis would traditionally take weeks, it can now be done within a few hours.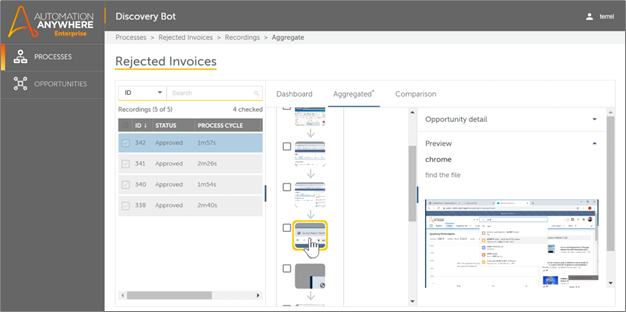 The process analyst can also identify the set of manual steps that are perfect for automation, assess the potential ROI from automating those steps, and create an automation opportunity.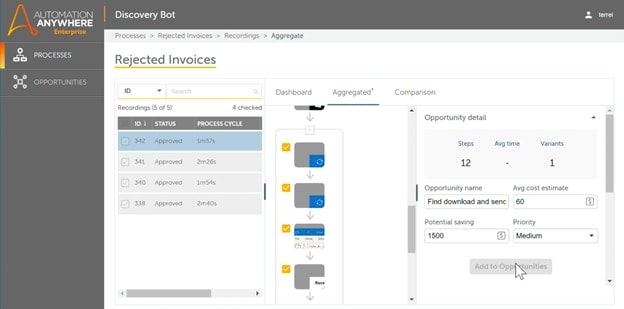 The list of prioritized automation opportunities forms an automation pipeline used by the RPA CoE team to set the automation schedule. Automation opportunities could also be converted into an outline for the RPA bots.
By automating process discovery, you can significantly mitigate your scalability limitations, and you can start to reap the true RPA ROI by expanding your efforts to more processes and more departments. What will you automate next?
Discover Your Automation Possibilities.
About Semyon Sergunin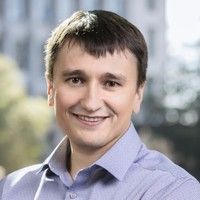 With a background in software development, B2B marketing, and sales, Semyon Sergunin has worked in automation technology for more than 15 years. He drives the global adoption of intelligent automation solutions, including IQ Bot and Discovery Bot.
Subscribe via Email
View All Posts
LinkedIn