Blog
Broaden Your RPA Footprint: Top 5 Digital Workers
September 12, 2019
4 Minute Read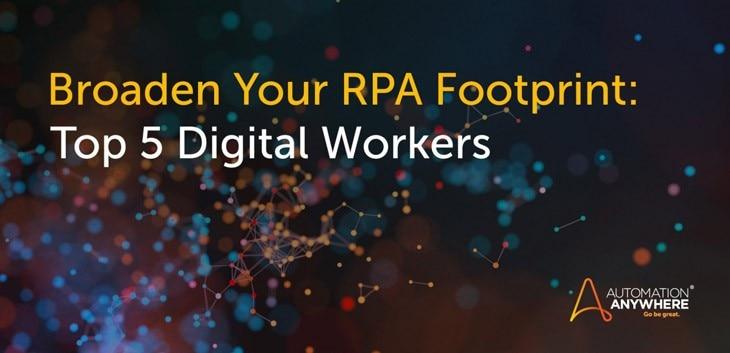 Fast ideas keep evolving. The rise of artificial intelligence (AI), machine learning, and Robotic Process Automation (RPA) is leading to a hybrid workforce where humans and Digital Workers operate side by side to give humans more time to employ ingenuity, creativity, empathy, and collaboration in the workplace.
Humans need creative solutions to apply speed to our slowest business processes. Digital Workers can improve team productivity, employee job satisfaction, and profits. Expanding your RPA footprint across your organization can add agility to your workflow and start a nimble chain reaction for integrating sophisticated processes.
It's easier than ever to scale your business by deploying bots for a variety of business processes in a fraction of the time it takes to build them from the ground up. Introducing five new Digital Workers to assist your busy employees, available in Bot Store:
1. Digital Sales Operations Specialist — Salesforce
For business leaders who want to focus their efforts on closing sales without wasting sales teams' time doing manual data entry, the Digital Sales Operations Specialist — Salesforce will vastly improve productivity, help teams stay organized, and eliminate errors.
This Digital Worker can save a sales operations team up to 70% of time entering leads, contacts, and other information by automating Salesforce data entry from marketing, enterprise resource planning (ERP), and other tools. Ensure a single source of truth and accountability with real-time notifications and automated document uploads and reporting.
2. Digital Oracle Accounts Payable Administrator
Manually paying your business bills on time can quickly become cumbersome, especially if your company has lots of vendors and purchase orders (POs) to process. Automating accounts payable with the Digital Oracle Accounts Payable Administrator streamlines the invoicing process and lowers the cost per invoice.
This Digital Worker will help you accelerate your straight-through processing (STP) by as much as 70% and avoid profit-eating errors in your accounts payable process. Automate end-to-end processing of both PO and non-PO invoices — and process 400 to 500 invoices per day. Additionally, you can automate bulk payments and book-closing tasks.
3. Digital Workday Organization Design Analyst
How do you reduce complexity in your Workday software processes? Rather than consuming time double-checking data entries, you can now hire the Digital Workday Organization Design Analyst. This Digital Worker can verify your company's organizational design setup and handle monotonous work quickly and precisely.
Accelerate Workday implementations from months to weeks by enabling the verification of organizational structures through visual representations. You'll be able to accurately and effectively maintain the organizational structure for thousands of employees in Workday.
4. Digital Workday HR Performance Management Administrator
The most valuable part of any company is the people. Performance reviews can ensure you retain the best workers, but the review process can be time-consuming. The Digital Workday HR Performance Management Administrator changes that by automating data collection and distribution for employee performance rankings.
Automating performance management workflows, including the email reminder and confirmation process, will eliminate the hunt for missing performance data, increasing productivity for your human resource managers. Ensure accountability and accuracy of performance scores for thousands of employees in Workday.
5. Digital Workday HR Performance Management Analyst
As people-centric individuals, HR leaders prefer to do people work rather than paperwork. They also appreciate the employee performance appraisal process to identify and weed out low performers.
The Digital Workday HR Performance Management Analyst saves HR teams hundreds of hours while eliminating the tedious activity of collecting employee performance data from myriad managers. This Digital Worker uses Outlook and Workday EIB (Enterprise Interface Builder) to collect, extract, and enter employee performance information efficiently and reliably.
Making humans more successful
Digital Workers from the Bot Store marketplace deliver practical uses of intelligent automation, machine learning, AI, and analytics to speed digital transformation across many departments. As RPA technology becomes more commonplace, it will help humans delegate monotonous tasks and free them to pursue more meaningful and higher-value work.
Accelerate your
time to value.
About Laura Della Torre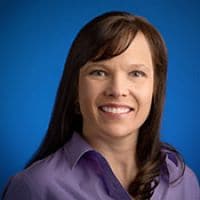 Laura Della Torre has built, cultivated, and grown thriving ecosystems and marketplaces for more than 20 years through inspiring messaging and compelling programs.
Subscribe via Email
View All Posts
LinkedIn