Blog
Bots Are Here. Now What? 5 Best Practices for AI and Cognitive Automation
March 12, 2019
4 Minute Read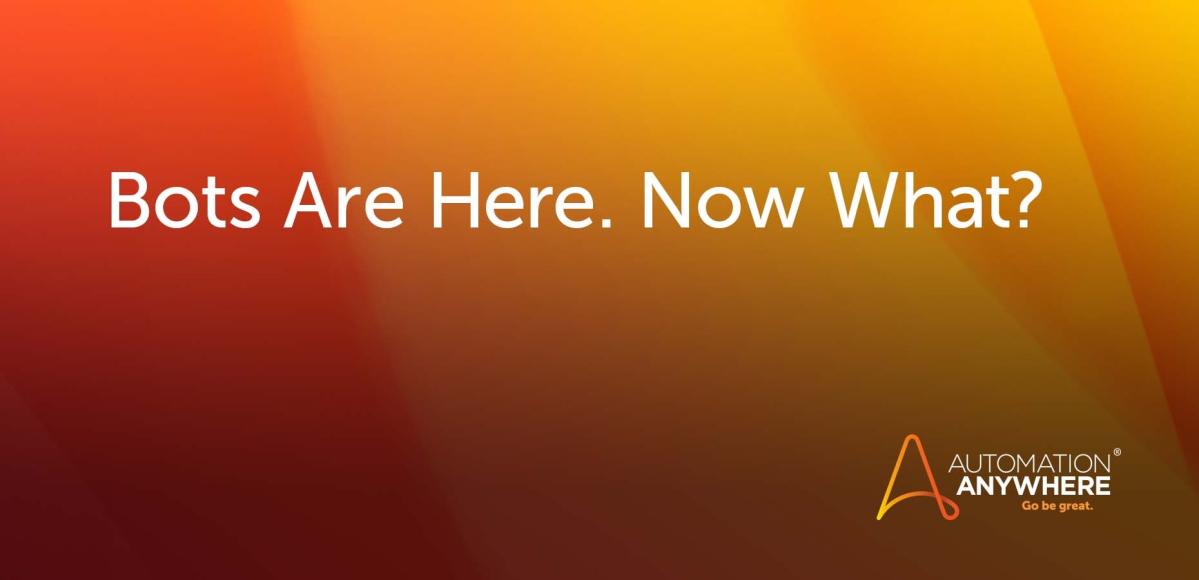 Your business has adopted Robotic Process Automation (RPA) to automate repetitive processes, but now you're looking at how you can take your digital transformation to the next level. You're not alone. According to a report by IDC, worldwide spending on cognitive automation and artificial intelligence (AI) systems are expected to reach $77.6 billion in 2022.
When cognitive automation — AI techniques applied to automate specific business processes — is applied, RPA bots can imitate the way humans think and can perform more complex business processes, allowing your organization to innovate faster.
Adding cognitive automation to your business will also raise the bar for your employees because automating manual processes will give them more time to come up with breakthrough ideas.
Because the processes you can automate using cognitive RPA are more complex, there are advantages to deploying cognitive automation successfully. When it's implemented correctly, results from using cognitive automation with RPA can be seen within eight weeks.
Here are five best practices you must know to transform your business:
1. Identify a high return on the investment process
Choose your cognitive process wisely. According to Ernst & Young, as many as 30% to 50% of initial cognitive RPA deployments fail. Avoid this outcome by selecting a process that allows you to take novice steps where you can learn. And, if your attempt turns out badly, it doesn't bring down business-critical operations.
2. Scope out an important business area and get management buy-in
Apply cognitive automation to accounting, payroll, finance, human resources, legal, or shared-services operations — all offer an entry to the innovative world of cognitive automation.
Business leaders in these units recognize the importance of cognitive automation for eliminating manual processes, raising efficiency, increasing return on investment (ROI), and liberating the workforce from time-consuming legacy systems. Go ahead, select a business unit and get buy-in from senior management, along with IT, to implement success.
3. Select a variety of documents to train your cognitive system
As you begin to train your cognitive system, remember cognitive computing is data-hungry. As such, the more data you give it, the more accurate your results will be.
For example, if you're automating invoice processing, provide a good sample of invoices from various vendors for the system to learn from, as the layout and field labels can vary from company to company.
4. Demonstrate rapid ROI for one key process
Focus on automating one key process that will give you a respectable ROI in a short time. Choose from processes that involve many people. Once you've identified an area for transformation with cognitive automation, then build a solid business case for it.
5. Make it a volume game
Use the 80/20 rule to keep your starter cognitive automation project manageable. By this, we mean 80% of your success should come from just 20% of the effort.
For example, if you're focused on processing invoices at a global enterprise, don't start with invoices from every language in every location. Start with a pilot project and refine your approach prior to scale.
Once you've successfully implemented your starter cognitive automation project, gradually try more complex processes for both semi-structured and unstructured data.
Cognitive automation boosts business efficiency
Adding agility to your processes with cognitive automation is good for business and your employees. With these five steps, you can determine which areas to focus on and how to avoid pitfalls. Cognitive automation can transform your business by replacing manual processes with speed and accuracy. This will free your employees to do more breakthrough work.
For more information about getting started with cognitive automation, watch Creating the Autonomous Enterprise. Start at the 20-minute mark for direct access to the five best practices.
Disrupt manual processes with cognitive automation.
About Manish Rai