Blog
The Fundamentals for Successful Supply Chain Management
August 11, 2020
4 Minute Read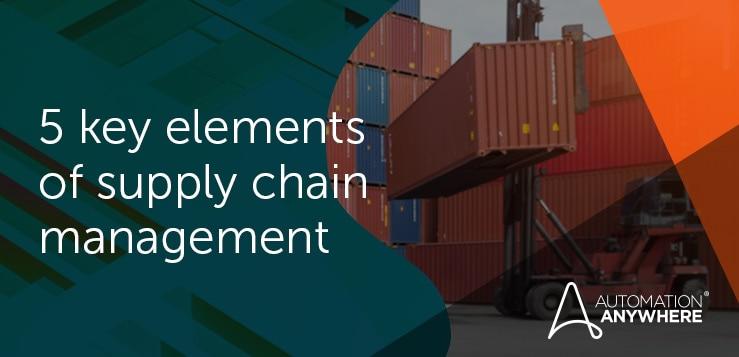 Robust supply chain management has never been more crucial. Companies are sourcing products and services from a diverse set of global suppliers, automation is making warehouses the site of a company's competitive advantage, and customers are addicted to instant gratification. Strong supply chain management has created industry leaders — look at Amazon, for example. In fact, according to Deloitte, 79 percent of organizations with superior supply chain capabilities achieve revenue growth that is significantly above average. In turn, poor supply chain management has led to business failures.
Unfortunately, managing supply chains is growing ever more challenging as supply chains become increasingly complex. As products and services are sourced from more diverse and global suppliers, managing the processes that ensure a steady and reliable flow of components and inputs has also become more difficult. Leading your industry requires a thorough, robust supply chain management strategy.
Companies must master five key elements of supply chain management
Mastering the key elements of supply chain management can be a challenge, but doing so provides a strategic, competitive advantage. Here are the five key elements that your organization should focus on.
Standardization
Standardization is the first step for the strong supply chain management. Standardized processes offer rules for how a given task or sequence of tasks should be completed. Every task should have documented standards regarding the scope, quality, and methods to be followed. These rules act as a guideline to ensure quality management and, with the right software or technology, can identify and capture supply chain data and deliver a significant competitive advantage.
For example, in manufacturing, an organization may standardize equipment parts to help improve operational readiness and reduce lifecycle costs. As a simplified use case, if manufacturing equipment uses the same bolts in numerous machines, an organization limits the variety of bolts it needs to carry. This simplifies inventory and repairs and can reduce costs by saving time and by allowing the organization to buy those bolts in bulk. 
Process standardization opens the opportunity for Robotic Process Automation (RPA). Automating back-office and operational processes within the supply chain is key to moving faster and more effectively, while simultaneously reducing costs, accelerating time-to-market, and enabling innovation to flourish.
Integration
Supply chain integration brings all parts of the supply chain into a single system to enable a close working relationship. That means eliminating business siloes with clear communication and insights into different division's strategies to work toward the same goal. Integration requires software and technology.
Optimizing supply chain integration is valuable because, when done effectively, it can improve response time and help production be faster while decreasing expenses and waste.  
Operations
Operations refer to the management of day-to-day operations, which begins with planning the company's output and extends to the delivery of goods and services to the customer. The strategic element of operations comes from using business forecasting to predict the company's needs and create marketing approaches. 
Optimizing supply chain operations is valuable because it helps provide companies with insights into demand fluctuations. With that critical information, companies can not only better manage their inventory, but can also avoid purchasing and storing unpopular items.  
Purchasing
Besides sourcing the materials and other goods needed to generate the company's products, purchasing identifies the qualities and quantities of necessary items.
Optimizing supply chain purchasing is important because it can decrease expenses while increasing value, helping companies deliver a superior product at a reduced production cost. Organizations with strong supply chain management consider purchasing to be an enabler of innovation. For example, strategic purchasing can allow an organization to design products to cost.  
Distribution
Coordinating the logistics between manufacturers, retailers, and wholesalers is complicated. Today, that situation is even more complex because companies have wider distributions and often work with more distributors than ever before.
Optimizing supply chain distribution is important because customers expect their needs to be immediately met. Using data to gain insights, companies can utilize strategic distribution, which allows companies to predict where items will be most in-demand and store those products closer to the consumer, which reduces shipping time and helps meet consumer expectations.
Together, these five elements deliver leading supply chain management practices. Yet, for these to work as seamlessly and as affordably as possible, industry best practice is to incorporate technology and automate the supply chain.
Cut Manufacturing Process Waste with Automation.
About Automation Anywhere Staff