Why Read the 2019 RPA Peak Matrix Report?
The leading resource for decision makers on RPA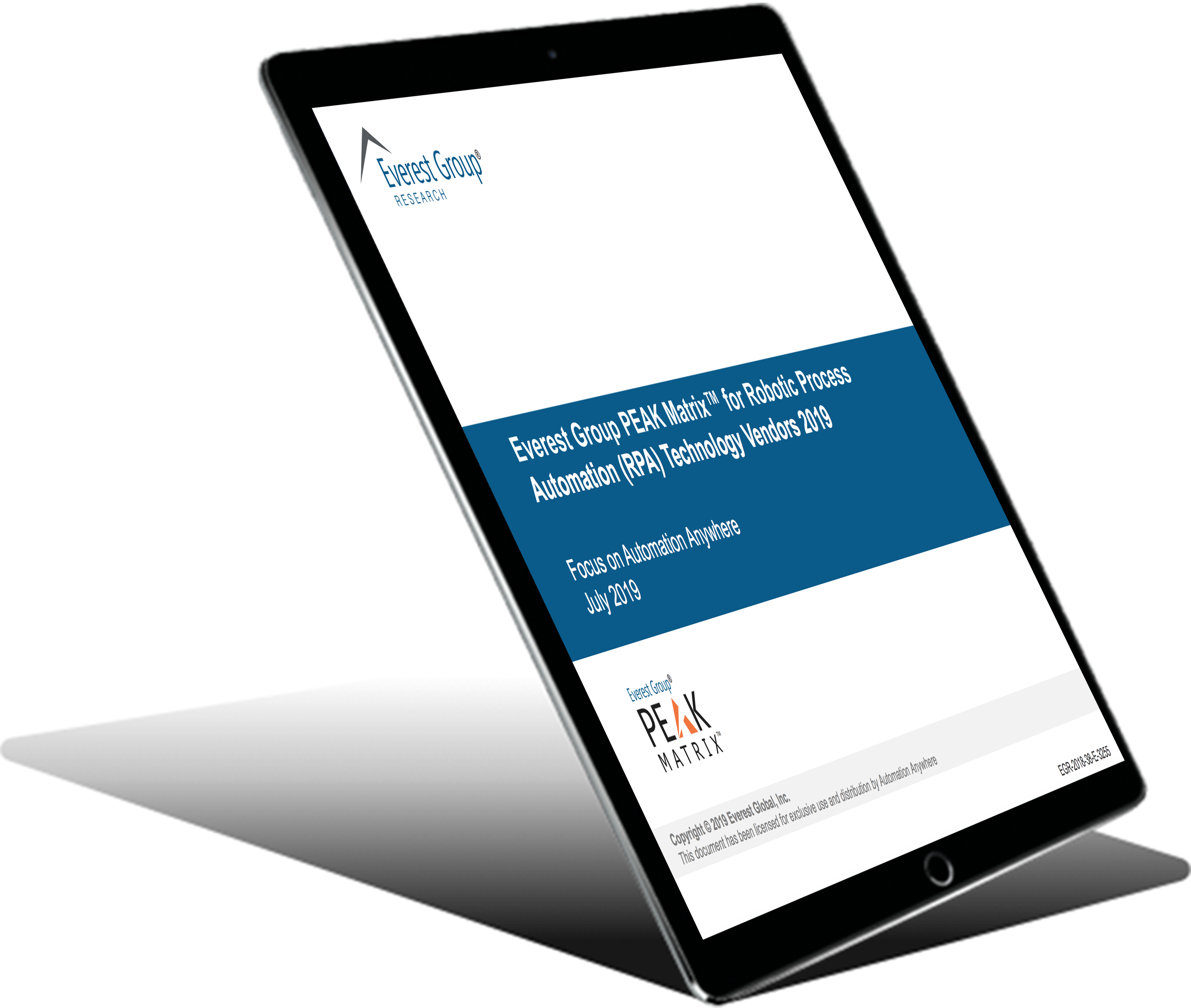 Embarking on the journey of RPA and intelligent automation involves the entire organization. To determine the right path forward, key decision makers can rely on Everest Group PEAK Matrix reports to identify the strengths and weaknesses within the industry and how RPA vendors stack up against the ideal toolset and delivery of intelligent automation capabilities and platforms.
RPA and intelligent automation technologies are evolving rapidly. At the same time, these technologies are relatively new to many potential buyers. The PEAK Matrix report includes detailed evaluation of product features, deployment options, training & support, partner ecosystems, and commercial models. The PEAK Matrix report also considers the trajectories of expanding feature sets and increasing richness of functionality in the context of the needs of enterprises to successfully adopt RPA.
The report assesses the RPA technology vendor landscape to deliver:
Everest Group's PEAK Matrix™ evaluation of RPA technology vendors
Competitive landscape in the RPA technology vendor market Key RPA technology trends
Remarks on key strengths and areas of improvement for each RPA technology vendor
Assessment of RDA / attended RPA capabilities
This report will assist key stakeholders across enterprises, GICs, service providers, and technology vendors understand the dynamics of the RPA products landscape to enable informed decisions for organizational direction on the RPA journey.
AUTOMATION ANYWHERE LEADING THE INDUSTRY FOR THIRD YEAR IN A ROW
As the vendor closest to the PEAK, Automation Anywhere provides customers with best-in-class:
Product support and Training, to help your company adopt and scale RPA easily
Development and Integration for seamless deployments
Vision and Strategy, with the leading AI-powered Global RPA platform for all users
Download the free report and learn why Automation Anywhere is named an RPA leader and Star Performer and continues to lead the industry in Product Vision and Capability.