Blog
Why Your Business Should Move to Automation 360 Cloud
December 7, 2022
5 Minute Read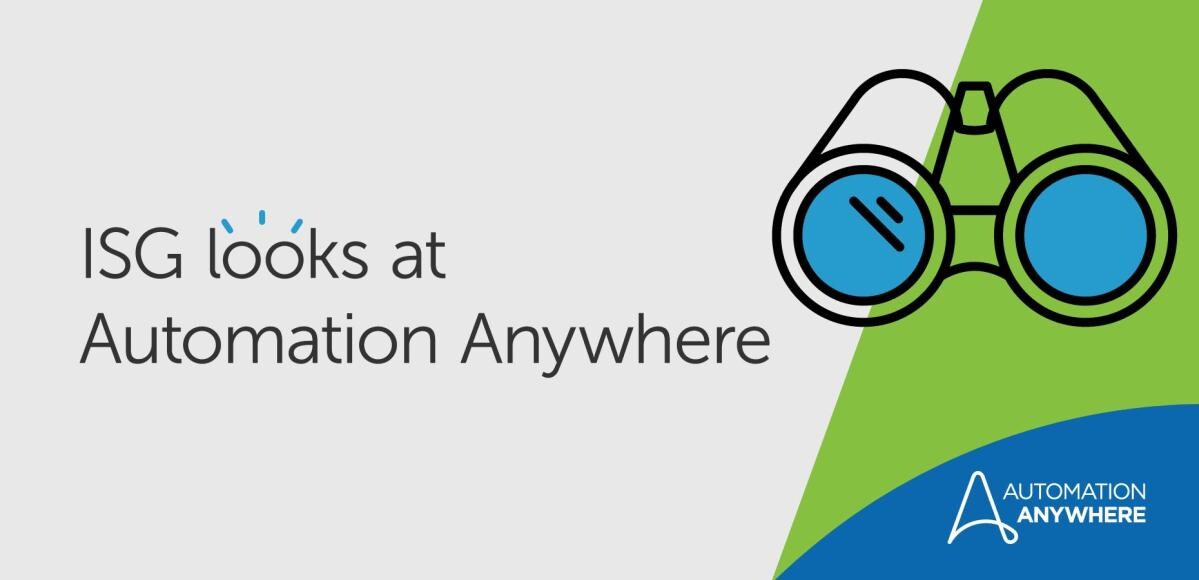 This is a guest article by Cass Bishop of ISG (Information Services Group). 
Automation Anywhere began its road to a cloud-native application all the way back in the first release of version 11 when it introduced a java-powered microservice control room architecture. This control room was installed in an on-premises server in a customer's data center. The next release, A2019 (later renamed Automation 360™) completely redesigned the Automation Anywhere development client in a new web-based UI and re-platformed the company's entire execution engine with a java-based bot agent. All that R&D has resulted in a cloud-native automation platform that can still be installed on-premises if desired by the customer.
There are still customers who resist the idea of cloud-based systems interacting with their applications. Fears of data leakage and external threats on cloud systems can still direct automation buyers toward an on-premises solution. Those fears are quickly being put to rest as more and more business-critical applications are migrated to the cloud or consumed in a SaaS model. The work Automation Anywhere has put into its cloud platform has made it the most complete cloud-native automation solution in the market today, and taking advantage of that offers several benefits.
The benefits of a modern architecture
Microservices form the base of any cloud-native application, and Automation Anywhere is no different. Each of the Control Room Server Services below is an individual microservice managed as part of a Kubernetes cluster allowing Automation Anywhere to scale that service to match the demand for the service.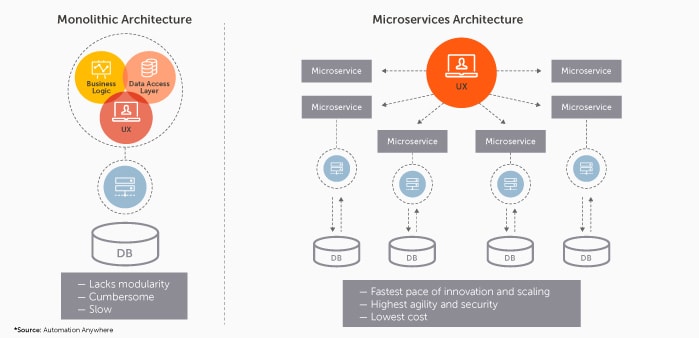 Automation Anywhere deploys changes to the cloud control room as part of an isolated service-by-service update methodology. Isolating changes to individual microservices means the company can find and resolve issues much faster, reducing testing time and any possible downtime caused by a failed update.
Individual services can also be patched and hardened against the latest threats as they are mitigated by the Automation Anywhere security and development teams. This means that customers don't have to wait for security patches to come rolled into a "dot" release.
Ease of management
An Automation Anywhere cloud-managed control room also removes the IT overhead of managing High Availability and Disaster Recovery configurations since the Automation Anywhere cloud edition is built on fully load balance deployments on HA infrastructure services. The cloud edition is also protected by disaster recovery with a Recovery Time Objective (RTO) of six hours and a Recovery Point Objective (RPO) of six hours.
New features are delivered by Automation Anywhere and can be tested by your team in a cloud sandbox before they are released in production. New features are pushed automatically and can be activated with a click by administrators instead of being downloaded and slowly deployed to your environments by your IT team.
You never need to install a license file again. Everything you buy is instantly activated in your Automation 360 cloud. You can also shift bot creator and/or runner licenses to wherever you need them without editing licenses or calling anyone at Automation Anywhere.
Cost-effectiveness
You don't need to invest time or money in expensive infrastructure to host anything but the bot agent. There's no need for databases, servers, or virtual machines for your automation platform. Everything you need is hosted in the cloud and executed wherever you need it. Automation Anywhere sizes your cloud infrastructure to suit your capacity needs and constantly monitors and automatically resizes it as needed.
This all means that day-to-day maintenance is reduced and there is no need for IT chargebacks or server provisioning. All of that is managed by the company while providing a guaranteed 99.9% uptime.
Security and privacy
No one chooses to keep their applications on-premises to deal with outdated architecture, difficult platform management, or increased costs. This is a decision driven by security and data privacy. Automation Anywhere has a comprehensive approach to dealing with those concerns. Automation 360 cloud edition ensures data privacy by following granular role-based access control capabilities that conform to requirements in NIST AC 2, 3, 5, and 6. In addition to the company using the latest encryption standards for data in motion and at rest, all communications are secured in transit via SSL and TLS.
A complete view of the platform's security and data privacy is available directly from Automation Anywhere.
Cloud first
Automation 360 cloud has been engineered to enable enterprises to take advantage of the benefits of a cloud-native automation platform while also being confident in that platform's ability to ensure the security and privacy of their data. Based on the quality of the platform and the larger market forces driving cloud adoption, any reason to stay on-premises must be uber-critical and beyond the capabilities of the platform. ISG is seeing fewer and fewer of these reasons as it works with customers. Application modernization and automation are being driven by cloud-first mandates at most of our customers, and traditional objections to the cloud are being overcome by automation providers, including Automation Anywhere.
About Cass Bishop