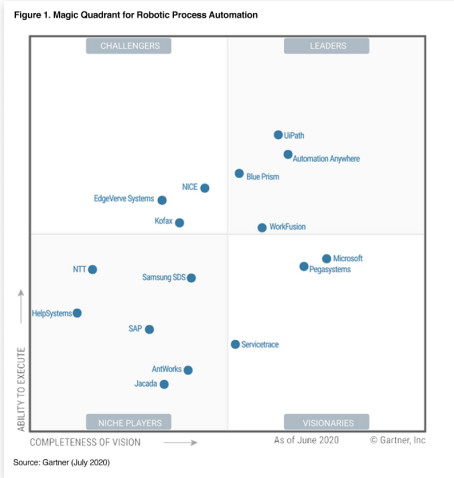 Positioned furthest for completeness of vision in the leader's quadrant
In the Gartner 2020 Magic Quadrant for Robotic Process Automation (RPA), you'll find:
What makes Automation Anywhere a Magic Quadrant Leader
Current trends in the RPA market
Considerations when investing in a new RPA solution
Build on the most advanced RPA platform
Your Digital Workforce needs a solid foundation. Automation Anywhere Enterprise is the only business process automation platform built for every facet of the Digital Workforce.

Robotic Process Automation
Error-free execution of structured business processes by bots


Cognitive Automation
Self-improving automation using AI and machine learning for complex data


Embedded RPA Analytics
Real-time operational and business intelligence ready to be applied, right away


DIGITAL WORKFORCE
Intelligent automation
technology at enterprise scale
What does the RPA journey look like?
The RPA journey starts with knowledge. The kernel of successful RPA implementation and adoption is the team of people that will become the RPA experts within the organization. For the team and for the organization as a whole, RPA dexterity grows and deepens with each step along the RPA path.
Don't just take our word for it








Request a Demo
Get a personalized demo of the world's most-deployed Digital Workforce platform. Consult with our team of RPA experts on your specific automation needs. During your live demo, ask all your RPA software and intelligent automation questions and we can help you accelerate your RPA journey.